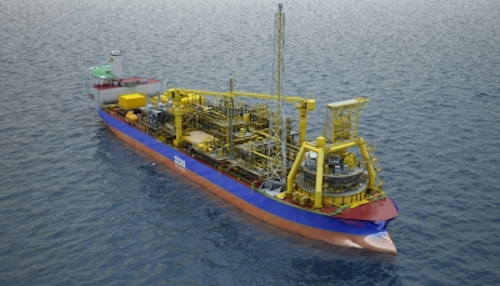 Offshore staff
SCHIEDAM, the Netherlands– SBM Offshore has entered into an agreement with Mitsubishi Corp. (MC) and Nippon Yusen Kabushiki Kaisha (NYK Line) for the acquisition of a stake in the joint venture companies incorporated for the purpose of owning and operating FPSOTurritella.
MC (30% interest) and NYK Line (15% interest) have acquired a 45% combined stake in the joint venture companies.SBM Offshore, MC, and NYK Line are also partners in other joint venture companies incorporated for the purpose of owning and operating FPSOs, including Cidade de Maricá and Cidade de Saquarema. 
Prior to the agreement, a company spokesperson confirmed toOffshore that SBM Offshore was the sole owner of FPSOTurritella.
The partners' cash contribution to theTurritella joint venture companies is expected to total approximately $590 million with the first milestone payment of $446 million received today. Future milestone payments will follow the stages of completion of the project.
FPSOTurritella is currently under construction in Singapore and is expected to be delivered and on-hire in the first half of 2016.
In July 2013,SBM Offshoresigned contracts with Shell Offshore Inc. to supply and lease an FPSO for the Stones development project in the Gulf of Mexico. The contracts include an initial period of 10 years with future extension options up to a total of 20 years. Start-up of the facility continues to be expected in the first half of 2016.
The Stones development is located in 2,896 m (9,500 ft) of water, approximately 320 km (200 mi) offshore Louisiana in the Walker Ridge area. When installed,Turritella will be the deepest FPSO development in the world.
The converted Suezmax FPSO will have aturret with a disconnectable buoy (buoyant turret mooring, or BTM), allowing it to weathervane in normal conditions and disconnect from the FPSO upon the approach of a hurricane. The BTM will be configured with steel lazy-wave risers, which will be a first application for a disconnectable FPSO. The mooring system will also incorporate the ability to adjust line tension during operations by use of an in-line mooring connector.
The FPSO is a typical Generation 2 design with a processing facility capacity of 60,000 b/d of oil and 15 MMcf/d of gas treatment and export. The Suezmax hull will be able to store 800,000 bbl of crude oil and total topsides weight will reach 7,000 tons (7,716 metric tons). The conversion is taking place at theKeppel Shipyard in Singapore.
Following the close of the transaction, SBM Offshore will maintain the majority interest ofTurritella (55%). 
07/15/2015