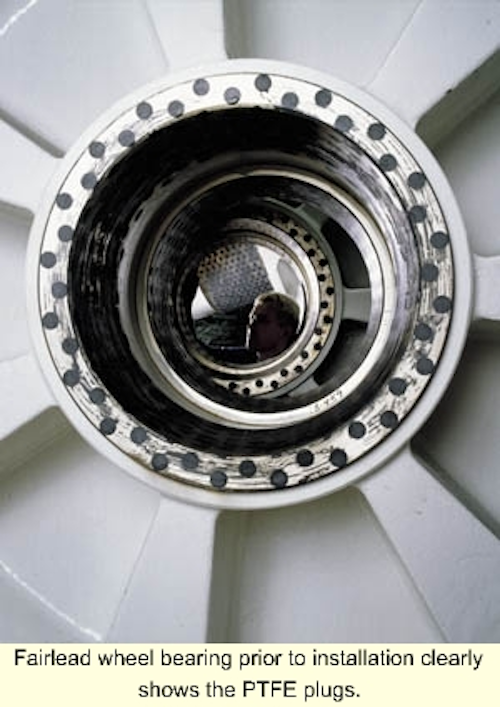 With a life expectancy of 30 years, the OILES 500 self lubricating bearings from Johnson Metall have been demonstrating their value in an increasing number of heavy duty applications offshore. Each bearing is manufactured to the customer's specifications and has a finely finished surface containing pockets into which a specially formulated PTFE lubricant is embedded. The pockets make up 25-30% of the sliding surface and the pattern of the PTFE material is arranged geometrically in the direction of motion so that the entire bearing surface is permanently lubricated.
During operation a very thin, but nevertheless extremely strong, lubricating film is deposited automatically over the complete moving surface. This film remains intact at all times, even at standstill, making the OILES 500 bearings a viable choice for high loads and low speeds. They are capable of withstanding very heavy loads and are the ideal solution for use under water where a liquid lubricant would be impractical.
The geometry of the lubricant as well as the choice of material is based on the specific application of the bearing. This means that each one is specially made to meet all load, environmental and temperature requirements of the conditions under which it is to be used.
Three different kinds of solid lubricant are available, the principal one for offshore use being made from PTFE while two are based on graphite for applications in which they will be subjected to high temperatures. They are produced by compression which results in plugs with high density and good lubrication properties.
Johnson Metall manufactures a wide range of copper-based alloys, four of which are available as the base material for the company's OILES 500 bearings. The durability and effectiveness of the OILES 500 bearings has resulted in their being chosen for numerous applications offshore. The company entered the market in 1973, when it supplied bearings for fairleads in semisubmersible rigs and for jacking systems in jackup platforms. Other applications for the bearings include FPSOs and submerged turret moorings. In these applications, the bearing can measure over 10 meters in diameter and is divided into segments.
Other applications have included the use of OILES 500 bearings on cable ploughs and the flare boom of the Gulfaks A platform which uses spherical bearings to give it freedom of movement in all directions. The Heimdal 2000 riser platform employs skidding units fitted with the OILES 500 bearings to lubricate the 76 meter long connecting bridge to the production platform.
Despite the reduced level of offshore activity recently, Johnson Metall has received indications for bearing orders for oilfield projects in Australia and China later this year.
For more information contact Ingvar Essinger, Johnson Metall, Tel: +46 19 17 51 00, Fax: +46 19 14 83 40.