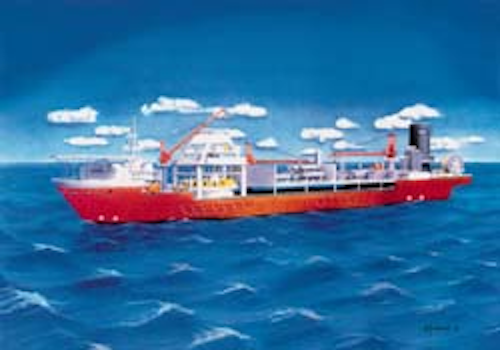 Lower costs, contractor leasing are providing
options for marginal field decisions
Nick Terdre
Contributing Editor - Norway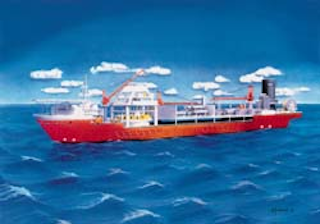 Golar-Nor's converted production ship, Petrojarl IV, will be deployed on BP's Foinaven Field, west of the Shetlands.
The physical shape of future production facilities in the North Sea appears to be to a large extent monohulled. In the last couple of years the floating production, storage and offloading (FPSO) facility, or the production ship, has suddenly moved to center stage as operators and contractors agree that its time has come.
With its long experience in ship-building and owning, Norway was well placed to develop the FPSO concept and can take a lot of the credit for its eventual popularity. The pioneering role fell to Golar-Nor Offshore, a company in the Anders Wilhelmsen group, which brought the 31,500 dwt Petrojarl I to the market in 1986. The vessel can process up to 40,000 b/d of oil and store 170,000 bbl.
The original conception was of a facility which would provide a temporary testing service prior to full-scale field development. In its initial jobs Petrojarl I performed this role on Norsk Hydro's Oseberg and Troll Oil Fields, and on Conoco's Lyell Field in the UK.
But its varied capability began to show itself when it spent most of 1989 employed as a storage vessel on Shell's Fulmar Field in the UK.
After further production testing on Esso's Balder, Petrojarl I was then contracted by Amerada Hess for permanent production of the UK Angus Field. This was the point at which perceptions of the FPSO began to change, for it demonstrated how well suited it was for producing marginal fields - marginal in both an economic and geographical sense - of which there is no shortage in the North Sea.
At a time when the question of North Sea costs was coming to the fore, another great advantage became apparent. By leasing its services from the contractor, the operator is able to pay upon production, thus substantially reducing up-front investment.
Here again, it was Amerada which provided the test case, moving Petrojarl I straight from Angus to perform early production on the Hudson Field, and in the process generating a cash-flow which helped to finance the development of permanent production facilities for the field.
Another benefit emerged. When the job is completed, the FPSO simply sails out of the operator's life, considerably easing the abandonment task.
In some cases oil companies may prefer to own the facility themselves. This is the case of the Gryphon Field owners, led by Kerr McGee, which bought a Tentech 850 vessel from a consortium of Norwegian interests while it was under construction in Spain.
As a result, they were able to achieve start-up on Gryphon two years earlier than under alternative development scenarios. When the field is depleted, they will still have the vessel as an asset.
Statoil, too, has chosen to own the Norne vessel - again a Tentech design - which is under construction at the FELS yard in Singapore. But, as operator of the world's largest shuttle tanker fleet, the company is closely engaged in shipping activities, and has developed its own production ship concept.
Contractor ownership
Although other oil companies have expressed interest in owning an FPSO, the contractor model seems more popular. For an oil company, it is generally better to be able to hire the facility when needed, and discharge it when the need is fulfilled, rather than find another field on which to deploy it.
Contractors also feel that ownership of the facility is part of their role. According to Leif Aaker, Golar-Nor's vice president for business development, "Our aim is to provide both the production system and shuttle services as part of a total package, as we are doing for Arco and will do for BP."
The reference is to Golar-Nor's two latest contracts: producing Arco's Blenheim field with Pertrojarl I, and providing a much larger FPSO, Petrojarl IV, for the first phase of BP's Foinaven development, west of the Shetlands.
The leasing arrangement negotiated by Golar-Nor on both these contracts is to its liking, Aaker says. On Foinaven, for example, it will receive a combination of a fixed payment and a variable payment, the latter being a function of the production level. In other words, it receives an incentive for maximizing both production and uptime, a situation which also benefits its clients.
In terms of uptime, Petrojarl I has an impressive track record, achieving a regularity of 98-100% on all its projects to date.
Though the vessel's capacity has in some respects been expanded - before going to Blenheim, it was modified to take up to eight risers - its successors are all looking much bigger. The Norne vessel, for exanple, will be able to produce 170,000 b/d of oil and 6 Mcm/d of gas, and store 725,000 bbl of oil.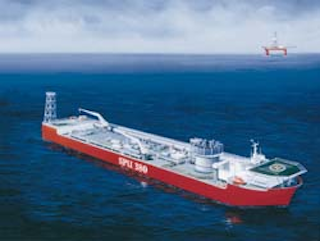 Semdvig's SPU 380, with a production capacity of 70,000 b/d of oil and storage of 380,000 bbl, id dur for delivery next Febuary.
Petrojarl IV
Petrojarl IV has the same basic Golar-Nor design as its older sister, but bigger vital statistics - 95,000 b/d oil production and 300,000 bbl storage, as well as water injection capacity of 165,000 b/d.
And unlike its newbuild predecessor, Petrojarl IV will be a conversion of an existing ship, Anadyr, a former Soviet submarine repair vessel. The mid-section is beign replaced by a longer and wider mid-body at the Astano yard in Spain.
But the accommodation remains at the bow of the ship, and therefore up-wind of the turret and process facilities, an arrangement which Golar-Nor considers the best from a safety point of view.
Technological advance has also helped to encourage confidence in the FPSO concept. There are three key areas here - turret, swivel, and risers. A number of different turret solutions have been adopted. Golar-Nor uses rollers and roller bearings, but bogey wheels and sliding systems can be used. GVA consultants is about to offer a design incorporating rubber type bearings.
Swivel technology has also developed fast, and proven types of multi-path systems and systems capable of handling high-pressure liquids are now in commercial use. The question mark over risers has been answered by the acceptance of flexible risers of growing proportions - 10-in. to 12-in. lines are now taken for granted.
As enthusiasm for the production ship concept has grown among oil companies, other entrants have been encouraged to join the market. In Norway, they include Smedvig, which is building a Smedvig design, SPU 380, at FELS, Rasussen, which is having a Tentech 700 design built at Mitsui; and Statoil, which is having a multipurpose shuttle tanker/production ship using its submerged turret loading/submerged turret production technology built at Samsung.
None of these vessels as yet have contracts. Smedvig's FPSO, which will be delivered next February, will have production capacity of 70,000 b/d of oil and storage of 380,000. FELS has taken an interest of about 10% in the $200 million vessel.
This project forms a key part of Smedvig's change of role from drilling to production contractor. The company has been moving in this direction for several years, and was a partner in the Tentech 850 vessel, which was bought by the Gryphon partners.
Statoil's decision to put a production ship on Norne represented a breakthrough for monohull mobile production systems in Norway, according to Arnfinn Nergaard, the general manager for business development at Smedvig Production Contractors, which is marketing the SPU 380.
"Companies accept that production ships can be built according to the contractors model, which makes them less expensive," he says.
Their merit compared with semisubmersible production platforms is that they have storage capacity. But, that can be a crucial difference, says Nergaard, for it gives them a stand-alone capability based on a single vessel.
In the past, the FPSO concept seemed too costly in a Norwegian context. Nergaard relates how a study carried out a few years ago, which compared an identical production system deployed on an identical field worked out to be almost three times more expensive in Norway than in the Gulf of Mexico.
But the new thinking embodied in the Norsok cost reduction philosophy has changed the cost parameters. "We now think we can do developments for 50% of the original cost," says Nergaard.
The SPU 380 is now being marketed worldwide, mainly in the North Sea, but also in other potential theaters such as the Gulf of Mexico, the Far East, Brazil, and Canada.
Oil companies in other parts of the world have followed the emergence of the production ship as a competitive option, Nergaard says. Among those which have taken the message to heart is Petrobras, which is to convert the Presidente Prudente de Morais facility, originally a tanker, into a turret-moored FPSO.
Copyright 1995 Offshore. All Rights Reserved.