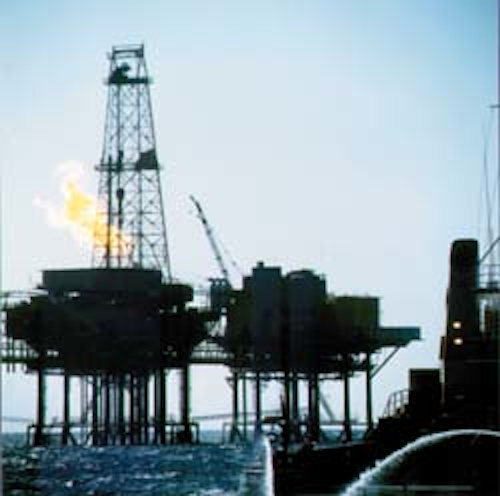 Investment restraint, manpower focus counter promise of new production
David Shields
Contributing Editor - Mexico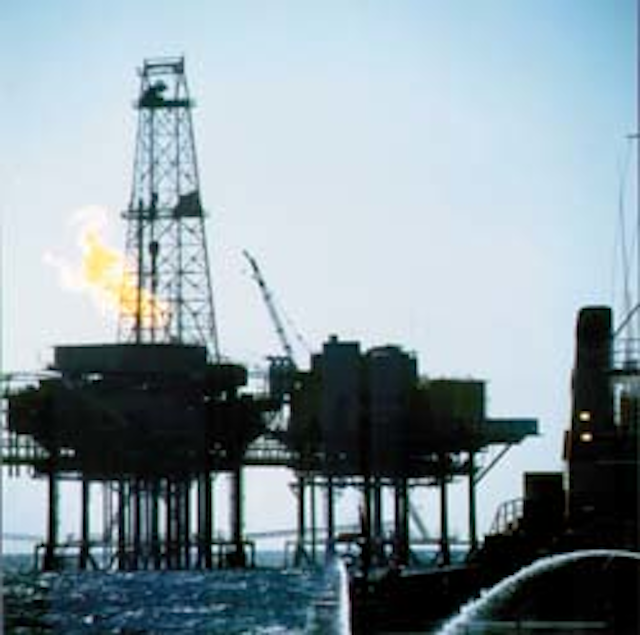 A typical Campeche drilling platform.
Offshore oil and gas production has made a great contribution to Mexico's economy over the past 15 years. In recent times, the value of output has been close to US$10 billion annually. This contribution seems destined to remain vital to the country's economic well-being.
Mexico's offshore sector is expected to play a big role in the more aggressive oil and gas policies now being adopted by the country's new government. By year-end 1995, total oil production in Mexico is planned to reach 2,750,000 b/d, up by about 75,000 b/d against levels attained in the first half of 1995 and in recent years.
In 1994, total Mexican crude oil output stood at 2,685,000 b/d, while natural gas production was 3,625 MMcf/d. After a sluggish start in 1995 due to the effects of the country's recent financial crisis on budgeting, total crude output reached 2,699,000 b/d in June and averaged 2,675,000 b/d for the first half. Increased financing for exploration and production has been authorized, which should allow output to rise quickly in the second half.
Though overall hydrocarbon production in Mexico has been basically stable in recent years, offshore fields in the prolific Campeche Bay have been playing a growing role, especially in crude production. This year, it will account for over three quarters of the country's crude oil output.
Offshore crude oil output has risen gradually, but steadily, from 1,793,700 b/d in 1990 to 2,002,000 b/d in 1994 (1,215,000 b/d was heavy crude; 787,000 b/d was light and intermediate crudes). In first half 1995, output stood at 2,012,000 b/d and is slated to reach 2,098,000 b/d by next December, giving an annual average of 2,039,500 b/d this year.
Mexico's vast oil potential is well-known and much of it lies in Campeche Bay. Total proven offshore reserves (oil and condensate) in the bay amount to 27,187 million barrels or 54.6% of the national total. Mexico's offshore oil reserves are thus slightly higher than all proven reserves in and around the United States.
Pushing up gas
The country's new energy policy gives increased priority to pushing up natural gas production quickly. Offshore, Campeche comes second to onshore Tabasco-Chiapas in gas production, but still amounted to 1,401 MMcf/d in first half 1995. That is 38.3% of a total of 3,660 MMcf/d nationwide. By year-end, Mexican natural gas production should reach 4,074 MMcf/d, with Campeche Bay providing 1,447 MMcf/d of that.
Government officials have stated that Pemex Exploration and Production (PEP), the upstream subsidiary of state-owned Petroleos Mexicanos (Pemex), will make greater investments in the coming months to assure the increases in volumes.
Although there is potential for more, medium-term goals at PEP are to raise crude oil production gradually in line with growing domestic refining capacity, leaving exports relatively stable at close to 1,300,000 b/d. However, top priority among new projects will be given to producing natural gas, particularly in onshore fields with non-associated gas or a high gas-to-oil ratio.
Demand for natural gas in Mexico is expected to rise by over 5% annually from now to the year 2000 and beyond, due to greater use in power generation and in industry in general. New legislation on industrial pollution, which will take effect in 1998, will boost gas consumption. PEP intends to increase gas production at least as fast as domestic demand grows in the coming years, allowing the country to be basically self-sufficient in gas or even a net exporter.
Experts at PEP assure that the firm has a flexible and diversified portfolio of projects, which means available investment can be earmarked for gas, condensate, light crude or heavy crude projects at any given time, according to market demand.
Emerging projects
Campeche Bay seems certain to remain the main focus of attention in E&P work in Mexico. Its two major complexes have long made up well over half of Mexican oil production. Cantarell provided 1,000,500 b/d of heavy Mayan-type oil, as well as 436 MMcf/d of gas in first half 1995, while the Abkatun-Pol-Chuc complex gave a further 492,000 b/d of intermediate Isthmus crude streams.
Three key strategies are at the heart of current work in Mexico's offshore:
Carrying out much more detailed studies of fields already under exploitation;

Making changes in artificial recovery systems on most main producing complexes;

Programming development of some fields, which have already been discovered and evaluated (such as Zaap-Maloob and Uech) and which require intermediate wells to complete their development.
Integral studies of all of Pemex's main producing fields - starting with the most important of them - are being carried out with a view to getting the best long-term results from them. Their geological features are being updated and the best options in applying artificial and improved recovery methods, including gas-lift projects and modifications to separation pressures, are being defined.
Numerical computer models, simulating different conditions and alternatives of exploitation based on production history, will be a key to choosing the most viable option technically and economically in each field. Optimal production rates, types of production facilities and the use of secondary or improved recovery methods will be determined by these studies. Improving pneumatic pumping or installing other pumping methods is an overall priority in Campeche Bay.
Cantarell success
The Cantarell complex has been the key to keeping Mexico's offshore crude production above 1,550,000 b/d every year for a decade and a half. Improvements on platforms to regulate well pressures on Cantarell have been vital to its long productive life. Without such programs, total hydrocarbon production from the field would have dropped by 560,000-640,000 b/d by now, according to PEP's estimates.
From 1990 to 1995, this one field provided 740 million barrels of crude, 270 billion cu ft of gas, and 27 million barrels of condensate, all of which was marketed at close to $11 billion. This is eleven times the amount invested in infrastructure on Cantarell in the same period.
The so-called Cantarell Project, carried out over the past six years, has had to do with reducing pressure on the surface facilities which handle production of the oil and gas. Pressure was brought down from 8 kg/sq cm to 3 kg/sq cm, allowing for more prolific, long-term production.
Gas lift by pneumatic pumping has long been a feature of this project. However, plans are to improve the production units on Cantarell, using the least amount of gas possible in order to optimize output. The use of electrocentrifugal pumping is being applied as a way of eliminating the use of gas for pneumatic pumping on the field. Currently, pumping accounts for 100 MMcf/d of gas.
Electrocentrifugal pumping requires electricity to be taken to the wellhead and will probably require an underwater cable to be laid in Campeche Bay, covering not only the Cantarell complex, but other fields such as Ku, Ek-Balam, and Maloob. Prior engineering work for this is already being carried out on Cantarell. Both laying the cable and additional infrastructure, such as changing rigging on wells, should provide opportunities for service companies.
A geological model is being made of the region's major light crude complex, Abkatun-Pol-Chuc, especially with a view to evaluating current water injection on the fields. The water injection plant on this complex is likely to be used, too, to improve recovery on nearby Caan Field. Laboratory tests to design a pilot project of water treatment and injection for Caan are under way.
Priority is being given to the development of new lighter oil discoveries in Campeche Bay, namely Caan, Taratunich, Ek-Balam, and Och-Uech, as well as heavy crude in Zaap-Maloob. However, quite a few wells will still have to be drilled on some of these fields, such as Zaap and Uech, in order to complete their development. Ek-Balam will require both electrocentrifugal pumping and water-injection systems, which are now in place.
Output from Caan, Taratunich, and Ek-Balam has risen quickly in recent months, offsetting gradual, but fairly voluminous declines in the biggest complexes. In the first half of 1995, crude oil production from Caan stood at 173,000 b/d, almost 100,000 b/d up from an average of 74,000 b/d in 1994. Taratunich is up from an average of 13,000 b/d last year to 61,000 b/d in first half 1995, while Ek-Balam has risen from 19,000 b/d to 46,000 b/d.
Meanwhile, crude production from Cantarell stood at 1,000,500 b/d and from Abkatun-Pol-Chuc at 492,000 b/d. That represents a drop of about 30,000 b/d from the 1994 average on Cantarell and almost 60,000 b/d on Abkatun-Pol-Chuc.
Similarly, natural gas production from Cantarell and Abkatun is down slightly (although it has increased on Chuc), while important gains are being made on Caan and Taratunich. Gas output from Caan averaged 129 mpc/d in 1994, but in recent months it has been close to 333 mpc/d.
Zaap-Maloob is close to Cantarell and the exploitation of its heavy crudes should require relatively little additional infrastructure. Output from Zaap will be taken to the Akal-J production complex on Cantarell, where there is sufficient capacity to handle the separation of oil and gas from Zaap.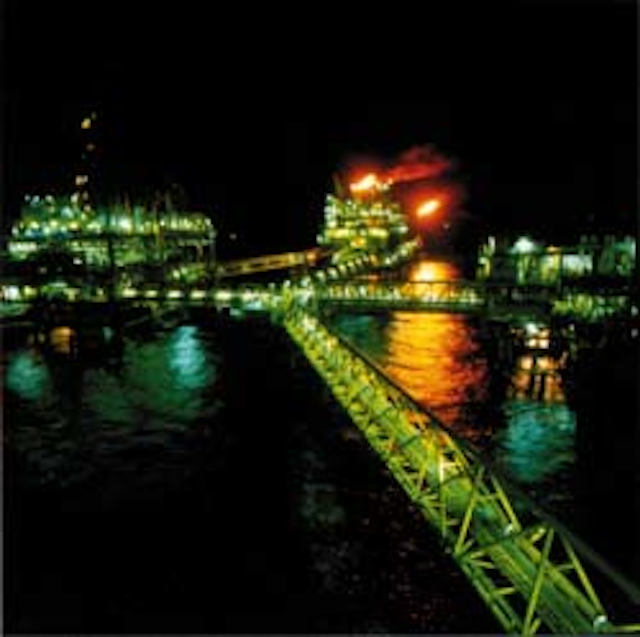 Gas flaring in Campeche.
Tabasco Littoral
These new offshore fields, together with the prospect of future light crude production in the Tabasco Shoreline Project (or Tabasco Littoral), should offset declines in oil production on all onshore fields in the near-term and the medium-term, allowing Mexico's overall output to be maintained or even increase slightly from now until the turn of the century.
Recent discoveries on the Tabasco shoreline have received much attention. A great deal of work in exploration, development, and infrastructure for handling output will be needed before the fields can come onstream. Considerable investment will be required, too. However, the prospects in the area - especially offshore, in Sinan, Mison, Hayabil, and Bolontiku Fields- are attractive, as they are in very shallow waters, are not far from the crude transport facilities at Dos Bocas and offer very light crude streams, as well as a high gas-to-oil ratio.
A team of Pemex engineers is carrying out an analysis to identify the best alternatives for demarcation of the fields already discovered on the Tabasco shoreline. No reliable forecast can yet be made of reserves or future production to be obtained from the area, as the only data available is from exploratory wells. It seems likely that, among its plans for next year, Pemex's exploration division will propose drilling demarcation wells in the area, based on current information. If so, the foundation will be laid for more accurate evaluations of potential to be made by the end of next year.
Strict criteria have been applied in choosing drilling sites throughout Campeche Bay and improvements have been made in technology and costs. Results have been encouraging: 15 drilling rigs at work on exploratory wells had 13 discoveries in 1993, while 70 rigs on similar work in 1988 had only six discoveries. The total number of wells drilled per rig in the offshore area tripled, increasing from 0.9 in 1990 to 2.9 in 1994.
These figures show obvious improvements, even if world standards are yet to be reached in some areas. Investment projects have been more carefully selected, success rates are higher and finding costs are now among the lowest in the world.
Pemex is preparing to venture into exploration and production at depths of over 100 meters and has already had one major discovery of 24 API crude in the Ayin Field at a water depth of 176 meters off the Tabasco Coast in 1992. The exploratory well Ayin-1 reached 6,700 meters below sea level, the deepest yet in Mexico's offshore work.
This field lies some way from the main producing area in Campeche. However, thinking at Pemex is that this kind of field is worth exploiting soon. Seismology shows it to be a good field and it is thought other fields are waiting to be discovered nearby. Moreover, it is not far from the pipeline infrastructure that runs from the major Campeche fields to Dos Bocas, Tabasco. Output from Ayin could thus be brought into the system with relative ease.
Working in greater depths will be a future priority, even if exploiting the great potential at shallower depths is likely to remain the center of attention for years to come. The short-term search for new oil reserves is likely to focus on shallow waters off Tabasco and Campeche and on new evaluations being made of Tabasco's many onshore fields. Thereafter, work in Campeche at water depths of 100-500 meters is likely to get much attention.
The construction of a gas compression plant, just onshore on the Atasta Peninsula, has greatly improved the handling of gas and condensates from the offshore region. Production is moved from there to petrochemical complexes in Tabasco and Chiapas states. By allowing more gas and condensates to be processed, the Atasta plant has been one of Pemex's most profitable new projects in recent times.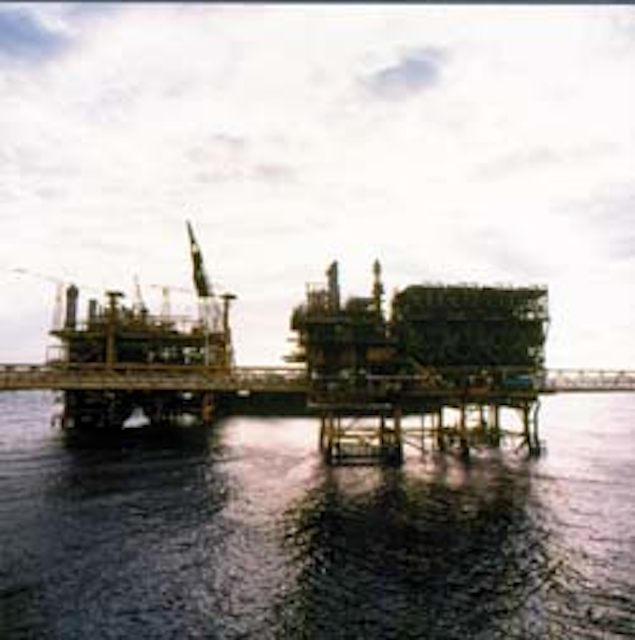 A section of the Cantarell Complex in Campeche Sound.
Service work prospects
New projects and the need for new technologies should ensure that there will continue to be ample opportunities for offshore service companies. Installing the underwater cable is one such opportunity, as it will provide work for the cable manufacturer and companies offering consultancy and maintenance.
The likely future use of multiphase pumps on Pemex platforms, which should greatly enhance collection of oil and gas, is another area of opportunity for contractors. Another is the use of jackups and other modern rig technologies that might reduce operating costs. Yet another is the adoption of integral maintenance practices on Pemex offshore facilities. Pemex engineers are already studying these alternatives with contractors and specialized companies.
Service work in these areas should have a bright future, even though Pemex's demand for turnkey drilling has ebbed. Such vast production work as occurs in offshore Campeche has always required a great deal of dynamic equipment, such as pumps, compressors, gauges, and valves. This has always provided work for service companies that offer top technologies and, no doubt, will do so in the future.
Environmental protection is now a key concern in Mexico's offshore. Wastewater treatment is now carried out on all rigs and non-polluting sludges are used in drilling operations. Both local authorities and the national environmental protection agencies keep Pemex's operations under close vigilance.
Although offshore Campeche is the most profitable oil producing area of the country, experts point to the convenience of Mexico not concentrating all efforts in this area, as there is much skilled labor and better urban services, as well as a need for employment, in other oil-producing regions. Also, work in Campeche requires bringing in labor from other parts of the nation, which, in turn, is causing a great strain on social services in Campeche.
Looking beyond the year 2000, maintaining or increasing hydrocarbon production, both in offshore Campeche and onshore in other regions of Mexico, will depend on two factors:
Strategic exploration programs actually being carried out over the next few years;
Levels of investment in exploration and production.
The latter, in turn, will depend on federal government budgetary priorities and on world oil demand and prices. There is, however, no doubt, about the vast hydrocarbon potential of the offshore area in the south of Mexico.
Opposition to any kind of divestment of Pemex's core activities, such as oil and gas production, has deep historic roots and continues to be very strong in society at large and in political circles. Mexico's new government is, therefore, unlikely to change the Constitution in order to allow risk contracts or other production-sharing agreements with private firms, despite openings to private capital in petrochemicals and distribution of natural gas and refined products.
Financial constraints may well continue to be an obstacle to a much greater level of exploration and to increasing proven oil and gas reserves. However, projects based on exploiting existing reserves should be more than adequate to push up oil and gas output considerably, if sufficient investment is forthcoming.
Copyright 1995 Offshore. All Rights Reserved.