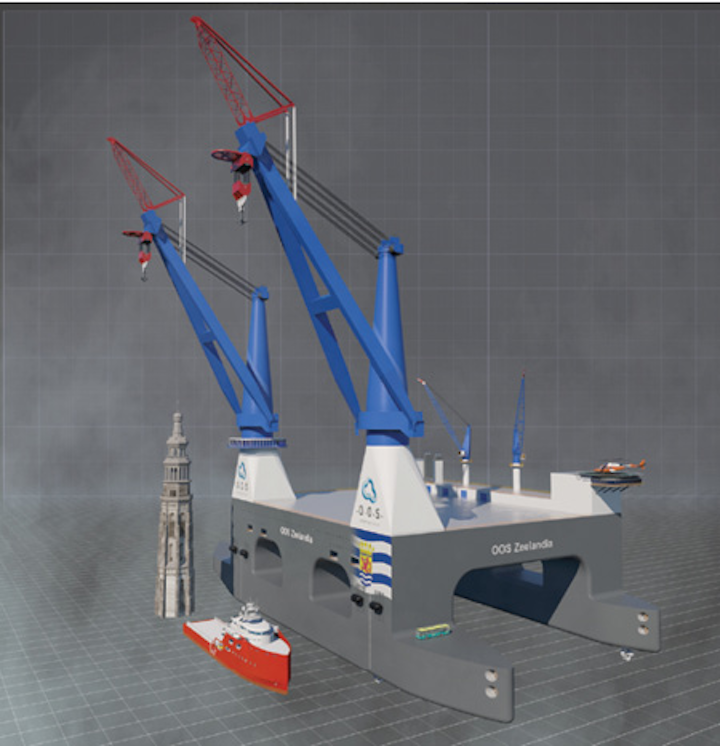 | | | |
| --- | --- | --- |
| | | Jessica Tippee Houston |
The basic design of theOOS Zeelandia is in progress. (Image courtesy OOS International)
China Merchants Industry Holdings (CMIH) is in line to construct two offshore crane vessels. Jumbo has signed a letter of intent with CMIH for the provision of detailed engineering and construction of a new DP-2 heavy-lift crane vessel (HLCV) due to be delivered in 1Q 2020. The 185-m (607-ft) long, 36-m (118-ft) wide vessel will be powered by dual fuel engines, with the capability to run on natural gas (LNG). It will also be the world's largest X-BOW 9 (hull-shape) vessel, Jumbo claimed, with the X-BOW shape optimized to provide a more consistent transit speed and better offshore workability in severe weather conditions. Onboard facilities will include two offshore mast cranes with a respective lifting capacity of 2,200 and 400 metric tons (2,425 and 441 tons) and deployable in water depths of up to 3,000 m (9,842 ft). Both will be designed and constructed by Huisman Equipment. Other features are a moonpool and flex-lay capability.
The company plans to offer the HLCV for:
• Installation/decommissioning of fixed oil and gas facilities in shallow waters
• Installation of moorings systems and floating structures in deeper waters
• Installation of subsea structures, foundations and (flex-lay) tiebacks
• Installation of wind turbine foundations.
In addition, OOS International Group B.V. has signed a memorandum of understanding with CMIH for the basic design and construction of a semisubmersible crane vessel (SSCV), to be namedOOS Zeelandia. The vessel will be equipped with two cranes, 112 m (367 ft) apart, each with a lifting capacity of 12,000 tons, capable of installing or removing structures at 3,000 m water depth. The dynamically positioned ICE Class 1B LNG vessel will provide accommodations for 420 persons onboard, with a transit speed up to 15.4 knots.
MODEC wins Mero Pilot FPSO contract
Petrobras, operator of the Libra Consortium, has awarded MODEC Inc. the supply, charter, and operations contract for the Mero Pilot FPSO. It is responsible for the engineering, procurement, construction, mobilization, installation, and operation of the FPSO, including topsides processing equipment as well as hull and marine systems. SOFEC Inc., a MODEC group company, will design and supply the spread mooring system.
The vessel will be deployed at the Mero field, located in the northwestern area of the Libra block in the presalt Santos basin, about 180 km (112 mi) off the coast of Rio de Janeiro. Water depth is 2,100 m (6,890 ft).
The FPSO will be capable of processing 180,000 b/d of crude oil, 12 MMcm/d of gas, 225,000 b/d of water injection, and storage capacity of 1.4 MMbbl of crude oil. The project includes the interconnection of up to 17 wells to the FPSO. First oil is planned for 2021. The firm charter period of the contract is 22 years.
Petrobras and MODEC said that the vessel will be delivered with Brazilian local content.
The Libra Consortium is formed by Petrobras (operator, 40%), Shell Brasil (20%), Total (20%), CNPC (10%), CNOOC Ltd. (10%), and state-owned Pré-Sal Petróleo S.A., as manager of the production-sharing contract.
Keppel completes ice-class subsea construction, intervention vessel
Keppel Singmarine has delivered a new multi-purpose ice-class vessel to New Orient Marine Pte, a subsidiary of Luxembourg-based Maritime Construction Services. TheMPV Everest, built to the proprietary design of Keppel Offshore & Marine's ship design and development arm, Marine Technology Development, can operate in ambient temperature down to -30°C (-22°F), with an Ice Class Arc 5 notation, Class 3 dynamic positioning, and the ability to navigate in ice of up to 1 m (3.3 ft) thick. The vessel will be deployed for subsea repair and construction activities in up to 3,000 m (9,842 ft) water depth, well intervention and diving support, with an 18-men twin-bell system, fire-fighting and emergency rescue operations, as well as towing and the provision of supplies in Arctic areas.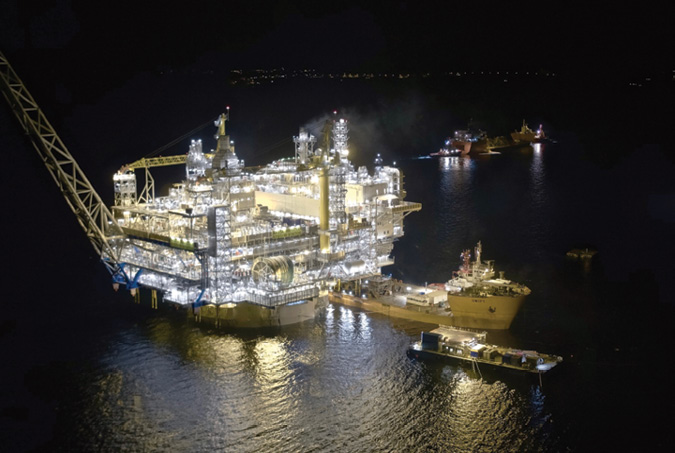 The Aasta Hansteen spar platform in the Norwegian Sea. (Photo courtesy Espen Rønnevik /Woldcam and Statoil)
Aasta Hansteen spar taking shape
Boskalis has completed a dual vessel float-over of the topsides for Statoil's Aasta Hansteen spar platform in the Norwegian Sea. Statoil is developing the Aasta Hansteen gas/condensate field, 300 km (186 mi) offshore, via the world's largest production and storage spar platform.
Last year, Boskalis'sDockwise Vanguard transported the hull from the yard in South Korea to a fjord near Stavanger. The cylindrical buoy, 50 m (164 ft) in diameter, is 198 m (649 ft) long and weighs 46,000 tons. Subsequently, Boskalis transported the 24,300-ton topsides, also built in South Korea, onboard the White Marlin.
Once the vessel arrived in Norway, the topsides was transferred onto two S-class vessels, theSwiftand Teal. After positioning these vessels on either side of the White Marlin, they started un-ballasting while the White Marlin ballasted down and maneuvered out from underneath. The result was a catamaran-type structure with the topsides linking the two hulls. Last month, the catamaran structure and topsides were towed out to the vertical spar hull. Once the load was in position above the substructure, mating of the hull and topsides was completed.