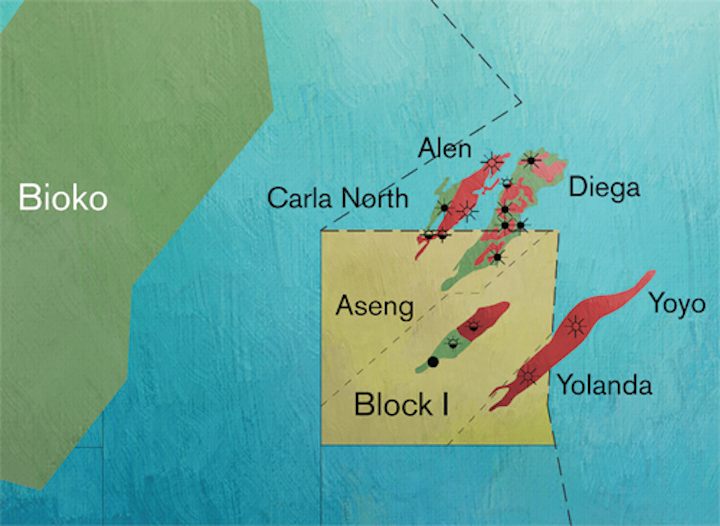 Jeremy Beckman
Editor, Europe
Noble-led partners commit to Alen hub project
Noble Energy's Alen platform will form the first phase of a new gas 'mega-hub' offshore Equatorial Guinea. The country's Ministry of Mines and Hydrocarbons is leading the project, designed to harness previously unexploited gas from fields in the Gulf of Guinea through a new offshore and onshore network of production, processing and transportation facilities.
Minister Gabriel Mbaga Obiang Lima, announcing the initiative at the recent Africa Oil & Power Investors Forum in London, said his goal was create world-class infrastructure and greater incentives for offshore exploration and production in the area. The Ministry had recently signed an agreement that could bring Shell into the project, he added, and it was also close to signing a Memorandum of Understanding with Total.
Noble Energy and its partners in offshore blocks I and O have established a framework with the country's authorities for recovering up to 600 bcf of gas from the Alen field: since start-up in 2013, the gas has been re-injected into the reservoir to enhance liquids recovery. Pending final commercial agreements, the Alen platform would undergo minor modifications to produce and send the gas through a new 65-km (40-mi) long pipeline for processing through the Marathon-operated Alba Plant's LPG facility and the Punta Europa gas complex on Bioko Island, which includes the Equatorial Guinea LNG plant.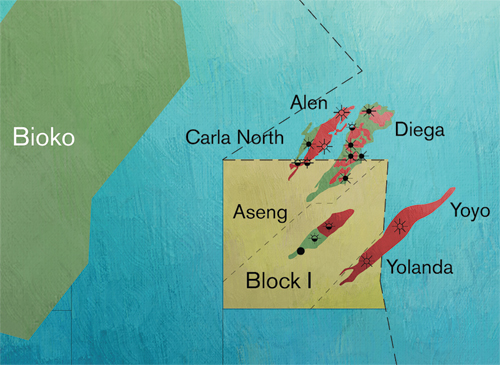 The Alen gas-condensate field is in block O, north of block I which Noble also operates. (Courtesy Oranto-Atlas Petroleum)
Gary Willingham, Noble's EVP Operations, said the project would transform the Alen platform into an offshore hub for potential development of other nearby gas fields, with production set to start in the early 2020s. The Ministry added that the new mega-hub could connect to other existing and future gas projects, including in neighboring countries Nigeria and Cameroon, and could lead to the creation of up to 3,000 jobs in Equatorial Guinea, with the state gaining potential revenues of over $2 billion. Mbaga Obiang Lima claimed his country was now developing "the leading natural gas economy in sub-Saharan Africa and leading the region in proving new technologies and concepts." He also described the project as unique for Africa, requiring an "unprecedented level of co-operation between government and energy companies."
The Minister added that he had been concerned when his investigations showed that Japan and South Korea were the main users of LNG produced at Punta Europa. "I want to export LNG to African countries for the same purpose," he said, "but at present there is not one single port in Africa that can handle our cargoes. How do we do this? We need to create a market, prove that you can make money [exporting LNG to Africa]. We are open to the concept of small-scale LNG schemes, like those that have been tried in Gibraltar and Australia. We think we can so this, and we have discussed small-scale projects with Ghana and Burkina Faso."
Fortuna FLNG
Another gas scheme conceived but still to get off the ground is Fortuna floating LNG (FLNG) in 1,300-1,900 m (4,265-6,233 ft) of water in block R, southwest of Bioko Island in the south-eastern part of the Niger Delta. To date there have been six commercial gas discoveries on the block, five made by operator Ophir Energy, with plans to develop a total resource of 3.7 tcf. This, according to Ophir's outgoing CEO Nick Cooper, speaking at the same event, would raise Equatorial Guinea's LNG capacity to 5.9 MMt/yr, and there could be potential to prove up to 6 tcf, he claimed, through drilling the field's deeper reservoirs or other skinnier structures trending northwest to the Niger Delta. However, hopes of securing sanction for the development have subsequently suffered a setback with Schlumberger deciding to withdraw from its OneLNG upstream joint venture for the project, due to a lack of progress in finalizing the debt finance package.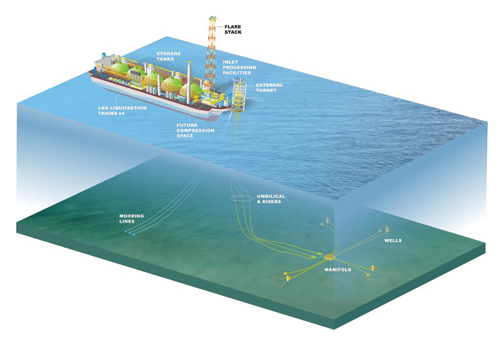 Fortuna FLNG field layout. (Courtesy Ophir Energy)
The various partners had chosen FLNG because the gas is around 99% methane with no contaminants or heavier hydrocarbons – "the reservoirs are incredibly prolific," Cooper said - with little topside processing thought necessary. Other factors were the mild metocean conditions and the closeness to European LNG markets. Golar, which earlier this year produced first FLNG from the converted tankerHilli Epeseyo offshore Cameroon, had planned a similar fast-track conversion of the LNG tanker Gandria at a Keppel shipyard in Singapore into a turret-moored, floating liquefaction, storage and offloading vessel. Golar and Ophir remain in discussions with various parties on a financial solution, including alternative yards that could contribute some of the finance.
According to Cooper, the re-fitted hull and relatively simplistic design of the FLNG vessel were big pluses for the OneLNG venture, with a predicted outfitting cost of $1.5 billion compared to $3-4 billion for a newbuild vessel. This in turn knocks down the breakeven, he claimed, "allowing us to make money at all gas prices." The concept for the development had involved installation of an umbilical, subsea manifold and flowline network with a proven, off-the-rack liquefaction system, with OneLNG modifying the vessel to accommodate this. Other contractors involved in the project have been Subsea 7 and Black and Veatch for the LNG process. The projected Phase one cost of $2 billion includes drilling of four wells up to first gas production in the early 2020s, with five more wells and a second FLNG vessel under a second phase lifting plateau production to 4.4 MMt/y, and a further eight wells during the third and fourth phases.
Rio Muni potential
The Ministry is also keen to extend exploration offshore Equatorial Guinea to the country's undeveloped portion of the Rio Muni basin. Last year it awarded concessions in this area to various operators including Nigerian independent Atlas Petroleum International (EG-10). Kosmos Energy farmed into 40% of EG-24, held by Ophir Energy, also acquiring Hess' operated stakes in the producing Ceiba and Okume fields and interests in adjacent licenses for blocks S, W and EG-21.
As the Minister pointed out, Kosmos' team includes the ex-Trident oil personnel that originally discovered both fields, and ex-Perenco people that have worked in the basin in Cameroon and Gabon. "We believe we now have the best people to shoot seismic in this area and whatever they do, we believe there will be discoveries in the Rio Muni basin," the Minister said. With various seismic vessels busy recently in the area, he was hopeful of follow-up drilling in 2019. He also noted ExxonMobil's recent discovery in offshore EG-11, adding that the company had been "very aggressive" in securing more acreage close to its Zafiro field.
One of the companies that has been acquiring seismic over Rio Muni basin acreage is Atlas. Senior Explorationist Douglas Winstone said the company now had 3,000 sq km (1,158 sq mi) of 3D data from two surveys, and had identified various prospective plays. One was within the Miocene-Eocene, which he claimed was unique to this part of the basin. Another was within the Campanian/Santonian and Cenomanian sequence, also being pursued by other partnerships, in 2,000 m water depth. Atlas has been merging its tow data sets and expects to receive the results during 4Q. •