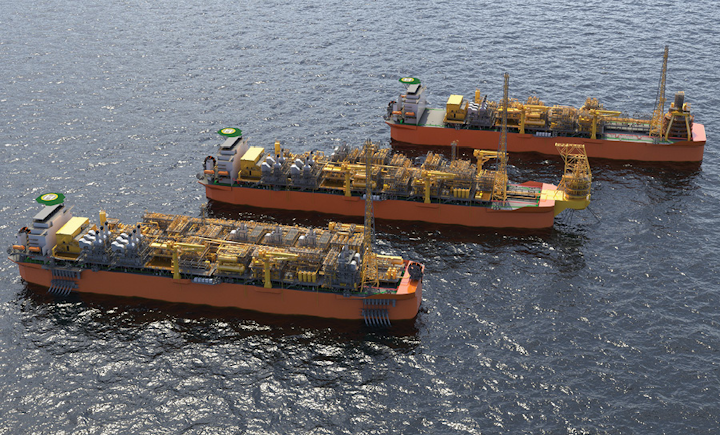 SBM commits to first spec-built hull in China
Jeremy Beckman,Editor, Europe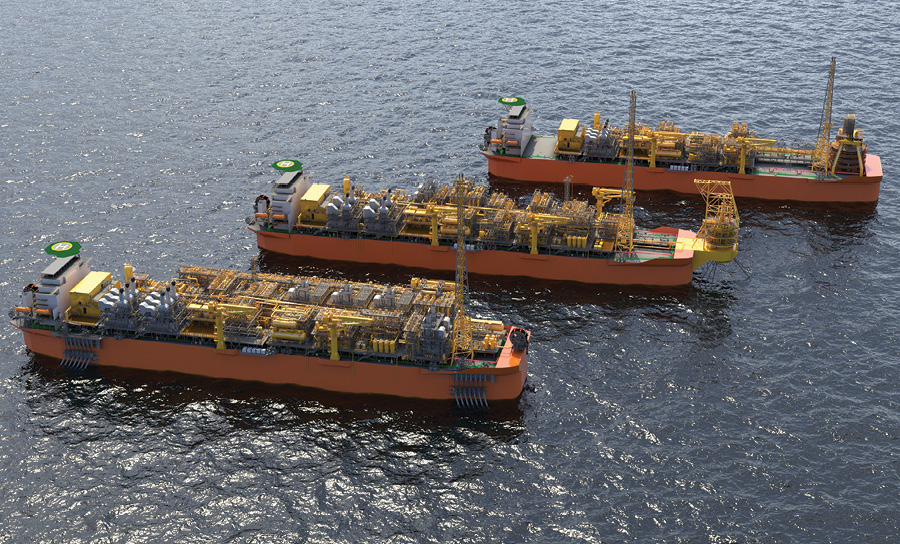 An artist's impression of how three different generations of topsides would be configured on a Fast4Ward multi-purpose (generic) hull. The top vessel is shown with a second-generation topsides weighing typically 10,000-15,000 tonnes. The middle hull is with complex third-generation topsides weighing typically 24,000 tonnes, as seen on the recent SBM presalt FPSOs for offshore Brazil. The bottom vessel features a future fourth-generation (Fast4Ward) topsides configuration weighing 35,000 tonnes. (All images courtesy SBM Offshore)
Earlier this year, construction started in Shanghai of SBM Offshore's first 'Fast4Ward' FPSO. This is a new concept based on a standard, multi-purpose newbuild hull supporting topsides that also involve a high degree of standardization. It is a unique combination which the company claims can accelerate delivery of the FPSO by up to one year, improve construction efficiency, and cut typical project costs by over $500 million. Both ABS and Bureau Veritas have issued Basic Design Approval for the generic hull.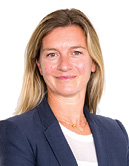 Offshore spoke to Severine Baudic, Floating Production Solutions Managing Director at SBM Offshore, about the rationale behind this development.
Offshore: Fast4Ward is said to offer greater safety and reliability through standardization and repetition. Can you explain the connection?
Baudic: The safety aspect of the Fast4Ward FPSO is enhanced due to several factors. Firstly, safety is inherent in the product design, which is a feature of all SBM Offshore's FPSOs. This is principally achieved by locating hydrocarbon processing modules away from the living quarters, control rooms and equipment rooms. This design premise drives the overall Fast4Ward FPSO layout, with only benign or non-hazardous equipment located near the commonly occupied safe areas. Specific efforts have been made to:
• Lower the height of the topsides modules and employ compact technology to reduce congestion and the hydrocarbon inventory.
• Simplify topsides access and egress, which is achieved through a standard module layout and continuous process deck.
Secondly, during the construction phase, thanks to the schedule gain there is a decrease in the number of manhours required at the yard and obviously less yard time reduces the risk to workers. In addition the reduction in the number of interfaces between companies engaged on the project increases safety.
Regarding reliability, the standardization strategy employed for the Fast4Ward FPSO facilitates a more predictable project execution. Repeatability is a key factor. This in turn increases the predictability of project delivery to the client. The experience gained will feed into subsequent projects ensuring continuous improvement. We have seen the repeatability benefit on our previous three presalt FPSO projects offshore Brazil which were almost identical in design, project execution and in their present operations.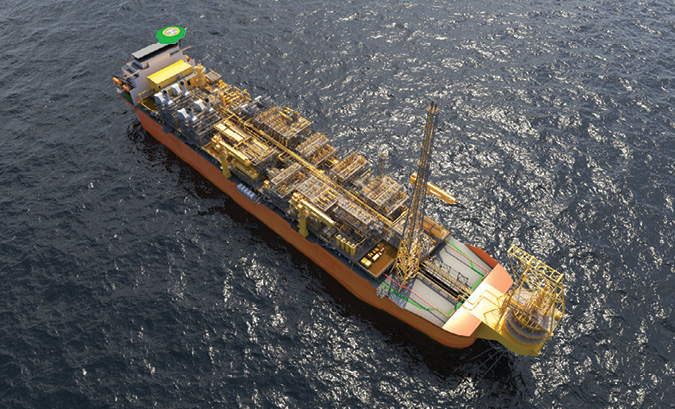 The Fast4Ward hull spread moored and outfitted with complex topsides weighing 35,000 tonnes is suitable for high capacity production FPSOs - such as those likely to be required for fields offshore South America and Africa in the future.
Offshore: Do these benefits apply solely to the process of construction at the yard, or also to the performance of the FPSO once offshore?
Baudic: Certainly by de-risking project execution we are enhancing the safety aspect during the construction phase. However, the benefits go beyond the yard phase; greater safety and reliability are achieved across the entire product lifecycle. The focus on safety is a top priority at SBM; by incorporating lessons learnt we continuously improve and also by advancing our technologies we enhance the inherent safety of our designs. Ongoing feedback from our current fleet operations provides invaluable knowledge on a daily basis; this has fed into the Fast4Ward design and will enhance future operations to achieve optimum reliability in performance. Asset integrity is of major importance throughout the design life of the FPSO (up to 30 years for the Fast4Ward FPSO) – modules are reduced in size, hence they are less congested and therefore easier to access for inspection, maintenance and repairs.
The de-risked project execution also allows us to attain a better predictability, which is achieved through standardization. In addition, engaging early with clients and throughout the entire project enhances the predictability, as does engaging with suppliers: we have framework agreements in place with key vendors.
Offshore: The Fast4Ward FPSO topsides catalogue is said to incorporate processes that have been considered traditionally too difficult to standardize. Can you provide examples?
Baudic: We can apply a high level of standardization to what we call generic modules – regardless of the project specifics. However, the bespoke modules – these are mainly the oil and gas processing modules which depend on the project – can be conceptually standardized then tailored to suit the specific crude oil characteristics and processing requirements. Although it's obviously not possible to be ready with 100% 'off-the-shelf' modules, all Fast4Ward modules are standardized in structural design and footprint, with bespoke modules standardized conceptually in terms of equipment and piping layout, thus avoiding "reinventing the wheel" on each project. This approach offers maximum module interchangeability, but without disrupting the overall functionality. In addition, our generic hull (the multi-purpose floater - MPF) allows us to speed up and standardize the integration of all modules because of the modular aspect of the design.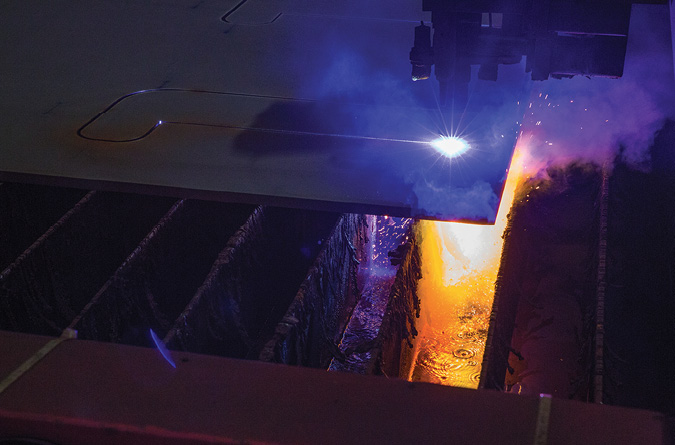 First steel is cut on March 23, 2018 for the initial Fast4Ward FPSO hull at the SWS yard in Shanghai.
Offshore: The adoption of a standard, multi-purpose newbuild hull is said to speed up delivery of the FPSO by up to 12 months. So what is the newly attainable delivery time?
Baudic: The answer to this is on a case-by-case basis for each project; however, we can deliver anything from six to 12 months ahead of the usual industry schedule. The gain on schedule is also dependent on the client accepting SBM's specs, and having trust in this ground-breaking design being based on our field-proven FPSO designs. Avoiding prescriptive specs will allow full optimization of the benefits of Fast4Ward. There are various elements that play with the schedule of a project such as the field characteristics, water depth, and mooring requirements. Our catalogue offering of multiple mooring possibilities (combinations of standard and innovative solutions) allows clients to pick and choose according to their needs and the environmental conditions of the FPSO location. The MPF is compatible with any type of arrangement - internal, external or spread mooring configurations. Another advantage is that the mooring flexibility also enables optimization of the subsea configuration.
Offshore: Does SBM have the financial resources to build more than one of these types of hulls at the same time on a spec basis?
Baudic: Regarding the financial aspect we have a very clear process in place where at each stage we decide to bid or accept an award. We're looking forward at various scenarios modeling our liquidity and cash flow to make sure that we have the means to manage those.
Offshore: Is the company confident of securing an order soon for the first newbuild?
Baudic: SBM Offshore does not comment on its tendering activities. Suffice to say our Fast4Ward FPSO has generated positive interest from several clients and we have a number of prospects identified that could be suitable candidates, not only for the FPSO but also for deployment of our topsides catalogue. Last August we announced the signing of a new-build hull contract with China Shipbuilding Trading Co. (CSTC) and the shipyard of Shanghai Waigaoqiao Shipbuilding and Offshore Co. (SWS) as we felt that interest generated combined with our cautious optimism for an upturn in the market warranted us progressing.
Offshore: Had SBM prior experience working with these two companies?
Baudic: It is not the first time working with CSTC. We selected SWS for its track-record and experience; it is a leading ship-building company, based near Shanghai, and a wholly owned subsidiary of China CSSC Holding, a listed company controlled by China State Shipbuilding Corp. (CSSC). SWS is one of the most large-scale and modernized and professional shipyards and is particularly useful for our Fast4Ward concept as it is geared toward hardware. It has experience in ultra-large containers ships, VLCCs, Aframax and Suezmax oil tankers, LVGCs, and other offshore products having delivered more than 415 vessels.
Offshore: SBM has stated that it has identified deepwater development opportunities – where in particular?
Baudic: The Fast4Ward FPSO is a generic design optimized for deployment in a wide area of the globe in water depths ranging from 300-3,000 m [984-9,842 ft]. It is particularly optimized for the offshore environments of Brazil and West Africa. We are presently reviewing potential projects which are offshore South America, West Africa, and Australia.
Offshore: The Fast4Ward FPSO is said to draw on SBM's General Technical Standards: what are the benefits?
Baudic: The Fast4Ward FPSO concept benefits from SBM's extensive operational feedback and the company's wealth of expertise in designing FPSOs. The company's General Technical Standards (GTS), initiated in 2002, remain the reference in the industry for designing FPSOs. These have ensured that our past FPSO projects have delivered on our clients' needs across the project lifecycle in the optimum and most cost-effective way. It capitalizes on our experience from turnkey product deliveries, including 34 complex deepwater FPSOs and over 300 years cumulative experience from operating our fleet
A key feature of the Fast4Ward hull is the additional deck space (~13%) it can offer when compared to a standard VLCC hull. In conjunction with additional features (hull shape, cantilevered manifolds, continuous topsides deck) it provides a 30% greater area for topsides equipment, which enables the MPF to accommodate larger topsides facilities, in combination with any type of mooring arrangement. The MPF's dimensions are 333 x 60 m [1,092 x 197 ft]. The design facilitates up to 2 MMbbl storage capacity and any processing and utility requirements with up to 35,000 tons net dry of topsides.
The basis of the Fast4Ward topsides layout is a standardized design and the concept involves interchangeable modules, while also opening the door to higher processing capacities within the same footprint. There is no specific minimum topsides weight per se as each project's economics differ.