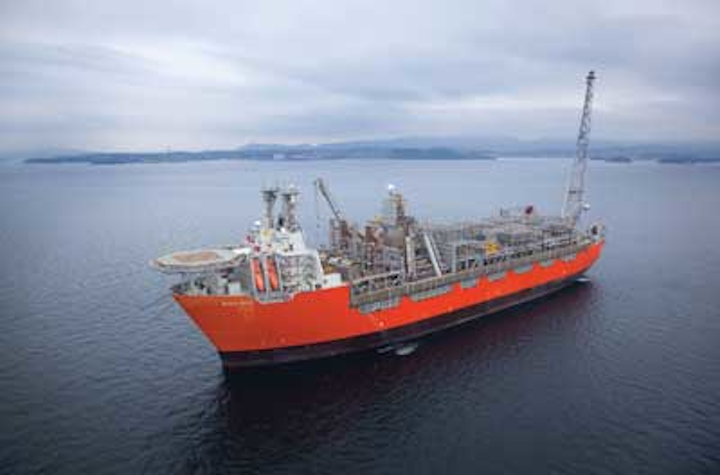 Jai Dhodhi
Howard Newman
Wood Group Mustang
The FPSO fleet has been steadily growing since the first facility was activated more than 35 years ago. Today, there are more than 200 global FPSO installations.
Since the last survey in August 2012, nine vessels have reached first oil. They include Petrofac'sBerantai FPSO offshore Malaysia, and the Montara Venture FPSO at PTTEP's Montara field in the Timor Sea.
Two vessels reached first oil in Europe. The cylindrical Sevan-designedVoyageur Spirit, owned and operated by Teekay Corp., is working at the Huntington field in the UK North Sea. BP's Skarv FPSO reached first oil at the end of 2012 at its namesake deepwater field in the Norwegian Sea.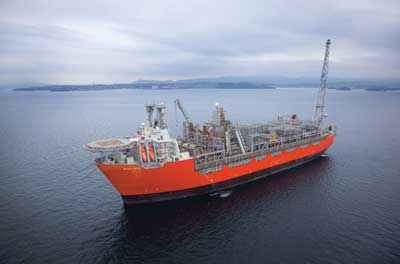 Skarv is a 295 m (968 ft) long, 51 m (167 ft) wide turret-moored FPSO that is connected to 13 risers and will ultimately receive production from 16 wells connected to five subsea drilling templates. (Photo courtesy BP)
Four vessels are located in the "Golden Triangle" - three in Brazil, and one (BP's PSVM) in Angola. The vessels operating in Brazil listed in last year's poster featured a nearly 50/50 split between contractor-owned vessels and operator-owned vessels. Of those operator-owned vessels, the majority - about two-thirds - were Petrobras-owned vessels. This year, there are three new Brazilian vessels, and none of them are owned by Petrobras.
The ninth vessel is theCrystal Ocean, a mini-FPSO owned by Sea Production Ltd. It is supporting Pemex's activities in the Mexican side of the Gulf of Mexico, according to the vessel's current operator, Blue Marine Technology Group.
Advantages to FPSOs can be classified in two ways: flexibility in performance and field development. Flexibility in performance includes all aspects from options for construction to seaworthiness. The basic performance advantages of an FPSO relate to oil storage capacity, operation in all types of environments, less sensitivity to weight increase or COG shift, ease of modularization, and redeployment to other areas when fields have declined. These and other factors are reasons why an FPSO is considered as a viable deepwater field development option.
With market expectations of exponential growth over the next five to 10 years, much of the increase is anticipated for West Africa, Brazil, and Southeast Asia. The main drivers for this growth are:
Slowing of shallow-water field development resulting in deeper water field development
Lack of infrastructure in remote deepwater areas
Safety and security of offshore facility
Ability to relocate quickly under harsh weather conditions
Increasing need to develop stranded gas in deepwater.
While the traditional oil and gas FPSO market continues to expand, new technological advancement in cryogenic materials, safety in design and modularization of liquefaction facilities has led to the development of floating LNG (FLNG) and floating regasification (FSRU) facilities.
The FLNG market is expected to be a growth market over the next five to 10 years having started in earnest with the award ofPrelude by Shell and PFLNG 1 by Petronas. The modularized design of FPSOs and FLNGs lend themselves to distributing work to multiple locations, easing pressures on local workforces, and lowering demands on a single fabricator. It is expected that the market will continue to grow in special circumstances that favor FLNG, such as reduced infrastructure situations and overall lower cost compared to onshore liquefaction.
In response to this growth, oil and gas engineering companies remain at the forefront of topsides design by providing services for new and emerging trends of floating, production, and storage facilities. These companies have focused on the differentiators between a fixed platform and a floating facility, and have identified the key elements unique for a successful design. Successful engineering requires effective decision making in process optimization, hull design, layout, and modularization. Keys to success are experienced engineers and designers who understand best practices for the structural interface between hull and topsides modules and for optimized equipment location, technical safety, maintenance and operability, while keeping in mind unique hull characteristics such as hogging and sagging in a ship-shaped floating facility.
EPC companies have also acquired floating cranes that can lift modules close to 3,000 metric tons (3,307 tons). Some EPC fabricators have committed to or are in negotiations to increase their lift capacity cap even more in the near future. The additional capacity is needed for the larger FLNG modules with the added bonus of reducing the number of modules on a vessel. Modularization and the ability to pre-commission modules at the quay side before lifting onto the hull directly affects the project cost and schedule. In addition, EPC companies have become skillful in the design and fabrication of double walled hulls and can deliver hulls that store more than 2 MMbbl and accommodate topside facilities of 40,000-plus metric tons (44,092 tons).
The FPSO market is growing and efforts are being made by all industry participants to facilitate this growth. For more information, please see the FPSO poster contained within this issue ofOffshore.
Acknowledgments
Special thanks to Christopher Mahoney for his contributions to this article and the related FPSO survey poster.