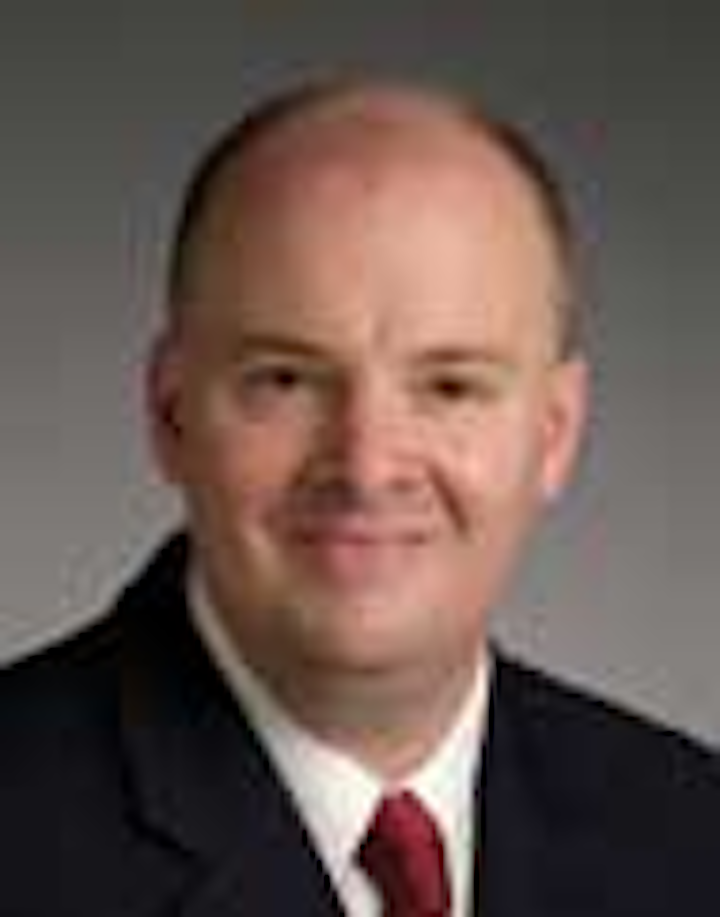 | | | |
| --- | --- | --- |
| | | Bruce Beaubouef • Houston |
The major topsides modules were installed on theOlympus tension leg platform (TLP) as Shell prepared to tow the 120,000-ton structure from Kiewit Offshore Services yard to the deepwater Mars field.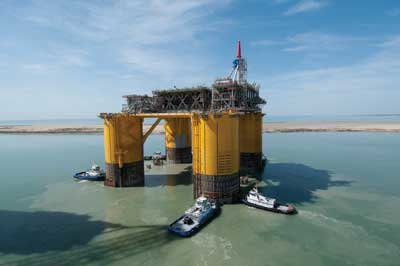 Shell'sOlympus tension leg platform for the Mars B project will be moored in 3,000-ft (914-m) water depths in the Mississippi Canyon area, about one mile from the existing Mars platform. (Photo courtesy Shell)
During a June 5 tour of the TLP – said to be the largest ever deployed in the Gulf of Mexico – Shell officials said the project will be the first in the region to employ an additional floating production system in a producing deepwater field.
"This is the first time in the Gulf of Mexico that a company has built another host structure to go in an existing field," rather than using subsea tiebacks to expand a field, said John Hollowell, Shell's executive vice president for deepwater.
TheOlympus platform will be moored in 3,000-ft (914-m) water depths in the Mississippi Canyon area, about one mi (1.6 km) from the existing Mars platform, which started production in 1996. The new TLP hosts a 24-slot drilling unit supplied by Nabors Industries and includes capacity for six subsea wells to gather production from the nearby West Boreas and South Diemos fields. Olympus has a production capacity of about 100,000 boe/d.
Noble Corp.'sNoble Bully I has drilled the top sections of the 24 wells at what Shell has dubbed Mars B, and is on location to drill the satellite wells at West Boreas and South Diemos.
The project is expected to extend the field life of Mars to at least 2050, Hollowell said. Shell has said the field could contain recoverable reserves of 1.1 Bboe. Shell operates the field with 71.5% interest; partner BP holds the remaining 28.5% interest.
WhenOlympus begins production, likely in the first half of 2014, the focus of the existing Mars production platform will shift to the field's shallower reservoirs and to water injection. Olympus, outfitted with 15,000 psi-rated trees furnished by FMC Technologies, will concentrate on high-pressure reservoirs that range in depth from 20,000-22,000 ft.
Shell will install a third platform at its West Delta 143 gathering hub to link production from Mars B with existing pipeline infrastructure.
Heerema'sBalder deepwater construction vessel will be used to install the TLP.
EIA sees greater disruptions in upcoming storm season
The US Energy Information Administration says it expects greater losses in GoM oil and natural gas production from tropical storms this year than was seen in 2012.
As reported by Reuters, the EIA said that in a study, the median loss in Gulf of Mexico crude oil production from tropical storms in 2013 was expected be 19.3 MMbbl, up from 14.3 MMbbl in 2012.
The EIA expects a median loss of 46.4 bcf in natural gas output due to the 13 to 20 named storms forecast by the US National Oceanic and Atmospheric Administration for the six-month 2013 Atlantic hurricane season, which began June 1.
The 19 named storms in the 2012 hurricane season accounted for 32.1 bcf in lost natural gas production, the EIA said.
Last year's season was one of the milder ones to hit US energy production. The total number of named storms was seven above average, but only three tropical storms and two moderate hurricanes came through the Gulf.
The EIA also said the percentage of national crude oil and natural gas production provided by the US-regulated areas in the northern GoM has shrunk in recent years as onshore production has increased.
In 2012, the Gulf provided 19% of crude oil production, down from 26% in the 2007-2011 period. In 2012, the Gulf accounted for 6% of natural gas output, compared to 26% in 1997, according to the EIA.
The Gulf produces 1.3 MMbbl/d of crude oil, according to the EIA. In 2011, 1.7 tcf/d in natural gas came from the Gulf.
The amount of shut-in production depends on the intensity of a storm and the path it takes across production areas, according to the EIA.
For example, 2012's Hurricane Sandy, which struck the US East Coast, had no impact on Gulf production. But 2008's major Hurricane Gustav, which came ashore in Louisiana after passing through the heart of the Gulf's offshore oil patch, shut 98% of Gulf oil production and 96% of natural gas output.
Exxon awards Julia field contracts
Exxon Mobil Corp. has awarded field development contracts for its Julia field in the deepwater Gulf of Mexico, with 2H Offshore winning a production riser design contract and Technip winning a deepwater pipelay contract.
The Julia development will be a subsea tieback to a moored semisubmersible in approximately 7,000 ft (2,134 m) of water.
2H Offshore will perform detailed design of two 10-in. production steel catenary risers to use in Phase 1.
Technip will provide project management, engineering, fabrication, installation, and pre-commissioning of more than 48 km (30 mi) of 10.75-in. (27.3-cm) outer diameter insulated flowlines, steel catenary risers, and flowline end terminations.
Technip's Houston center will provide project management, with detailed flowline design by Genesis, flowline and riser fabrication in Mobile, Alabama, and installation in 2015 using theDeep Blue pipelay vessel.
Hess taps Wood Group for platform services
Hess Corp. has awarded a five-year contract to Wood Group PSM (WGPSN) for operations and maintenance services to the Baldpate production platform in the deepwater Gulf of Mexico.
The company will also provide these services to Hess for the Tubular Bells and Stampede deepwater facilities when they go onstream in the Mississippi Canyon and Green Canyon areas of the GoM.
WGPSN will develop a computerized maintenance management system to track the maintenance and repair of rotating equipment and maintenance parts. They will also manage the inventory of engineering parts.