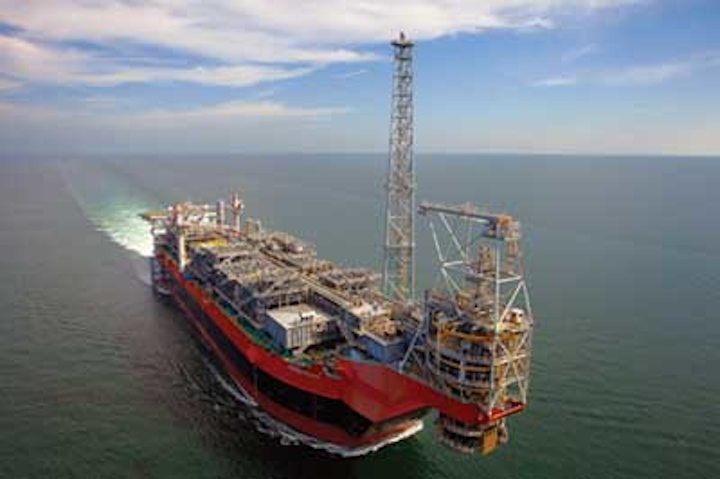 Jessica Tippee
Assistant Editor
Project features the first FPSO in Angola ultra-deepwater
The first deepwater development in block 31 offshore Angola began production on Dec. 6, 2012. The $14-billion PSVM development consists of four oil fields - Plutão, Saturno, Vênus and Marte - in water depths between 1,500 and 2,500 m (4,921 and 8,202 ft).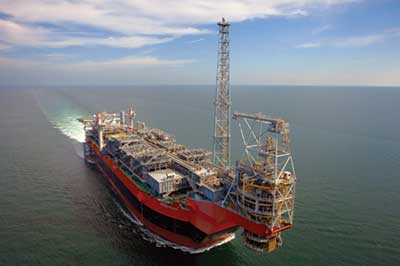 The FPSOPSVM features one of the largest external turrets ever constructed for a floater. (Photo courtesy SOFEC)
Operated by BP, PVSM is the largest deepwater project in Africa and one of the biggest offshore oil and gas projects in the world in terms of water depth and subsea extension. Located in the northeast section of block 31 about 180 km (112 mi) offshore, PSVM consists of 48 wells (22 initial producers, 16 water injectors, two gas injectors, and eight later infills) connected to an FPSO through 15 subsea manifolds and associated subsea equipment.
The project's first phase comprises three wells in the Plutão field, where BP expects to ramp up production to 70,000 b/d. Additional wells will boost PSVM's output to 150,000 b/d as wells go onstream in the Saturno and Vênus fields this year and in the Marte field in 2014.
BP Exploration (Angola) Ltd. became operator of block 31 in May 1999. The company holds 26.67% interest along with partners Sonangol E.P. (25%), Sonangol P&P (20%), Statoil Angola A.S. (13.33%), Marathon International Petroleum Angola Block 31 Ltd. (10%), and SSI 31 Ltd. (5%). Sonangol E.P. is the concessionaire.
The Plutão, Saturno, Vênus, and Marte fields were discovered between 2002 and 2004. In July 2008, BP and its co-venturers received approval from Sociedade Nacional de Combustiveis de Angola (Sonangol E.P.) to proceed with the first deepwater project in block 31.
Under an engineering, procurement, construction, and installation (EPCI) contract, BP awarded MODEC a frame agreement to supply an FPSO for the ultra-deepwater project. In December 2008, MODEC awarded Jurong Shipyard a $133-million contract to convert the very large crude carrier tankerBourgogne to an FPSO. The conversion involved installation of an external turret mooring system and process facilities including gas turbine generators, oil separation, gas injection/gas lift, and water injection systems. SOFEC designed, constructed, fabricated, and supplied the external turret mooring system, which is one of the largest external turrets ever constructed for a floater. The topside modules weigh more than 20,000 metric tons (22,046 tons).
FPSOPSVM, moored in 2,000 m (6,561 ft) of water, is the first FPSO in Angola ultra-deepwater. Designed to operate for 20 years without dry docking, the vessel has a production capacity of 157,000 b/d of oil and 245 MMcf/d (7 MMcm/d) of gas, with oil storage capacity of 1.8 MMbbl. The FPSO is 318 m (1,043 ft) long and 57 m (187 ft) wide.
First Subsea supplied 12 Ballgrab ball and taper connectors for the external turret's 12 mooring lines. Ballgrab connectors link the suction piles and ground chain segments, interfacing directly with the mooring lines' mooring shackles.
MODEC Offshore Production Systems contracted VWS Westgarth to supply a water treatment package comprised of pre-treatment and seawater sulfate removal systems with a capacity of 31,800 cu m/d (200,000 b/d) of water. The company also supplied an integrated seawater reverse osmosis system for process wash water sized at 20,000 b/d of water.
The subsea infrastructure features nine wet insulated hybrid risers, 50 km (31 mi) of pipe-in-pipe production flowlines, 56 km (35 mi) of plastic lined water injection lines, plus seven two-slot and six four-slot manifolds.
BP awarded Heerema Marine Contractors a $1-billion EPCI and testing contract for pipe-in-pipe production flowlines, service flowlines, and vertical riser systems. The offshore installation work was performed by the deepwater construction vesselBalder. The welding technology was supported by Pipeline Technique in Scotland.
Aker Subsea AS won a $69.8-million frame contract to manufacture and deliver 48 km (30 mi) of steel tube umbilicals. The dynamic section of the umbilicals features Aker's patented carbon fiber rod technology, which was developed for deepwater and ultra-deepwater conditions. This is the first time carbon fiber rod technology has been used in African waters.
Technip received a $112-million call-off contract for the engineering, procurement, and manufacture of 40 flexible jumpers. Project management and engineering was carried out by the company's operating center in Paris. The flexible jumpers were manufactured at the company's flexible pipe plant in Le Trait, France.
The company also was awarded a $404-million contract for the engineering, procurement, and manufacture of more than 64 km (40 mi) of rigid flowlines. Project management and engineering was carried out at the operating centers in Paris and Luanda, Angola. The flowlines were assembled at the Angoflex Ltda. spoolbase in Dande, Angola, and the offshore works were conducted using Technip's deepwater pipelay vesselDeep Blue.
Angoflex Ltda. and DUCO (Technip's wholly owned subsidiary) won a $112-million call-off contract for the engineering, procurement, and manufacture of 34 umbilicals with a total length of 43 km (27 mi). Project management and engineering was carried out by DUCO in Newcastle, UK. The umbilicals were manufactured at the Angoflex plant in Lobito, Angola.
Subsea 7 installed more than 12,000 tons of subsea infrastructure using the multi-purpose support vesselSeven Seas.
The PSVM project was developed with more than 20% local content in the manufacture and assembly of key components in Soyo, Dande, Luanda, Porto Amboim, and Lobito construction yards.
PSVM is the first of multiple developments expected in the 5,349-sq km (2,065-sq mi) block 31.