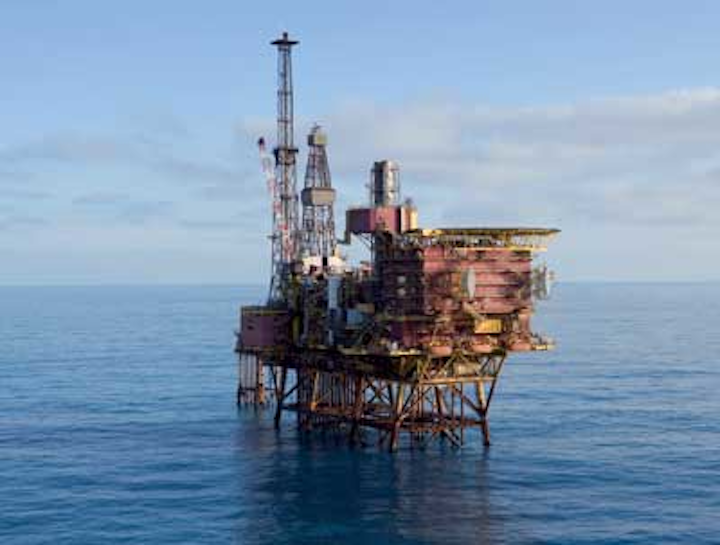 Nathalie Franck
Julian Slater
Talisman Sinopec Energy UK
Fulmar is a large oilfield in the UK central North Sea, originally developed and brought onstream by Shell Expro in the early 1980s, with Talisman Sinopec assuming operatorship two decades later. At peak, production reached 160,000 b/d, but by 2010 had fallen back to less than 3,000 b/d.
However, a series of measures implemented during 2011/12 led to output steadily recovering to 15,000 b/d. These included improvements to the export and water injections systems, a coiled tubing campaign to reinstate production from three wells, and a subsea tieback of the Auk North satellite field to the Fulmar platform. Talisman Sinopec has identified opportunities to further increase and extend production through additional well interventions, infill drilling on nearby targets, and tiebacks of other prospects.
Fulmar is on the southwest margin of the central graben in blocks 30/16 and 30/11b. Total oil in place is estimated at 822 MMbbl, with at least 580 MMbbl thought to be recoverable. The high (68%) recovery factor is due to a combination of well density, reservoir quality, sweep via water injection, and oil stripping from a secondary gas cap formed early in field life. Initially, Shell Expro injected gas into the structure's crest until 1987, when offshore infrastructure became available in the area for gas exports. Water was injected on the flanks to maintain pressure throughout the field's life.
Between 1985 and the early 1990s the field was delivering peak production through 21 producer wells. Thereafter, oil volumes declined as the water cut increased. During 1991-98, Shell Expro drilled five more wells and side tracks and added perforations in levels containing bypassed oil, but output continued to fall, with the water cut eventually reaching 95%. Since taking over in 2006, Talisman Sinopec's focus has been initially on stabilizing and then raising production through wide-ranging operational efficiency improvements.
Platform upgrades
A key step in improving the daily oil rate was to repair and upgrade the 30-year-old Fulmar field platform. Main modifications, designed to improve safety, integrity, and plant reliability, comprised:
Internal cleaning of deluge piping to restore functionality
Upgrading heating ventilation and air conditioning in the temporary refuge and process modules, with all dampers replaced
Upgrading passive fire protection, lifeboats, and small bore tubing
Repair of the jacket, including fitting clamps to the platform legs
Increased painting for fabric maintenance
Application of biocide to inhibit corrosion in pipework and vessels
Upgrade of controls and repairs to process control valves
Water injection system improvements
Installation of air driers to increase instrument air supply.
These measures increased the platform's operational efficiency from less than 60% in 2010 to 85% by 2012, rising to 90% during the first half of 2013.
Well reinstatement
The Fulmar reservoir is a four-way dip closure in the form of a triangular anticline, and comprises a 1,200-ft (366-m) stacked sequence of shallow marine and shoreface (Fulmar) sands that accumulated during the late Jurassic. The sands are high net-to-gross, with the Lydell and Mersey sand units providing the best-quality reservoir. Toward the northeast the Mersey sands degrade to what is known as the Clyde formation. Fulmar's hydrocarbons are under-saturated, 40°API black oil.
For the original development plan, a peripheral water injection scheme was designed to keep reservoir pressure high enough to allow the wells to flow naturally, even at higher water cuts. Production wells were completed "bottom up," and as these intervals watered out, shallower intervals were perforated. Meantime, the gas re-injected during the early years of production formed a secondary gas cap.
After 2006, Talisman Sinopec, as new operator, adopted a reservoir management strategy that involved improving water injection and increasing liquid offtake. Water injection is necessary to keep the wells flowing naturally at high water cut. Increased liquid offtake has been achieved by raising plant uptime, water injection, and well stock availability.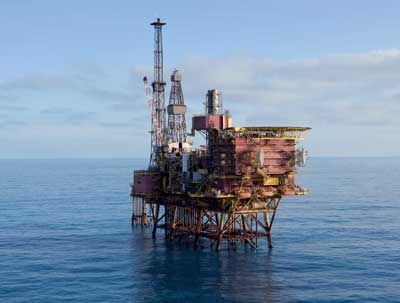 Talisman Sinopec has upgraded the 30-year-old Fulmar platform to ensure continued service.
To improve well availability Talisman Sinopec devised a coiled tubing intervention campaign. Following a subsurface review, the company drew up a list of well opportunities, which were prioritized based on incremental reserves, initial rates, and risks. Three crestally located production wells were chosen for the campaign, which was performed during 2011-12.
The FA15 well on the west crest of the Fulmar reservoir was originally completed in September 1987 and isolated in November 2006, as a result of extensive corrosion in the casing/conductor. By that point the well had delivered 30 MMbbl of oil. Here the objectives of the intervention were to retrieve the plug, clean out Low Specific Activity (LSA) scale, survey the well and identify the leak path, repair the leak with a straddle, test the well's integrity, and finally return it to production. This was achieved in April 2011 with an initial flow rate of 1,900 b/d, falling back to 1,500/d during the last well test in March 2013.
Fulmar's FA14 well is on the east crest of the field at a relatively high point of the structure. This well was originally completed in July 1987 and had delivered 12 MMbbl by the time it was isolated in July 2006 because of a 99% water cut. Scale build-up had also been noted. At the time of the isolation, FA14 was a Lydell/Clyde producer well, with all flow coming from the Lydell sands.
The intervention program started with mill-out of scale using coiled tubing, followed by re-perforation of the Lydell interval and a well test. However, as the resultant production from the Lydell was 200 b/d with the same high water cut (99%), Talisman Sinopec decided to re-perforate and add perforations in the Clyde; isolate the Lydell with a bridge-plug; and scale-squeeze to protect the formations. Flow was restored in January 2012 at a rate of 580 b/d. During a subsequent well test in March 2013, production had eased back to 400 b/d, with a 75% water cut, but the results proved the potential of the Clyde formation for future projects.
Intervention number three was on the FA33 well, drilled in November 1994 on another high of the Fulmar structure, and which had suffered severe LSA scaling that led to failure of the subsurface safety valve. This device was replaced by a storm choke valve which also failed, causing the well to be shut in.
Talisman Sinopec's coiled tubing operation was designed to reinstate the well as a Mersey producer by milling out the scale, re-perforating the existing Mersey perforations, injecting squeeze scale inhibitor, re-setting the storm choke, and flow testing the well. FA33 came back online in March 2012 at an initial rate of 2,500 b/d, before falling back to 750 b/d during a test in 2013, with a water cut of 91%.
Talisman Sinopec plans more interventions in 2013-14, including one to reinstate a shut-in producer well, and a wireline intervention campaign for re-perforations and water shut-offs. In parallel, the company is considering refurbishing the Fulmar platform's rig, which was last used to drill in 2002. This would provide more opportunities for infill drilling, workovers, well abandonment, and near-field exploration. Infill wells could target attic oil such as FA15 and FA33, or bypassed oil such as FA14. A serviceable platform rig is also needed to protect reserves associated to wells that need tubing changeouts.
Auk North tieback
The final component of the Fulmar rehabilitation involves subsea tiebacks of nearby accumulations such as Auk North, which was discovered in 1971 and appraised in two phases during 1993 and 2007-08. The field comprises a structural stratigraphic trap on the western flank of an east-dipping horst block on the western edge of the Mid North Sea High. The Auk horst is 12 mi (19 km) long and 3-5 mi (4.8-8 km) wide. Hydrocarbons are present in the Permian Rotliegend sandstones, overlying Zechstein carbonates, and lower Cretaceous breccias and chalk. Auk North has a 400-ft (122-m) thick, 38°API oil column, with in-place reserves estimated at 81 MMbbl.
Four subsea production wells were drilled during 2009-11, all completed with dual electric submersible pumps and tied back to the Fulmar platform. First oil flowed in November 2010, with high initial rates of around 20,000 b/d that have since fallen back. The field's recovery mechanism is depletion drive with bottom aquifer support.
Editor's note: This is a modified version of a paper presented at the Offshore Europe conference in Aberdeen in September 2013, organized by the Society of Petroleum Engineers, and published with the kind permission of Talisman Sinopec.