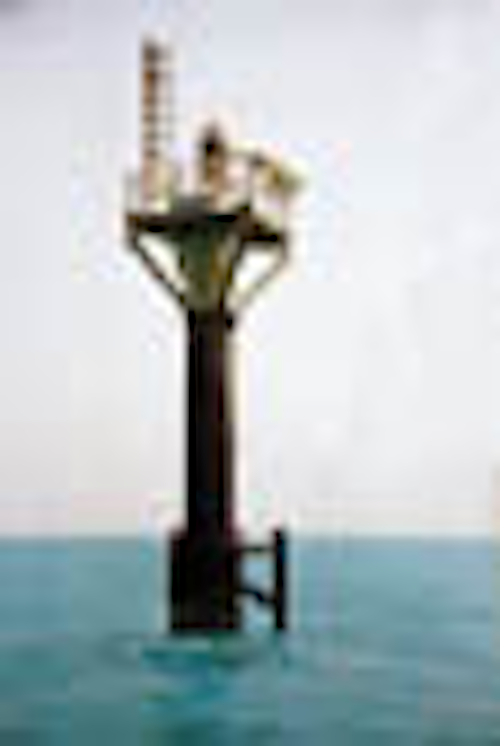 Highly faulted prospects result in varied outlook
Jeremy Beckman
Editor, Europe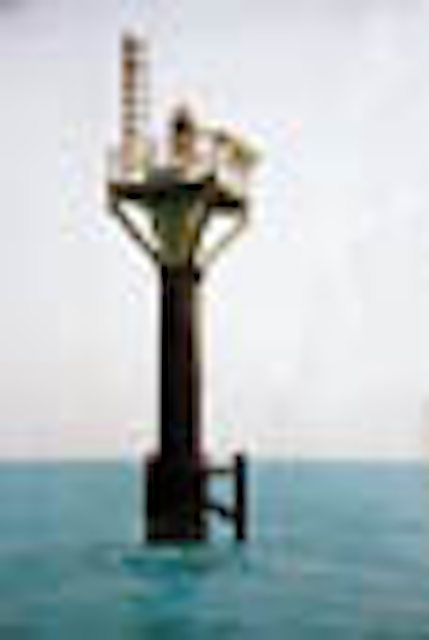 El Biban-3 well caisson, pre-well re-entry.
Tunisia is Africa Minor, as far as most oil industry heavyweights are concerned. Over the years, the likes of BP, Marathon, Total, and latterly Elf, have drifted out of their offshore concessions, unconvinced of a due reward for their heavy exploration outlays.
They may be right. Aside from Ashtart and Miskar, Tunisia's fallow, shallow water reservoirs are not cash pots for corporations with giant overheads. However, for smaller oil companies geared more readily towards marginal developments, modest profits can be achieved. This is the case with two current offshore projects, with a more complex marginal multi-field development also in prospect.
El Biban Field
First oil is due soon from El Biban, an old discovery in the Gulf of Gabes in a concession operated by Ecumed Petroleum Tunisia. Ecumed is an offshoot of Canadian company Centurion Energy International. Its partner in the development is Irish independent Aminex, which first farmed into the concession in 1992 when it was operated by Marathon.
At that time, El Biban was considered an outright gas field with no foreseeable commercial link into the Tunisian grid. Subsequent analysis of the reservoir revealed that it was in fact a potential oil play. No progress was made, however, until early 1996, when Marathon decided to sell all its Tunisian interests.
Even though Aminex had at one point considered operating El Biban itself, the arrangement with new owner Ecumed has proved satisfactory. Ecumed immediately enacted the pre vious regime's plan of re-entering the El Biban-3 vertical well in September last year, using the jackup Santa Fe 136 to drill and complete a 1,076-meter horizontal section through the oil zone.
Commercially, it was a risky exercise, as the very thin oil leg lay in fractured Upper Cretaceous Zeebag Dolomite. Unintentional intersection of these fractures could have generated water breakthrough. As things turned out, the well flowed at unexpectedly high rates of oil - 5,500 b/d, with 5.2 MMcf/d of associated gas.
Re-entry was done from an existing wellhead caisson which also will form the "platform" for the development. Around 5.8 million bbl of oil will be drained over the next seven years. El Biban is a simple structure, according to Aminex's technical director David Clark, the limits of which have been well defined. Aside from the oil leg, there is a gas cap, some condensate, and a water table.
Tunisia's government has approved initial flaring of the gas at 3 MMcm/d, but that rate will drop as the oil pool declines. A local power generation scheme is being considered, which could use some of the associated gas.
Fortunately for the project's economics, a ready-made oil terminal and port are in place at Zarzis on the coast, receiving oil from the onshore Ezzaquia Field. But the partners have commissioned their own oil/water/gas separation and storage facilities. Produced liquids will head to these facilities via a 16-km, 8-in. diameter subsea pipeline installed by Italy's SOIL. Three-phase separation operates at 50 psig, with a shutdown valve located at the separator inlet. Genesis in the UK designed the production layout. The overall EPCI project contractor is Tunisia's Mondial Services.
The concrete well caisson, fixed to the seabed through piles in just 9 meters of water, will be equipped with pig launching and chemical injection facilities, with a riser for the production pipeline. The structure can easily be removed by a crane barge when the field expires.
According to Aminex's chief executive Brian Hall, the project has been rendered profitable partly through Tunisia's favorable production terms, combined with the fact that state oil company ETAP has not taken a stake in the license. Around seven years from now, the economics could improve still further, if a proposed cogeneration plant goes ahead. This could be fueled by the estimated 14 bcf of gas cap reserves in the El Biban gas structure.
Didon Field
Another ex-Marathon discovery, the Didon oilfield in the Zarat permit, is forming the basis for Tunisia's first phased FPSO development. The permit covers 1,000 sq km in the Gulf of Gabes in water depths of 50-100 meters. 2D and 3D seismic surveys have been staged here this decade.
Of the eight Zarat area wells drilled since 1975, four are considered commercial. The Zarat Field ranks number two and could be phased in to the FPSO, following a planned extended production test. A snag is that the reservoir extends into a zone disputed with Libya, which could complicate development.
Didon, the first field to be exploited, is a faulted, domal feature located near the eastern edge of the permit area. The first Didon discovery well, in 1975, tested 3,000 b/d from the El Gueria formation, a nummulitic Eocene carbonate formation. Ten years later, Didon-2, drilled 1.2 km to the southwest, encountered the bulk of the El Gueria below the oil-water contact, but also confirmed the extent of the oil column.
The Santa Fe 136 rig should now be drilling a new horizontal well, Didon 3H, which could achieve production of 10,000 b/d, according to Tim Taylor of Soco International, one of the field partners. The other partners are Tunisian operator M.P.Zarat and its affiliate Medex Petroleum. An FPSO has been purchased in Singapore and is currently in Tunisia being fitted with production equipment.
Following commissioning of this and the subsea assembly, the FPSO should produce full-scale oil from Didon for three years starting early 1999. Later on, it could be moved to exploit the smaller Elyssa and El Nisr accumulations.
Cap Bon fields
Paris-based Coparex International is another relatively new operator offshore Tunisia. It farmed into the Cap Bon Marin exploration license in 1994, participating that year in the Zelfa oil discovery. Two years later, it gained operatorship of this license, plus the Birsa, Oudna and Isis concessions when Samedan decided to sell its Tunisian interests.
Shell, Samadan and Total have also operated these concession at various times, but were defeated in their attempts to coordinate profitable development of the various discoveries. But technology, like the operators, has moved on. According to Willem van't Spijker, vice-president of operations at Coparex: "What we're thinking of as a concept for the whole area could be subsea completions with floating support. We're working on a production unit, which is a converted or purpose-built tanker."
Zelfa is one of the key prospects. Although the second exploration well here in 1995 proved disappointing - with the best part of the reservoir below the O/W contact - the partners extended their analysis through a small 2D seismic survey, followed this year by a 3D survey over the heavily faulted zone around Zelfa. Coparex itself is now interpreting the data. Should definition of the reservoir prove positive, an extended well test could follow next year.
On Isis, six wells have been drilled over the years, of which three produced oil and one gas. Sound production rates of up to 5,000 b/d were achieved. But uncertainties linger over the reservoir's geometry.
"We think it is an oil field with a gas cap," says van't Spijker. "One problem we've encountered is rapid gas encroachment, increasing gas-oil ratios during well tests. And we don't know if the eastern structure is connected to the field's main body."
ISIS concession partner Atlantis (an affiliate of PGS) has just completed geophysical, geological, and petrophysical reinterpretation of old data on Isis, including 3D seismic acquired by Samedan. Techniques employed included reprocessing of post-stack raw migrated data, zero phasing, generation of synthetic seismic data, and acoustic impedance inversion.
"The revised maps and data have been loaded in a reservoir model," adds van't Spijker. "Reservoir simulation by us in-house to optimize well design and locations will last until the end of October."
This summer, Coparex also acquired new 3D seismic over the Birsa and Ondra concessions. Favorable interpretation could accelerate their development, but they could also be exploited in the long term through the Isis FPSO, once that field has depleted.
On current analysis, Birsa and Oudna look to be similar structures. Six wells have been drilled on Birsa, with three testing oil at good rates. However, water depths are deeper than over Zelfa and Isis, which would impact development costs. Also, says van't Spijker, "Birsa's reservoir is shallower. We worry about whether there is enough energy available to produce through the wells through natural flow. We do have some experience in artificial lift, but we want to avoid this, these being marginal projects.
"Zelfa has several reservoirs piled on top of each other, while Isis and Birsa each have large reservoir bodies. Basically, our thinking is to produce these through horizontal wells, to avoid drawing down the gas, with subsea completions. We think these will be short-term projects, with maybe four to five years of production each." However, alternative investigations are under way for Zelfa which could lead to its liquids being piped directly to shore using very minimal production facilities.
---
Gas main target in Ulysse hunt
Last December, British Gas became Tunisia's largest foreign acreage holder when it gained 50% of the Ulysse permit located close to its Miskar and Hasdrubal gas discoveries. Entreprise Tunisienne d'Activites Petroleum (ETAP) holds the remainder of the license, which is for an initial four-year exploration period. 3D seismic has already been acquired and the one commitment well will probably be drilled next year.
North Africa is a core E&P area for British Gas. Offshore Tunisia, the firm's main asset is the Miskar Field in the Gulf of Gabes, the country's largest single gas development. The output
is contracted to Societe Tunisienne de l'Electricite et du Gas (STEG). Here performance from the 10 producer wells is currently better than expected, leading to a recent upgrade of reserves. So infill drilling on Miskar is not expected until 1999 at the earliest. However, additional well slots are available on the production platform for satellite developments.
British Gas admits that its target prospects in Ulysse are more likely to be gas prone. Any sizable discoveries could be used to fuel Tunisia's first combined cycle gas turbine power plant which British Gas and GEC Alsthom are bidding to build and operate in Rades.
Another source could be the Hasdrubal gasfield, discovered in 1995 in its Amilcar permit, 30 km southwest of Miskar. The latest Hasdrubal appraisal well, drilled to 3,782 meters TD, flowed at 21 MMcf/d post-acidization. The reservoir proved to be thicker, and the facies better developed, than had been prognosed.
The favored development option is a normally unmanned platform including water separation facilities. Produced fluids would be piped either to the Miskar facilities through a single 16-in. multiphase flowline, or directly to the shore. British Gas' Research and Technology Division in the UK is currently computer modeling multiphase flow conditions.
The company is more ambivalent about its oil holdings. A while back, it announced its attention to sell its Tunisian oil production assets, which are headed by the Cercina Field in the Kerkennah West concession. No deals have been announced, although a possible buyer could be Arco, one of the few majors still interested in the region, and which recently acquired Elf's interest in the Ashtart facilities. However, British Gas claims that an oil discovery in Ulysse "would be of significant interest to us".
---
Copyright 1997 Oil & Gas Journal. All Rights Reserved.