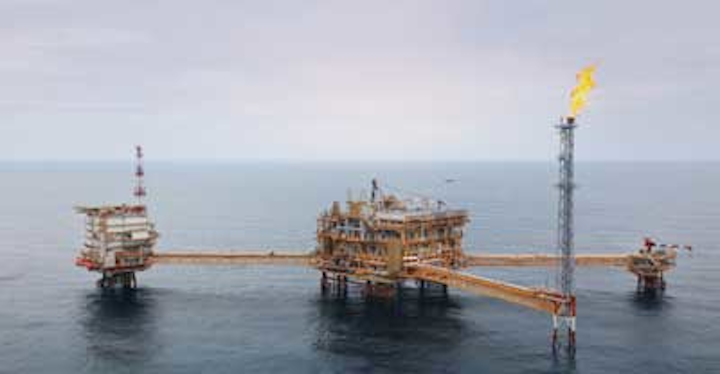 Bruce Beaubouef
Managing Editor
As Thailand looks to expand the development of its offshore oil and gas resources, the commissioning of the Greater Bongkot South (GBS) gas and condensate field in the Gulf of Thailand is expected to be a major milestone toward that end.
GBS is a major natural gas field in the Gulf of Thailand. It is located in the Navamindra Petroleum Area, about 203 km (126 mi) off the coast of Songkhla province. Located in blocks B16 and B17, the platform facilities are situated in water depths of 63 m (206 ft).
In April, PTT Exploration and Production (PTTEP) announced that it had started production from the GBS field, in cooperation with project partners Total and BG Group. The project is expected to increase production capacity for BG Group in Thailand by 50%.
GBS is notable due to its platform design and multiple wellhead facilities. The development comprises a new central processing platform, a flare platform, and a living quarter platform. Its production capacities are as follows: natural gas 352 MMcf/d; condensate 18,000 b/d; and produced water 20,000 b/d.
In June, PTTEP disclosed that the GBS project was producing natural gas at a rate of 320 MMcf/d and 9,000 b/d of condensate. These production rates will increase the overall of Bongkot production capacity up to 900 MMcf/d, which represents about 20% of Thailand's natural gas demand.
Gas heads to the PTT-operated grid via a new spur line while condensate is exported to the existing FSO vessel at the Greater Bongkot North field, 80 km (49.7 mi) to the north.
Development history
Work on the GBS project first started in 2004, when PTTEP and the Bongkot joint venture partners launched a feasibility study. Hyundai Heavy Industries (HHI) was selected as the engineering, procurement, installation, and construction contractor, and its work scope included the gas process platform, jacket, flare tower, and the three bridges.
Construction began four years later when work got under way on the processing platform at the HHI facility in Ulsan, South Korea; work also began on the living quarters platform at PT Gunanusa, Indonesia. The quarters and processing platforms were transported to the Gulf of Thailand and installed in July and August 2011, respectively.
GBS facilities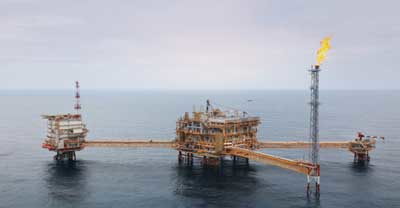 The Greater Bongkot South facilities consist of four main structures: the WPS (wellhead platform south), the FPS (flare platform south), the PPS (processing platform south), and the QPS (quarter platform south).
The GBS facilities consist of four main structures: the WPS (wellhead platform south), the FPS (flare platform south), the PPS (processing platform south), and the QPS (quarter platform south).
The PPS has three decks, including the upper deck, the main deck/mezzanine deck, and the lower deck/ESDV (emergency shut down valve) deck.
The main equipment on the PPS upper deck includes a production separation unit, power generators, gas compressor unit, CO2 removal unit and heating medium system. On the main deck, there is equipment for gas metering and export; a condensate separation unit; a membrane pre-treatment unit; a condensate stabilizer unit; a laboratory; and a switch gear room and instrument technical room.
On the PPS lower deck, the main equipment is comprised of gas pipeline risers and a receiving system from the remote wellhead platforms. It also includes utilities, the fire water system, a condensate stabilizer unit, a dehydration unit, a mercury removal unit, condensate metering and export, flare knock out drum, and a gas export pipeline.
The QPS is designed as a living quarters and is able to accommodate 160 offshore workers. It also contains the central control and communications center. The FPS has three types of flare devices, categorized by pressure and waste gas quality. The categories are high pressure flare, low pressure flare, and permeate flare.
The remote WPS is a small production platform distributed around the central processing platform at various distances. Each platform is designed as a hub for raw natural gas produced from several subsurface production wells in that area for transmission to to the central processing platform for further treatment.
It is also designed as a support base for a drilling rig which can be mobilized from one wellhead platform station to another to drill new production wells or existing well intervention. Currently, there are six wellhead platforms, with the WPS1 located at the central complex, and five remote wellhead platforms.
Compression and export
The compression system is designed to have a single, common driving shaft for both the booster and export gas compressor. Separated gas from the inlet separators is compressed from 23 barg to 65 barg by two boosters running in parallel. Each compressor unit includes a suction and discharge scrubber, booster compressor, and discharge cooler. Compressed wet gas is then sent to the gas treatment systems.
Once the wet gas is treated, dry gas is compressed again by the sales gas compressor unit until the pressure reaches 131 barg and then sent to the sales gas metering skid for export.
Produced natural gas is delivered through PTT's 24-in. export pipeline, which connects to a 42-in. trunkline. This trunkline in turn connects to the PTT riser platform where the gas is compressed and sent to PTT's Rayong gas separation plant. Produced condensate is sent via an 8-in. pipeline to an FSO for offloading and transport.