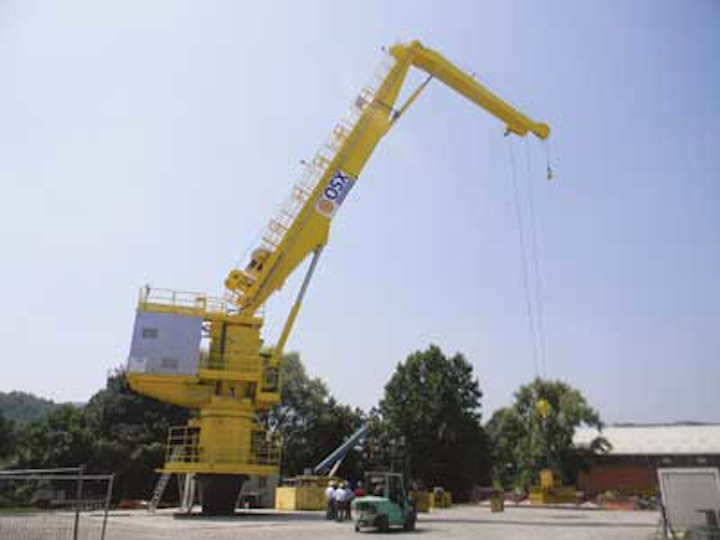 Crane manufacturer ITALGRU has won a series of new orders for offshore vessels and platforms in various locations.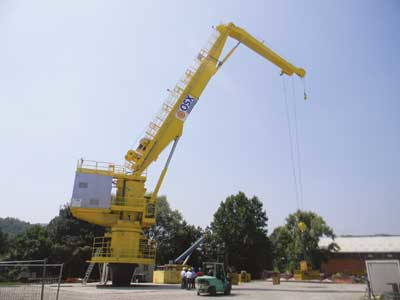 Knuckle Boom Crane for SBM Offshore - FPSOOSX 2.
The company, based in Ambivere in the Bergamo region of northern Italy, specializes in fixed (box-type), knuckle boom, lattice boom, pedestal and gantry cranes, and heavy-duty hoists for the offshore sector. These can be adapted for all types of fixed and floating installations.
One of the company's main customers is SBM, which has deliveries pending for various FPSOs for the Brazilian sector. This summer, ITALGRU completed testing and delivery of one box-type crane and one explosion-proof knuckle boom crane for the FPSOOSX 2, under construction at Keppel Shipyard in Singapore. Both were due to be installed this month by an ITALGRU team in cooperation with ALATAS Worldwide Co. The knuckle boom crane is designed to lift loads of up to 15 metric tons (16.5 tons) at an outreach height of 26 m (85 ft.), and 11.5-metric ton (12.7-ton) loads at a height of 31.5 m (103 ft).
SBM Gusto has since ordered two 25-metric ton (27.5-ton) capacity knuckle boom cranes for the FPSOCidade de Ilha Bela, commissioned by Petrobras. Another new order destined for Brazil is for two knuckle boom cranes (15 metric ton and 50 metric ton, or 16.5 ton and 55 ton). Both will be installed at the end of November at Sembawang Shipyard in Singapore on Equinox's ARV 3 barge, again for Petrobras.
Earlier this month, an ITALGRU team was scheduled to install two box-type pedestal cranes on the new HST and HSD platforms at the PSTC yard in Vung Tao, southern Vietnam. Both provide 20- metric ton (22-ton) lifting capacity, and are designed to work in heavy wave conditions.
Other consignments under construction in Ambivere are:
One 20-metric ton lattice boom crane for EMAS for the FPSOLewek Arunothai for Hess
One 60-metric ton (66-ton) lattice boom crane for Saipem for the ICOEEP platform for an oil offloading project offshore southern Iraq
Four lattice boom cranes for Mobin Sazte for the South Pars 14 project in the Persian Gulf
One 40-metric ton (44-ton) gantry crane for a Heerema pipelay vessel.
ITALGRU was formed in 1954, and since 2001 has operated from a 130,000-sq m (1,399,308-sq ft) site, including 22,000 sq m (236,806 sq ft) of buildings served from a railway junction. Currently the company is developing a new 26,000-sq m (279,862-sq ft) complex to improve its production area and capacity.
The company's TC, TK, and TS series of offshore cranes incorporate diesel-hydraulic or electro-hydraulic drives, and can be adapted to work in severe offshore conditions, depending on wind speed, wave height, and period. The dual-drive system for control of slewing allows the cranes to operate under conditions of strong offlead and sidelead angle.
Two recent deliveries – a 30-metric ton/35-m (33-ton/115 ft.) lattice boom crane and a 15-metric ton/30-m (16.5-ton/98-ft.) knuckle boom crane for Saipem's pipelay vesselCastorOne – are all-electric versions, designed to withstand temperatures down to -25°C (-13°F).