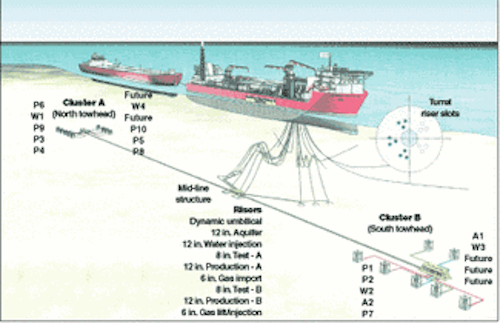 Experience helps Kerr-McGee avoid pitfalls
Timely field development with floating production, storage, and offloading (FPSO) vessels is an art, which few in the North Sea have mastered. One of those is Kerr-McGee, which last November brought the Leadon Field onstream, on time, and on budget, 14 months after project sanction.
This is the company's second effort with a monohull production system in the UK Northern North Sea. There are similarities to Gryphon, 15 miles to the south, although the topsides are much larger and more complex. Leadon also represents Kerr-McGee's biggest net upstream venture anywhere, with a potential development cost of $700 million. The risk is high, in light of the company's 100% ownership. But that outright control also served to drive the project forward.
Leadon is situated in UK Quad 9, 225 miles northeast of Aberdeen. Aside from Gry-phon, other nearby developments where the company is a partner include Harding, Maclure, Buckland, and Skene. The latter is the latest subsea tieback to ExxonMobil's Beryl complex.
Kerr-McGee has worked in this quadrant for 17 years, bringing Gryphon onstream in 1993 with the first FPSO on the UK continental shelf (UKCS). BP discovered Leadon in 1989 with a well on block 9/14b(w), which tested 2,910 b/d of heavy oil from Paleocene sands. Control of the acreage then passed to Clyde Petroleum, but Clyde, like BP, had priorities elsewhere. In 1998, its new owner Gulf Canada sold this and neighboring block 9/14a to Kerr-McGee.
According to Kerr-McGee Chairman and CEO Luke Corbett, "The perception in the business community ellipse was that Leadon was a sub-commercial discovery in the 15-20-MMbbl range. Our acquisition team believed that if nothing else happened, it would be a meaningful subsea tieback to Gryphon. But through the knowledge we had gained by years of working the complex geology surrounding the Tertiary sands in that area, we believed that Leadon held upside potential."
Analysts Wood Mackenzie describe the reservoir as "two broad domal structures with four-way dip closure generated by compactional drape of claystones above sand bodies. The Late Paleocene/Early Eocene Balder Formation reservoir sands are unconsolidated in nature and have porosities greater than 35% and permeabilities in the darcy range. The reservoir sands were deposited in a sub-aqueous system, although the exact mode of deposition is uncertain. The source for the field is believed to be the Jurassic Kimmeridge Clay Formation."
Kerr-McGee began its exploration campaign with a well in 1998, close to the original discovery. It was side-tracked three times before being plugged and abandoned as a tight hole. Late in December 1999, semisubmersible Sedco 704 spudded a second well in Block 9/14a. This one was successful, encountering 145 ft of net reservoir pay. Four side-tracks followed, all intersecting pay zones varying from 130-150 ft.
In July 2000, Kerr-McGee drilled appraisal well 9/14a-9, which was completed as an oil producer. This result, allied to favorable appraisal of the nearby Glassel and Birse accumulations 8 km distant, confirmed earlier estimates of 120-170 MMbbl recoverable.
According to Leadon project manager Peter Addy, "The discovery well in January 2000 created immediate excitement in the company that we had potential for a full-scale development." Over the next two months, 25 concepts were quickly screened, including a subsea tieback to the Gryphon facility.
The company quickly settled on the approach adopted for Gryphon in 1992, when a Tentech 850-design hull happened to be available at the Astano yard in northern Spain. This was quickly converted into the Gryphon A floater, processing first oil within 10 months of UK government approval for the project.
Timely development was paramount for Leadon, too. As 100% owner and risk-taker, and having paid out so much to secure the block lease, "We wanted to maximize our (net present value) NPV for the project," Addy said. "The sooner we could achieve positive cash flow, the better. Also, the timing was good. With not too many development projects under way in the UK ... we wanted to take advantage of the available fabrication capacity."
Through July 2000, project planning and engineering accelerated. A development schedule was established, with first oil targeted for November 2001. Negotiations with Mitsui continued, and further long-lead packages were put out to bid relating to topsides fabrication and subsea engineering.
In August 2000 the productive 9/14a-9 well test, which incorporated a 3,000-ft horizontal completion in the well, confirmed expectations for the development and meant the project could go ahead. With approval from Kerr-McGee's board in September, topsides fabrication could be awarded to Swan Hunter in Tyneside, with Brown and Root Energy Services in Aberdeen contracted for detailed engineering work. Halliburton Subsea secured the $90 million subsea installation contract, proposing a bundled flowline arrangement between two drill centers.
Low GOR
Oil gravity in the Leadon area fields is low, ranging from 21°API in the south to 17.7°API in the north. The gas-to-oil ratio (GOR) is also low, at 165-200 cf/bbl. "Within a year to 18 months of start-up, the field will go gas-deficient," Addy said, "so we will need to import gas from other fields locally. Judging by our experience at Gryphon, where the crude is slightly lighter, we will have to sweep through Leadon's oil with a lot of water, with increasing injection as the field depletes."
According to Wood Mackenzie, some degree of post-depositional deformation of reservoir sands is likely, based on production profiles at Harding and Gryphon. The resultant injected sand features could impact ultimate recovery, hence the wide-ranging estimate of 120-170 MMbbl. Kerr-McGee is assuming a 15-year lifespan for the Leadon facilities, although this may grow if future discoveries can be brought onstream.
Due to the shallowness of the reservoir, the company opted for horizontal wells, with open-hole excluder screens and gravel packing to counter sand production. The current plan calls for 10 production wells, two aquifer wells, and four water injectors. Water will be gas lifted from the overlying aquifer to obtain injection water, combining this with any produced water for reinjection into the reservoir. This process began in 1Q 2002.
The project team decided to install two drill centers spaced 4.2 km apart. Halliburton Subsea will fabricate a flowline bundle at its plant at Wick, northern Scotland. The bundle will be towed to the location between the drill centers, then connected to the risers during the hook-up program. The northern area bundle cross-section will have a 45-in. diameter, while the southern bundle cross-section - also bearing an aquifer supply line - will have a 47-in. diameter.
Preparations
In September 2000, an environmental impact statement was submitted to the UK government, followed in October by the full development plan. Both gained approval by December.
The hull, which was purchased from Mitsui in October, sailed to a drydock in Cadiz, Spain, in December. There, in addition to re-painting the hull with anti-foul coating, riser tube inserts were installed under the turret to enable diverless riser installation. The vessel sailed north to Swan Hunter in January 2001. Concurrently, the semisub Stena Spey began batch drilling top hole sections on the northern well cluster. The following month, another semi, the Borgsten Dolphin, started a similar exercise on the southern cluster. The batch drilling allowed Kerr-McGee to move effectively through the drilling program. Having two rigs working in parallel also proved to be cost-effective.
Over the next two months, the Operations Safety Case was issued to the UK's Health and Safety Executive for review, and preliminary structures and pipework were fitted to the vessel at Tyneside. Underwater at the field location, the first batch of 5,000 psi horizontal trees from ABB Vetco Gray were being installed. In May, the main topsides packages began arriving at Tyneside as the detailed design was being completed in Aberdeen. The remaining packages were in place on the deck by July. Total topsides weight is 6,000 tons, twice the weight of the Gryphon plant.
The process design is similar to schemes on Gryphon and other fields handling crude of this gravity. Leadon's FPSO - the Kerr-McGee Global Producer III - can process up to 300,000 b/d of injection fluids, 70,000 b/d of oil, and 75 MMcf/d of gas. Gryphon's capacity is 100,000 b/d of gross fluids, 60,000 b/d of oil, and 25 MMcf/d of gas.
All process package equipment is situated from the middle to the rear of the vessel on large structural pallets above the ship cargo and ballast tanks. Hanover Maloney in Woburn, UK, supplied Leadon's separation packages, which include 3.5 m diameter by 17 m first- and second-stage separators, an electrostatic coalescer, inlet and second-stage heaters, and pump skids. The same company provided the fuel gas treatment package, comprising multiple scrubbing units, heaters, and final gas filtration to remove liquid droplets down to 1 micron. Hanover also supplied high- and low-pressure gas compressors. Power is provided by two 16 MW Alstom GT 35 gas turbines, fitted with waste heat recovery units that provide all process heat for oil separation. The turbines are located at the rear of the FPSO above the main ship engine room.
The 300-ton water handling plant, built by MacGregor in Invergordon, is located amidships and includes vessels, pumps, and cyclones for separating oil and fine solids from produced water. This system feeds clean water to three high-pressure injection pumps, provided by Weir.
The vessel is moored in 121 m water depth via a 10-point chain/anchor system paid out from the turret. The latter is located forward of the center section of the ship, and is where all the subsea risers are connected. Nine of the 15 available riser slots are employed for Leadon. This gives flexibility for future tie-ins from Quadrant 9. A state-of-the-art compact Framo swivel system is located at the center of the turret. Together, the turret and swivel system allow the ship to rotate into the prevailing wind while maintaining oil, gas, and water production. The turret is intentionally further forward than Gryphon's - this arrangement affords equivalent deck space because the Global Producer III is 100 ft shorter than the Gryphon Tentech vessel.
The 90-bed accommodation area, bridge control center, and helideck are at the ship's forward end. Further accommodation was added to provide 115 beds for the offshore commissioning phase. The additional manning was critical to achieving first oil last November.
Bundle functions
In July 2001, the major subsea packages were delivered. One of the trees was sent to Wick for integration testing to verify control system functions on the bundle towheads. Subsequently, the completed 4.2-km bundle, with north and south towheads and mid-line riser structure, was towed to the field, with riser connections on the seabed and final installation completed on Aug. 24. By that time, nine wells had also been completed, with horizontal sections ranging from 3,000-5,000 ft.
The northern section of the bundle comprises a 16-in. production flowline, an 8-in. test line, a 10-in. water injection line, and a 6-in., gas-lift line, all enclosed in a 42.5-in. carrier pipe. Gas lift will be provided at 2-8 MMcf/d per well. The southern section includes a 12-in. production line, an 8-in. test line, a 12-in. water injection line, a 16-in. aquifer line, and a 4-in. gas-lift line, inside a 47.5-in. carrier pipe. The bundle also contains many chemical and controls tubes and cables. These connect to a dynamic umbilical riser and form part of the dual redundant subsea control system. There are four production risers, one aquifer production riser, one water-injection riser, one gas-lift and injection riser, and a further gas riser for future gas import.
During September, Kerr-McGee tested the turbines and compressors in the yard before allowing the vessel to sail out to the field in October. There, following six weeks of offshore hook-up and further commissioning, first oil was achieved on Nov. 10, at a rate of 10,000 b/d. This will slowly build to a rate of 40,000 b/d in 2002. Oil is offloaded to shuttle tankers. By 3Q 2003, a 4-in., 7.5-km gas pipeline will be installed linking the Leadon area fields to the Beryl A platform. This will be used to import fuel gas.
Regarding the work on Tyneside, the philosophy was to get the packages installed as quickly as possible, once the vessel had arrived. A 2,200-ton land crane was hired to facilitate immediate installation and maximize package sizes.
The project had 15 Kerr-McGee people working alongside representatives of Halliburton, Brown and Root, and Swan Hunter. Getting contractors on board early, producing the minimum of drawings and reports, working targets around contractors' schedules, and setting achievable targets were important to the success of the project. Helping contractors identify and resolve problems openly and regularly, and updating suppliers and contractors on how they fit into the project were also significant factors.
According to Corbett, "We've been in this area since 1992 and have built up a lot of experience working with heavy oil. We saw what others hadn't and exploited it. In our estimation, a critical part of the strategy for realizing the remaining potential within this basin is the acuity to pursue a combination of acquiring and drilling good exploration ideas with the upside potential firmly in mind. Once the Leadon development is completed, proven reserves will be five to six times the estimates initially attributed to that area prior to our acquisition ellipse At 120-170 MMbbl, it represents more than 10% of Kerr-McGee's proven reserve base. And in my opinion, the Leadon development represents a way of sharp shooting the remaining potential in the North Sea."
Acknowledgement
IBC's 16th annual Floating Production Systems conference, London, December 2001.