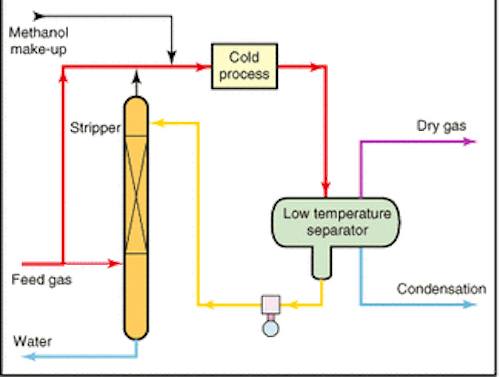 Process technology specialist Prosernat was recently acquired by the Institut Francais du Petrole and is now taking charge of some proprietary IFP upstream processes. All of Prosernat's existing offshore technologies will be retained.
IFP's industrial process technologies are now licensed by Prosernat in the gas treatment arena, and by Axens, another IFP subsidiary, which specializes more in downstream processes, but also offers liquefied natural gas (LNG) and gas-to-liquid (GTL) techniques. "Our focus will stay upstream, however, mainly for gas applications," says Managing Director Lionel Waintraub.
Prosernat's established products included separators for floating production platforms and vessels, Proserpack combined heat exchangers/separators, using Packinox plate heat exchangers, and Drizo gas dehydration technology. Additionally, it is responsible now for various IFP processes, including the Ifpexol gas treatment process. Ifpexol applies chilled methanol to remove water, condensates, and acid gases. The latter are recovered dry and under pressure for subsequent reinjection into the reservoir. Other IFP processes commercialized by Prosernat include sulfur removal techniques such as Sulfint HP (high pressure redox for direct conversion of H2S into elemental sulfur).
"I believe we now offer the most complete range of dehydration technologies and proprietary glycol treatments available," says Waintraub. One of the newer processes, still under development, involves de-salting during glycol regeneration. "When you use MEG as a hydrate inhibitor, you inject glycol into the flowline. This in turn leads to salt contaminations that can form plugs or deposits during MEG regeneration."
As for Prosernat's existing systems, the Drizo process was recently applied to revamp a glycol regenerator used to dehydrate natural gas on Phillips Ekofisk 2/4J platform. The regenerator treats 14 tons/hr of glycol. The revamp has boosted purity of the regenerated glycol from 99.4 to 99.95%, allowing the operator to increase downstream NGL recovery. "That proved it was not necessary to completely rebuild or re-design the system," Waintraub says, "and it was quite easy to implement. The Drizo equipment can be prepared on a modular skid, so tie-in times, and the consequent interruption to operations, can be very short." Elsewhere, a Drizo dehydration unit on the Nkossa barge offshore Congo was recently revamped to bring the dewpoint down to 70°C. This year, Prosernat is supplying two large Drizo units for the Bayu Undan and Nam Con Son offshore developments.
The company has also designed new internals for its floating production separator, which improve its handling capability for heavier crude.