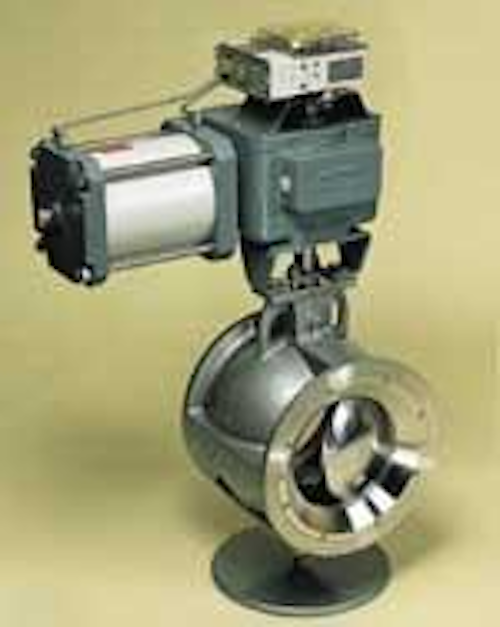 Somas has developed a full line of butterfly, ball segment, and noise suppression valves and actuators to service the fluid-handling needs of the process industry. The company specializes in metal-to-metal seals for high-temperature applications, corrosive fluids, and fluids with entrained solids.
It produces hand-operated or computer-actuated valves in a wide range of sizes and configurations. It has also created a line of air-driven actuators to operate control valves for constant flow pressure or temperature control of industrial processes.
Ball segment valves
The advantage of a ball segment valve design is its single seat. No fluid is locked within the ball segment body, as happens in a full ball valve with two seats. This eliminates problems caused by differential pressures or fluid stagnation in the interior of the ball.
Ball segment valves are a lighter construction than full ball valves and, in larger sizes, are also less costly. When controlled by an actuator, ball segment valves provide a more linear relationship between the actuator's input signal and the flow through the valve opening, compared to conventional ball valves.
Somas manufactures ball segment valves in sizes ranging from DN25/2 mm (1 in.) to 700 mm (28 in.) ball size. Pressure ratings are available in DIN and ANSI standards from 600 lb for small valves up to and including 6-in. versions. Above 6-in., the ratings are 150 lb and 300 lb. Wafer or flange body designs are available. Both valve seats and ball segments are replaceable, so that normal wear from corrosive or abrasive fluid-suspended materials can be accommodated without the need to completely replace valve bodies.
Stainless steel (316L) is the most common material requested for valve bodies, but Hastalloy, duplex, and super-austenitic steels and titanium are also available for special applications. Ball segments can be made in multiple materials including hard chrome plating or stellite (a cobalt alloy) for abrasive materials such as clay slurries or drilling mud.
Another related design is the V-notched ball segment valve. It permits greater control in processes where small flows are needed. The notched ball segment combined with an actuator permits very accurate metering and control of small fluid flows.
Butterfly valves
The company's butterfly valve design employs a double eccentric shaft on the backside of the seal. Included in the design is a combination of beveled seal surfaces and metal-to-metal seals in the seat. The beveled seal in the interior of the valve closes against the ring-shaped metal-to-metal seal of the valve seat. The metal-to-metal seals create a rolling motion between the seal and the seat. The advantage of these seals is the flexibility of their spring construction, which prevents galling of the seat even when shaft torque is increased
Noise control and actuators
High differential pressures across valves in a highly controlled operation can produce irritating and harmful levels of coherent sound (high frequency squeals) that need to be dampened. Somas has designed silencers for its valves. These silencers create a more tortuous path for the fluid being controlled, which disrupts any coherent sound. Noise loads can be lowered by up to 10 dBA, creating a quieter working environment. Use of the silencers also reduces cavitation at the valve seat.
The company produces a full line of pneumatic actuators in single- or double-acting designs for smooth control of valves. Adjustable travel stops allow the operator to adjust the seating pressure for maximum tightness. Actuators are available in a range of sizes and torque rating to match the company's valves.
The company also delivers solenoid valves, positioners, and limit switches to accompany the actuators and to achieve the required function. All valve units with actuators and accessories are full tested before delivery.
For more information, contact: Göran Andersson, Somas Instrument. Tel: +46 533 167 00, fax: +46 533 141 36, email: goran.andersson@somas.se.