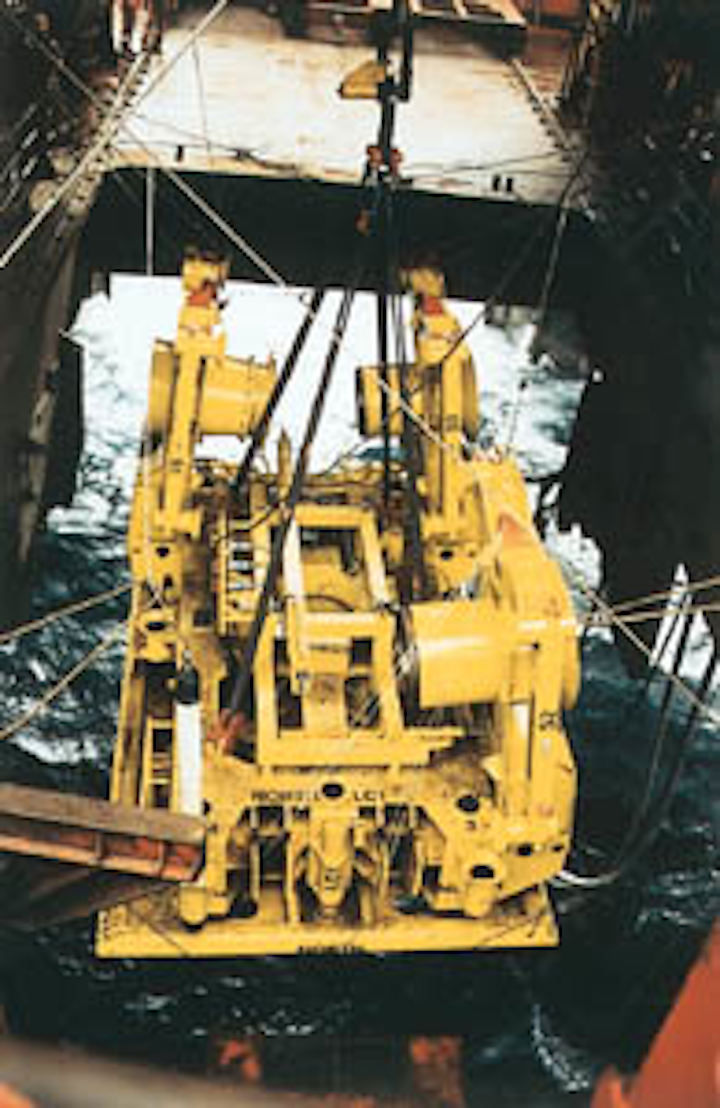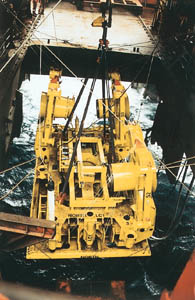 Computer-generated image of the topsides on Shell UK's Anasuria floater.
Stork Protech is performing engineering and design work for NAM's L9 gas development.
Dutch engineering firms have capitalized on the recent worldwide growth in floating production. Marginal field activity has also picked up closer to home on the Dutch continental shelf. Schiedam-based IHC Caland recently received several orders for new FPSO projects. Subsidiaries such as IHC Gusto Engineering and SBM in Monaco are playing a key role.
In November, Pogo Producing Company of Houston awarded SBM the contract for the lease of an FPSO system over ten years, starting late in 1996. The floater will be used to produce oil from fields in the Tantawan area off Thailand.
IHC Caland will convert an oil tanker, to be nominated by Pogo. Production capacity will be 50,000 b/d of oil and condensate. Investment will total around $110 million. In a joint venture with Saipem, SBM also secured a contract from Agip for the five and a half year operational lease of an FPSO system. The project includes the conversion of an existing oil tanker owned by Agip.
The vessel will produce oil from the Aquila Field in the southern Adriatic Sea in 850 metres of water. This is the greatest depth for which an FPSO has so far been designed. Agip's outlay is estimated at $105 million.
Teal topsides
The turnkey contract for the topsides of the Anasuria, Shell UK Expro's floating production unit for the Teal, Teal South and Guillemot Fields, is also the largest order of its kind won so far by Stork Protech of Schiedam. Main contractor SBW awarded this job last spring. The vessel will have a storage capacity of 850,000 bbl and will be able to process up to 60,500 b/d.
Over the past year, the process facilities have been designed in Stork Protech's offices and assembled on the quay of Amec's yard in Newcastle, UK. They will be installed on a tanker to be delivered by Mitsubishi Heavy Industries. Stork Protech also coordinated design and construction of the overall control system.
The vessel should be completed this June, with sail-out due six weeks later, followed by a month of offshore commissioning. Despite the late inclusion of Guillemot into the development, Stork Protech managed to adhere to the time schedule which is geared towards a production start this autumn.
To achieve clash-free designs, Stork Protech implemented a plant design management system (PDMS). "We have been designing in 3D from the outset," says project manager Peter Lapidaire. "SBM have been doing the same for the turret design, which was part of their assignment.
"Thanks to this system, we have been able to combine very efficiently structural, piping and electrical design considerations. Wherever possible, elements have been combined and in this way we succeeded in limiting the amount of supports on the structure. Without PDMS we would not have been able to do this."
The PDMS system will also be applied for the engineering and design of NAM's new L9-FF-01 wellhead and gas production platform, the first production installation east of the Nogat pipeline in the Dutch sector. Scope of work includes pipeline route selection and survey.
The L9 complex comprises a wellhead platform, production platform, interconnecting bridge, accommodation module and a helideck. A 20 km, 24-in. spur line will take the gas into the Nogat trunkline. Operations are designed to be unmanned with gas production capacity of 16 million cm/d. Delivery is planned to start this October.
Also on the floater front, following completion last year of the Uisge Gorm FPSO, Bluewater Engineering, Leiden has received another order from Amerada Hess in the UK for the Durward/Dauntless fields. At time of writing, project approval was still pending from the UK government. However, preparatory work is well under way: Bluewater has already acquired a recently built oil tanker in Japan for conversion.
Nevesbu, a design and engineering firm based in The Hague, has also been successful in the floater market. It is currently performing several FPSO engineering and structural assessment projects for Bluewater. Previously specialized in navy vessel design, Nevesbu is now targeting the civil engineering market. Another recent assignment includes the final design and writing of building specifications for a new oil recovery vessel.
Maritime research institute Marin of Wageningen is also known to be working on a study of the effects of greenwater loading on FPSO vessels. Various hull designs will be tested in its laboratory.
Production jack-ups
KCI, another engineering firm in Schiedam, was recently contracted to provide engineering and project management of three new, unmanned, re-usable production jack-ups for Dutch blocks P2 and the adjacent P6.
The platforms will be tied back to the P6-A production platform, previously managed by Mobil but now owned and operated by Clyde Petroleum. Total base case gas reserves are estimated at 3 bcm.
Zeetech Engineering, the offshore pipeline division of John Brown Engineers & Constructors, is responsible for the P2/P6 pipelines, due to be installed this summer. The two platforms in block P2 will be linked to the P6-A processing platform by 38.2 km of 10-in. pipelines. Another platform in Block 6 will be connected to the existing P6-B satellite by a flexible, 6.6 km long 6-in. diameter line.
The new P2a pipeline should provide the opportunity for further satellite developments in the area. Zeetech has also recently completed the design of Elf Petroland's K5-EN/C pipeline.
Further afield, Zeetech is putting finishing touches to the design of a major gas pipeline in the Far East planned for construction in 1997-98. In Egypt, the company is involved in the engineering of pipeline crossings of the Suez Canal.
In association with a Moscow-based institute, Zeetech is also currently drafting design rules and guidelines for offshore pipelines in the Russian Arctic. In a next phase, design rules for offshore facilities could be included in this study.
Harald West
Current projects for ABB Lummus Global, Leiden include the lump sum EPIC contract for the Harald West A gas processing, utilities and accommodation platform for Maersk Olje og Gas in Denmark. The installations will comprise a 6,500 tonnes jacket and 4,500 tonnes topsides to be bridge-linked to the Harald West B platform. This project is part of the Svend and Harald field development plan, 200 km west of Esbjerg.
Iv-Marcon, Leiden, is the engineering subsidiary of IV Consultancy. Although small, the company has been assigned complex tasks such as the design and engineering of the 100 meter stinger to be placed on Allseas' new pipelayer, Solitaire. With a tension capacity of 4,000kN, extendable to 5,000kN, the stinger will allow the vessel to lay large diameter pipelines in unprecedented water depths at high lay rates.
As a specialist in maintenance and modification, Iv-Marcon has performed various tasks including structural analysis of Meetpost Noordwijk, used as a scientific measuring post by the Dutch authorities.
"Being 32 years old, this is the oldest platform on the Dutch continental shelf," says Marcon's managing director Kees van Roosmalen. "We took an integrated look at the structure and will propose an inspection plan for the platform."
Other projects include the turret integration for Bluewater aboard the FPSO to be converted for use on the Marlim Field. Occidental assigned Marcon a compression study for the K9-AB platform and structural studies on platforms in the L10 block.
Subsea developments are beginning to emerge in the Dutch sector, led by NAM. Amec Engineering Nederland undertook the EPIC contract for NAM's L13-FH subsea completion which was brought onstream last November. The installation comprises one well and is connected by a 10 km, 6-in. carbon steel pipeline to the K15-FA-1 gas production platform.
Copyright 1996 Offshore. All Rights Reserved.