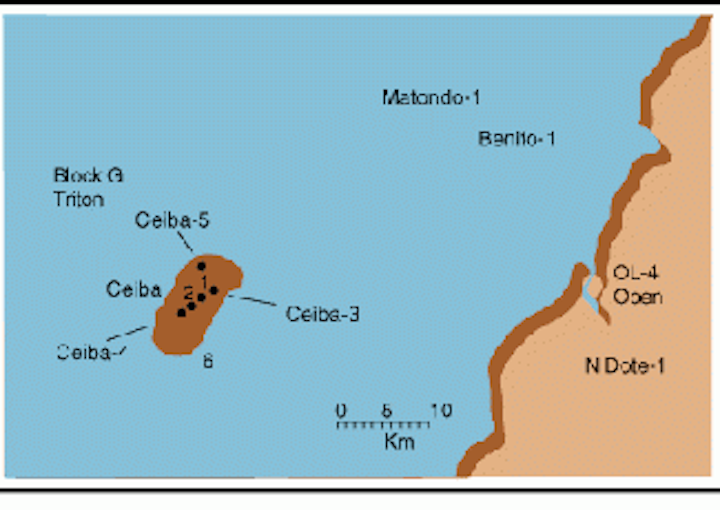 Weather conditions off West Africa favor fast-track deepwater projects, but the achievement at La Ceiba was quick by any standards - 14 months from discovery to first oil.
Willpower was the overriding factor. The field partners wanted the oil out as soon as possible, and the lead contractor had a pre-designed floating production, storage, and offloading (FPSO) vessel ready and waiting. Equatorial Guinea's government also played a part through its unbureaucratic stance toward the project.
Operator Triton Energy decided to accelerate the program following a successful appraisal well in November 1999, one mile southwest and 194 ft downdip of the Ceiba-1 discovery drilled that September. Ceiba-2 encountered net oil pay of 300 ft in a single column and also demonstrated lateral reservoir continuity and connectivity.
The location was 22 miles offshore mainland Equatorial Guinea (Block G) and 150 miles south of Malabo in 2,350 ft of water. Drilling was then suspended for six months to give Triton and its 15% equity partner Energy Africa time to conduct, then analyze, a 3D survey over the field in preparation for the next set of wells.
FPSO ready
Conveniently for the partners, Bergesen Offshore had a converted production ship available on a speculative basis - the Sendje Berge, formerly a very large crude carrier (VLCC) built by Chantiers de l'Atlantique in France in 1974. This was a spread-moored unit, with processing capacity of 60,000 b/d, said Berg-esen's Svein Olsen at IBC's FPSO conference in London last December.
When Triton made inquiries early in 2000, "the nice thing was that this was an oil company with an open mind and without pre-conceived ideas," Olsen said. However, Triton would still insist on certain major revisions to the FPSO, due to the field's location and the anticipated swift buildup of production.
From contract award in February 2000, Bergesen was given seven months to complete the new conversion program. Due to the prevailing southwest wind off Equatorial Guinea, the bow heading would be predominantly northeast. This would necessitate repositioning the process equipment and the riser balcony. Bergesen would also add a knockout drum, offloading system, flare tower, and gas compression for the second development phase. Initially, produced gas would be flared, with only a small amount recouped for power generation.
Subsea structure
Stolt Offshore was contracted for subsea equipment and installations. Phase I production would come from four producer wells in average water depths of 750 meters, tied back 7.5 km to the FPSO via manifolds, over a seabed route characterized by irregular slopes and rocks. The FPSO would be stationed closer to the shore in 95 meters water depth.
Stolt's yard in Warri, Nigeria, was commissioned to build the 780-ton subsea structure. This supported eight risers and four umbilicals at the outset, but with slots for up to 41 risers and umbilicals as more wells came onstream.
The support solution is thought to be a first off West Africa. The conventional approach is a buoyant arch tethered mid-water to the seabed. The completed substructure was loaded out of Warri in August. Seaway Polaris then undertook installation of this, followed by the eight 8-in. rigid pipelines and four rigid jumpers that link the manifolds to the Cameron Christmas trees.
Jumpers and flexible risers were supplied by Stolt affiliate NKT in Denmark, while Oceaneering Multiflex provided the umbilicals. These were shipped across from Houston by the Seaway Falcon, which then participated in the installation.
The Stephaniturm provided pipelay touchdown monitoring survey assistance, diving support for the seabed structure placement, and remotely operated vehicle (ROV) assisted tie-in services for the wells. The Northern Enterprise, installed the 12 anchors and associated mooring lines. "It was an expensive vessel, but very effective," Olsen said. Ten days after arriving on station on November 12, the Sendje Berge was producing first oil. During December, all four wells were completed and onstream.
Appraisal drilling
Midway through the conversion, Triton had resumed appraisal drilling on the field using the RF Bauer drillship and the Sedco 700 semisubmersible. Ceiba-3 encountered the primary reservoir found by the earlier two wells, in addition to a second, deeper-lying oil-bearing reservoir. Ceiba-4 confirmed the field's southern extent, and the reservoir encountered was also the thickest and the best quality to date.
Last July, Ceiba-5 was completed, having confirmed the field's northwestern extent. This well has been suspended for use in the second development phase. Another well was drilled subsequently three miles north of La Ceiba, encountering oil and gas shows over a 2,460 ft interval, but log analysis supported only thin potential pay zones.
This well had been testing a different trapping mechanism at a deeper stratigraphic level than the Ceiba Field. It was plugged and abandoned after reaching a total depth of 15,214 ft. Triton was then due to spud another exploration well five miles northeast of Ceiba-1, in a similar stratigraphic horizon to Ceiba. However, results were not known at the time of going to press.
Triton's goal currently is to have 10 producing wells and four water injection wells in operation by the end of this year, resulting in gross production of 80,000-100,000 b/d. Eventually, said Olsen, processing capacity could be expanded to 240,000 b/d.
In readiness, the partners plan to add an additional 100,000 b/d oil separation train, a 135,000 b/d water injection skid, a deck boiler, and a deck power unit. Following this extension work, the Sendje Berge will be one of the world's 10 largest producing FPSOs, Olsen stated.