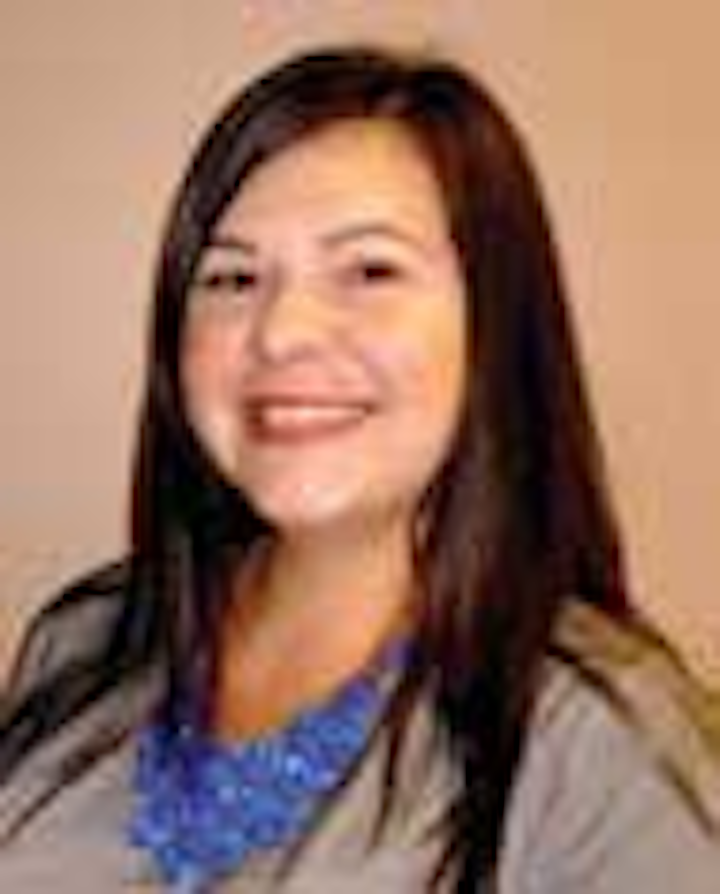 | | | |
| --- | --- | --- |
| | | Robin Dupre • Houston |
In its 2015-2019 Floating Production Systems Outlook Report, Energy Maritime Associates (EMA) analyzed activity in 2014, recent industry trends, and conducted a sentiment survey in order to develop a detailed forecast for each type of floating production system: FPSO, FLNG, FSRU, TLP, spar, semi, and FSO.
The report found that 30 contracts were awarded, worth more than $18 billion: 10 FPSOs, eight FSOs, five FSRUs, four FLNGs, two MOPUs, and one production barge. Exmar and Golar placed speculative FLNG orders in December, despite the steep decline in oil and gas prices. Singaporean yards received the largest number of contracts, with eight awards in 2014. Korean yards had four, and Chinese yards had three.
FPSO awards 2003-2019 with Petrobras' proportion. (Data courtesy Energy Maritime Associates)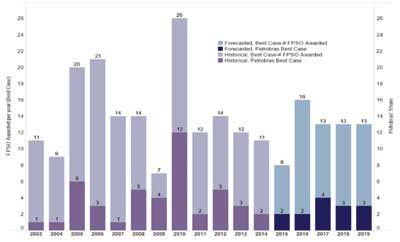 Click image to Enlarge
Furthermore, 27 units were delivered: 11 FPSOs, nine FSOs, four FSRUs, one semi, one spar, and one MOPU, with 13 of these units for Southeast Asia. Only three units were delivered to Brazil, as compared to 11 in 2013.
Nine units were decommissioned: four FSOs, two FPSOs, two MOPUs, and one production semi. Three of these units, all FSOs, were immediately scrapped, while two have been redeployed, and the remaining four units are available for lease or sale.
The survey also noted that up to 188 orders between 105-188 FPS are expected over the next five years with a total capital cost between $80.2 and $157.4 billion. Most likely, the forecast is 142 orders costing $118.5 billion. Due to lower oil price expectations, EMA reduced its forecast for oil processing units. However, given the apparent ability to finance small/mid-size LNG related projects, EMA increased the number of FLNG and FSRU orders, which are expected to account for 25% of the capex over the next five years. FPSOs will still be the largest category with 45% of the expected orders and 60% of the capex. Units for Brazil and Africa will account for $48 billion of expenditure, followed by $30 billion in Australia and Southeast Asia, and $25 billion in the Gulf of Mexico and Northern Europe. Significant growth is expected toward the end of the decade in Mexico as international companies enter the market.
Many speculate that a slowdown and restructuring will continue in 2015. Respondents of the survey were much less optimistic in EMA's annual Floating Production Industry Survey, with 25% somewhat or highly pessimistic about the outlook for the coming year. Respondents also expected less tendering and contract execution activity in 2015. This year is expected to be a time of internal reassessments and review. In December 2014, citing "market conditions," SBM announced a corporate restructuring and lay-off of 1,200 staff and Bumi Armada's CEO resigned.
After a pause in 2015, contracting activity is expected to increase in 2016, to levels even exceeding in 2014. This is the view in EMA's 2015-2019 forecast as well as from respondents in its annual survey. A rebound in orders was seen after the last two downturns in 2004/5 and 2009/10, EMA noted.
"There is broad consensus that 2015 will be a slow year, with fewer new floating production systems awarded, according to EMA's Managing Director David Boggs.
"A big question is when Petrobras will begin placing orders again. Currently, most contractors have a reasonable order book, but this is starting to decline as oil companies defer awards, while waiting for development costs and oil prices to bottom. Although there may not be much project activity in 2015, we expect a great deal of corporate restructuring, including M&A and asset sales. Assuming oil prices begin to recover in the second half of 2015, we expect a surge of new orders in 2016."
Cambla to debut vessel operations software
Cambla says it plans to release its Schedule Animation Tool software that provides a visual representation of a vessel's actual location and planned activities. This makes it easier to understand simultaneous operations (SIMOPs), construction sequences, and to plan global subsea and marine operations. The software can identify when vessels are required to be near other vessels or installations. In addition, it can generate a list of relevant SIMOPs or close approach risk assessments required to be carried out in advance.
More rigs head to Dubai shipyard
Drydocks World is accommodating a record nine drilling rigs at its Dubai shipyard. The rigs are from various parts of the world, and four more are scheduled to arrive soon.
Drydocks World has expanded its operation by establishing a dedicated division to focus on rig projects to meet client requirements. Last year the company's rig and ship repair revenues rose by 9%, allowing it to surpass its projected profit target for 2014.
Maersk takes delivery of third ultra-harsh environment jackup
Maersk Drilling has taken delivery of its third ultra-harsh environment jackup, Maersk Integrator, from the Keppel FELS shipyard in Singapore ahead of schedule. The rig will start development drilling for Statoil on the Gina Krog field in the Norwegian North Sea in late February. The rig is the third of four newbuild ultra-harsh environment jackups to enter Maersk Drilling's rig fleet in 2014-16. The four rigs represent a total investment of $2.6 billion. The fourth will be delivered from the Daewoo Shipbuilding and Marine Engineering (DSME) shipyard in South Korea in 2016. With a leg length of 206.8 m (678 ft) the rigs are designed for year-round operation in the North Sea, in water depths up to 150 m (492 ft).