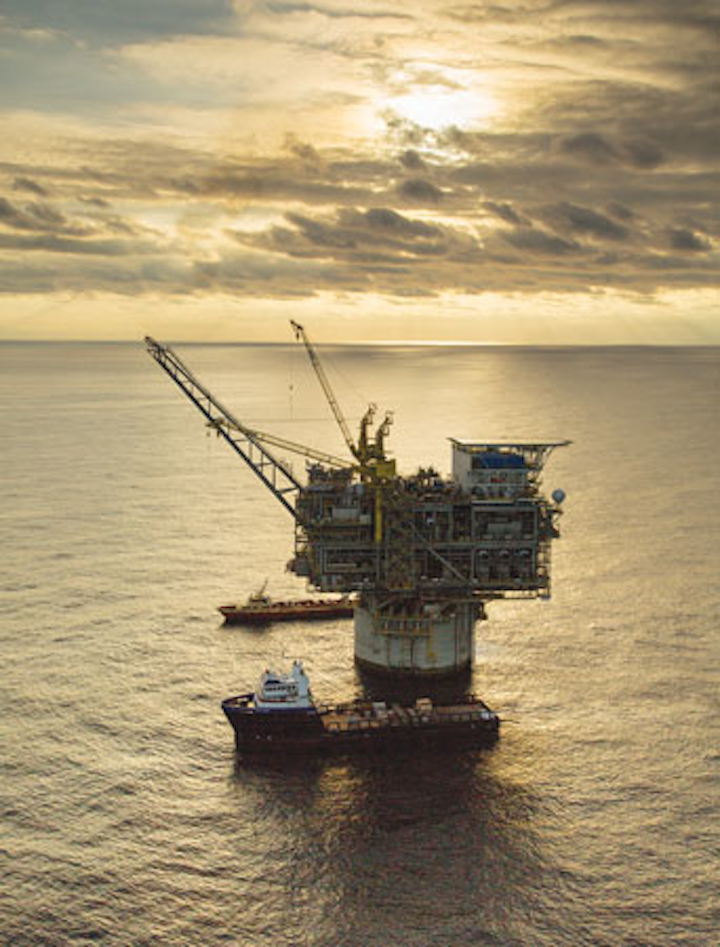 Sarah Parker Musarra
Editor
While exploration and rig counts in the Gulf of Mexico (GoM) are down, multiple projects in the deep and ultra-deepwater Gulf continue to head in the same direction: down, into deeper waters. Due to FIDs made prior to the declining oil prices, deepwater GoM projects have ventured into increasingly deeper water and will progress into yet-unforeseen depths in 2016.
Three years after its December 2011 sanction, the Anadarko Petroleum Corp.-operated Lucius field entered production on Jan. 16, 2015. Spanning blocks 874, 875, 914, and 915 in the Keathley Canyon area of the US GoM, the American independent has estimated the Lucius oil and gas field's recoverable resources at 300 MMboe.
Lucius became Anadarko's fifth deepwater GoM discovery in December 2009 when an exploration well encountered 200 ft (nearly 61 m) of net pay in subsalt Pliocene and Miocene sands. The ultra-deepwaterEnsco 8500 semisubmersible drilled to a total depth of about 20,000 ft (6,096 m) in approximately 7,100 ft (2,164 m) of water during operations.
In January 2012, an up-dip side track well about 3,200 ft (975 m) south of the discovery well cemented Lucius' status as a major GoM discovery, encountering about 600 net ft (183 m) of oil and gas pay, again in subsalt Pliocene and Miocene sands.
At the time of its December 2011 sanction, Anadarko and its co-venturers announced that the field, which is located in around 7,100 ft (2,164 m) of water, was to be developed with a truss spar. The spar, which would bear the name of the field, would have the capacity to produce more than 80,000 b/d of oil and 450 MMcf/d (12.7 MMcm/d) of natural gas. Lucius was developed with six subsea wells tied back to the truss spar. As the largest spar built to date by Anadarko, Lucius has a diameter of 110 ft, is 605 ft-long, and is stabilized by a hull that weighs 23,000 tons.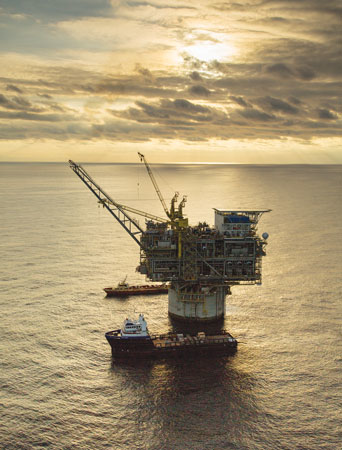 Turritella, Shell's first FPSO in the Gulf of Mexico. (Image courtesy SBM Offshore)">
Rendering ofTurritella, Shell's first FPSO in the Gulf of Mexico. (Image courtesy SBM Offshore)
Anadarko confirmed that it had reached its nameplate capacity in its 2Q operational report, the company's most recent.
Technip was tapped to engineer, construct, and transport that spar hull in August 2011. Consistent with the contractor's previous spar projects, the detailed hull design and fabrication was completed in its yard in Pori, Finland. Located in such extreme water depths, the spar is moored by nine Ballgrab ball and taper mooring connectors attached to polyester mooring lines, supplied by First Subsea Ltd. through a sub-contract issued by Technip.
Two major fields in the GoM produce through the Lucius spar. In July 2011, months before the $2-billion Lucius project was to be sanctioned later that year in December, Lucius' co-venturers agreed with Hadrian South owners to process the field's natural gas through the Lucius facility. The ExxonMobil-operated Hardian South field began producing on March 30, 2015.
Located in Keathley Canyon block 964, Hadrian South is a subsea production system with flowlines connected to Lucius. Located in 1.5 mi (2.4 km) of water, ExxonMobil said Hadrian South's subsea tieback represents the company's deepest to date. Production is expected to reach approximately 300 MMcf/d (just under 8.5 MMcm/d) of gas and 3,000 bbl liquids from two wells. In its 2Q operational report, Anadarko said that production rates had currently stabilized at 300 MMcf/d.
Just as the spar is responsible for the production of two fields, the spar's design is responsible for two production units. Part of Anadarko's "design one, build two" philosophy, the spar Anadarko calls its "most technically advanced to date" is currently being replicated in its Heidelberg spar. The company said this philosophy accelerated the anticipated date of first oil by around 18 months, and is expected to reduce fabrication time by about 40%, and engineering time by more than 50%. Slated for the Heidelberg field in Green Canyon block 903, the Heidelberg spar will be located in 1,620 m (5,310 ft) of water and is designed to produce 80,000 b/d of oil and 2.3 MMcm/d (81 MMcf/d) of natural gas. Anadarko confirmed that the development remains on track to begin producing in 2016.
As with Lucius, Technip is also overseeing engineering and construction of the Heidelberg truss spar. In its 2Q operations report, Anadarko said that Heidelberg's main topsides module has been fabricated and is now with the commissioning team. The hull is on location and the mooring lines are completed. Installation operations for flowlines, export lines, and suction piles for the mooring system are now complete. Umbilical line installations are scheduled for 3Q 2015.
Future depths
When Shell brings its Stones ultra-deepwater oil and gas development into production, it will achieve a host of company and industry firsts, as well as topple a record set by another of the company's own GoM production facilities.
Estimated to hold 2 Bboe in place, Stones is located about 200 mi (320 km) southwest of New Orleans in the Walker Ridge area. The field's water depth is 9,500 ft (~2,900 m), nearly 1,500 ft deeper than Perdido. The phased development will begin with two subsea production wells tied back to the Turitella FPSO. Six additional wells with multi-phase pumping will be added later; all eight wells will be connected to the FPSO through a single drill center.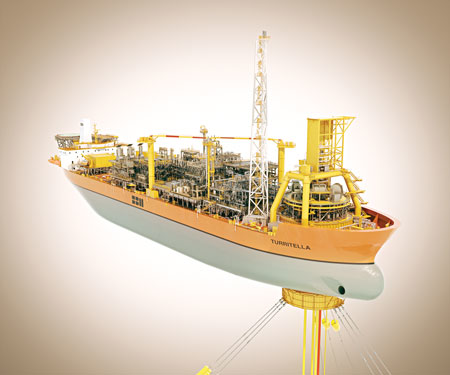 Anadarko's Lucius field and ExxonMobil's South Hadrian field produce through the Lucius truss spar. (Photo courtesy Anadarko Petroleum Corp.)
Turritella will be Shell's first FPSO in the GoM.
In a collaboration that reaches back to 1958, when the two companies worked together in fabricating the first single buoy mooring, Shell selected SBM Offshore to supply the Stones FPSO following its FID in May 2013. Stones' water depth and other challenges spurred technological innovations within Turitella. As an example, due to the GoM's perilously hurricane-prone location, SBM Offshore saidTurritella will feature the world's largest disconnectable buoy. Known as buoyant turret mooring, the system consists of said disconnectable mooring buoy and a fixed turret structure located in the forepeak of the tanker. The fixed turret extends up through the tanker, supported on a weathervaning bearing and contains the reconnection winch, flowlines, control manifolds, and fluid swivels located above the main deck. If needed, the vessel can detach and safely sail away to sheltered waters in the event of a hurricane or other emergency event. This detachability is designed to allow the FPSO to quickly resume production. Turritella will also employ steel lazy-wave risers on a disconnectable production unit for the first time. Also, aboard Stones, mooring line tension is adjustable without any device installed on the FPSO.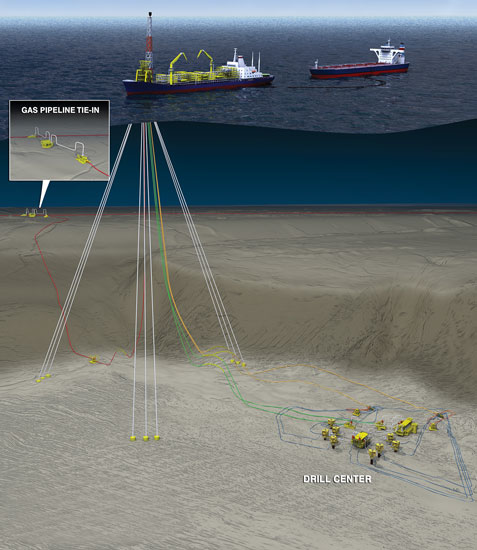 Rendering of the Stones development, which Shell says is expected to be onstream next year. (Image courtesy Shell)
"Turritella will be the deepest production facility in the world," a Shell spokesperson told Offshore. "FPSO construction in Singapore is progressing well, and Shell has drilled two wells that are moving toward completion." Company officials say that Stones remains on track for a 2016 start-up, which will ramp up to produce approximately 50,000 boe/d.
Shell's focus on ultra-deepwater GoM play does not end with Stones. Kory Kinney, specialist, Field Development for IHS, explained that 52 fields are slated to come onstream in the GoM during 2015-2016. Of these, he said, three fields in water depths of or surpassing 7,500 ft are scheduled to come onstream in 2016, and all three are Shell projects. Beyond Stones, the rest of the list comprises Coulomb Phase 2, and Perdido Phase 2.