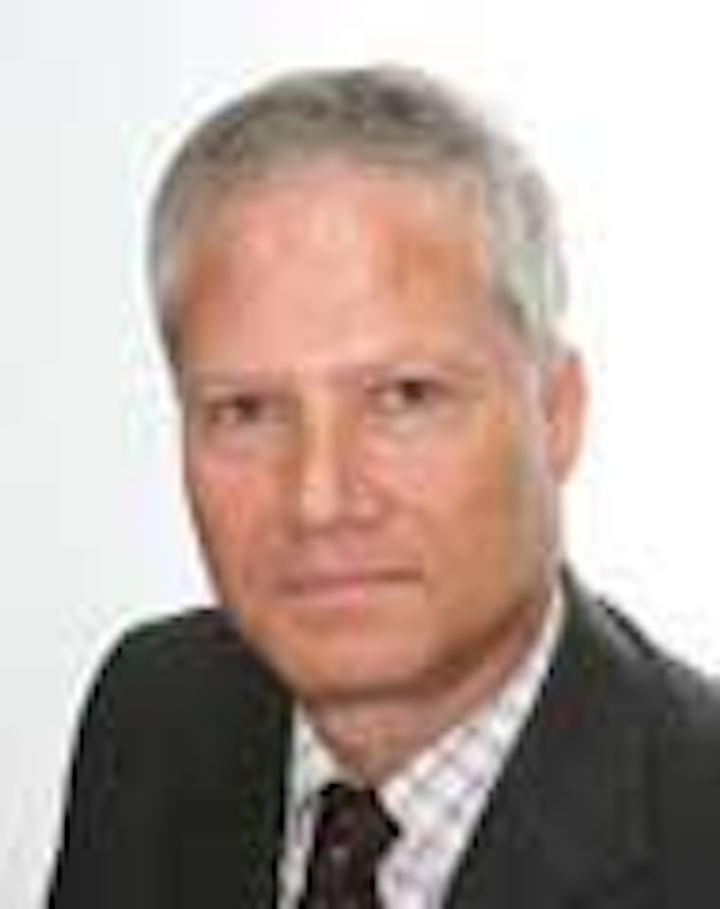 | | | |
| --- | --- | --- |
| | | Jeremy Beckman • London |
Norway needs to start planning ahead on how to harness its growing gas resource base in the Barents Sea, according to a new report by Gassco, the operator of the country's offshore gas transportation network.
Latest estimates by the Norwegian Petroleum Directorate suggest the area could hold 765 bcm (30 tcf) of gas, representing just over half of undiscovered resources throughout the Norwegian continental shelf. The picture should become clearer following the results of exploration activity planned between now and 2017. But the region is virtually devoid of gas pipeline infrastructure and limited in terms of processing to the liquefaction facilities on the country's north coast serving Statoil's Snøhvit field. Financing new infrastructure would likely be beyond the capability of a single set of licensees, Gassco claimed.
It has called for feasibility studies to be launched by early 2015 if the new infrastructure is to be operational from 2022. Gassco added that some of the more obviously viable oil field projects in the area would also require facilities for their associated gas.
All main companies active in the area participated in last year's Barents Sea Gas Infrastructure Forum that examined current and future prospects. Among its conclusions were that existing gas discoveries in the Norwegian Barents Sea were not sufficient to justify new infrastructure, although the picture may change as the resource base grows. At that point collaboration between different sets of licensees, allied to fiscal changes, could be sufficient to drive construction forward.
Statoil and partners Eni and Petoro have deferred concept selection for the region's second oil field development, Johan Castberg, until summer 2015. Although the two cornerstone discoveries Skrugard amd Havis contain potentially up to 600 MMbbl, the partners were hoping to prove more oil in the area to justify a semisubmersible platform, subsea pipeline, and onshore process terminal. However, a multi-well campaign delivered only two small oil accumulations. They have decided instead to reassess options which include an FPSO with oil offloading.
Appraisal pays off in frontier areas
OMV has proven more oil with its latest exploration well in the Hoop area of the Barents Sea, 315 km (196 mi) north of Hammerfest. The well on the Hanssen structure, 7 km (4.3 mi) northwest of last year's Wisting Central discovery, encountered hydrocarbons in the main Stø formation target. The result potentially lifts resources in the Wisting area to 200 to 500 MMboe. According to partner Tullow Oil, next targets to be drilled will likely be the Hassel and Bjaaland prospects on the eastern side of the acreage during 2015.
Among other frontier campaigns off northwest Europe, the semisubmersibleSedco 712 has completed production tests on the basement Lancaster oil discovery west of Shetland for operator Hurricane Energy. The 1-km (0.6-mi) well was drilled horizontally through faulted and fractured granitic rock, with artificial lift supplied via a downhole electric submersible pump in order to assess the likely production conditions. Results were favorable with and without artificial lift, suggesting a development is technically feasible, according to Hurricane CEO Dr. Robert Trice.
Off the Faroe Islands, Statoil and its partners abandoned their re-entered Brugdan II well in license 006 as a dry hole. Drilling of this potentially high-impact prospect had to be suspended for the winter season in late 2012. The semisub West Hercules then transferred to license 008 to drill the Sula/Stelkur prospect. Statoil says it is targeting diverse plays in its Faroese concessions, all of which are overlain by basalt.
In the Porcupine basin offshore western Ireland, the Cairn-led consortium has postponed an appraisal well on the Spanish Point discovery until 2015, due to the need for extended refurbishment of the contracted rig. The aim is to assess the feasibility of a gas/condensate development.
Danish output down, investments up
Oil production from Danish fields fell 13% to 10.2 MMcm (400 MMcf), according to the Danish Energy Agency (DEA)'s 2013 report. This total was less than half the peak Danish production level achieved in 2004. Overall gas production was also down last year by around 18%.
However, activity remains buoyant, with the industry investing close to DKK 7 billion ($1.28 billion) in Danish North Sea oil and gas field developments last year, up 21% from 2012. DEA anticipates investments totaling DKK 49 billion ($8.96 billion) over the next five years. Among the new programs, Maersk has commissioned Technip to fabricate and install two riser caissons on the Roar and Valdemar platforms and to lay a new 18-km (11-mi) flowline between the Rolf A and Gorm E platforms.
DEA has opened its 7th licensing round in the western part of the Danish North Sea, with a deadline for applications of Oct. 20, 2014. It expects to award new licenses early next year and the resultant seismic survey and exploratory drilling should sustain the high level of activity in the sector for the next few years.
Ensco jackup to work for NAM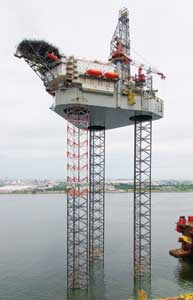 TheENSCO 122 will start work in the Dutch sector. (Courtesy Keppel FELS)
Keppel FELS has delivered the harsh environment drilling jackupENSCO122 to Ensco. NAM has contracted the rig, built to an enhanced version of the KFELS Super A class design, to work in the Dutch North Sea. Enhancements to the design include Ensco's Canti-Leverage Advantage technology, claimed to allow more wells to be drilled from one location using the enhanced hoisting capacity at the cantilever's farthest reach. The rig can operate in water depths up to 400 ft (122 m) in a range of environments, and can drill to depths of up to 40,000 ft (12,192 m) for multi-well platform, ultra-deep gas, and ultra-long reach well programs.
Statoil aiming to produce more from Oseberg
Statoil has contracted Prosafe's semisubmersible floatelSafeScandinavia for three years to support a new drilling campaign which is expected to start next year on the Oseberg Øst field in the North Sea. The company's goal is to increase the field's recovery rate from its current 20% to potentially 40%, depending on the number of wells drilled.
Westcon in Ølensvåg, Norway, will modify the floatel for storage and treatment of drilling fluid and cuttings, the aim being to improve the efficiency of drilling operations from the platform and to allow longer wells to be drilled. This area is 25 km (15.5 mi) northeast of the main Oseberg field center: there is limited communication between its layered reservoirs, which have so far made recovery more difficult than from the other Oseberg fields.