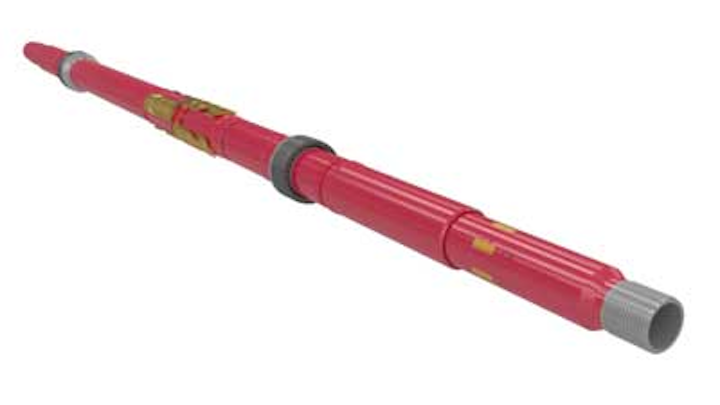 Russell McCulley
Senior Technical Editor
Escalating rig costs, deeper water depths, and complex reservoir characteristics have led more operators to considersand control a process that should be included in well design, rather than something to deal with after it becomes a problem. Service providers have responded with innovative sand control strategies, and are driving home the point that money spent up front can save much more in the long term, particularly where deepwater wells and subsea completions are concerned.
"Completions have had to become more complicated to meet the challenges of the rock in which we are drilling," says Randy Simonds, director, sand control, in the well completion technologies division at Weatherford.
"I think last year was the first time the industry spent more on completions than on drilling," he adds. With more emphasis being placed on well reliability, operators are installing sand control systems in wells where before they may have deemed it unnecessary. But high costs and technical barriers associated with intervention have led to more use of sand control as a preventive, rather than remedial measure. "People are looking at sand control almost as an insurance policy," Simonds notes.
Operators are looking for reliable equipment in completions as well as better odds that the well will continue to flow, he notes: "Reliability has become an even greater watchword. How can I be assured of having a relatively uninterrupted hydrocarbon stream? How does my completion play a role in reservoir management, without necessarily being a smart well? There are some situations where operators don't want to run a smart well, so they're looking at ways to manage a reservoir in a creative manner that doesn't require the same type of infrastructure commitment as a smart well."
That's where sand control implemented at the outset of well construction, and a thorough understanding of how the physical properties of a reservoir are likely to evolve duringproduction, can help avoid flow assurance problems.
"In offshore environments, intervention can be costly and technically challenging, and it limits your options in terms of remedial sand control," says Suzanne Stewart, sand control product line director at Baker Hughes. "Effectively, the well architecture is fixed at that point, so you limit what you can physically fit inside of it. If you include sand control on initial completion of the well, you have multiple cased hole and open-hole options available. Quite often, once you've got your completion landed, there are restrictions in your upper completion that limit the size of the sand control you can install."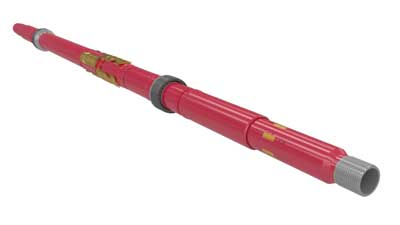 Click to Enlarge
Weatherford's C-Series packer, shown with the company's ROk-ANkOR system. (Image courtesy Weatherford)
New materials
Baker Hughes recently launched the GeoFORM conformable sand management system, which uses a shape memory polymer attached to base pipe to create what Stewart calls "essentially, a gravel pack replacement." Once in place and exposed to bottomhole temperature and activation chemicals, the material expands, conforming to the shape of the hole and providing positive stress on the surrounding formation. The support stabilizes the near-wellbore area, which reduces sand migration; the filtration properties meet or exceed those of a gravel pack, the company says, without the challenges of deploying proppant.
Memory polymer has been used extensively by automakers but is "rather new to the oil and gas industry," Stewart says. Baker Hughes' material sciences group discovered that the same technology used to help dented car bumpers bounce back into shape with heat application could be applied to open-hole wells - and that the material itself could be engineered to make a highly effective sand filter. "GeoFORM doesn't have to be tailored to specific sand size, as with screens and proppant," Stewart explains. "What we found was that the same formulation covers a wide range of particle size distribution." That makes the product especially useful in in formations where variable formation sand size exists throughout the wellbore - for example, in highly deviated wells intercepting multiple zones.
"Quite often with long horizontals, particle size distribution isn't the same along the whole length of the horizontal. You have variations," she says.
GeoFORM currently has a temperature limit of around 190°F (88°C). "But that's a significant percentage of the global wells at this time," Stewart says.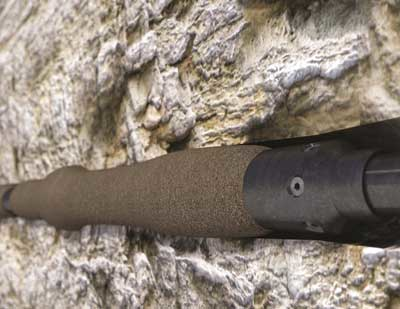 An illustration of the GeoFORM conformable sand management system from Baker Hughes. (Image courtesy Baker Hughes)
Smart tools
A good bit of Weatherford's recent efforts in sand control have focused on single-trip, multi-zone technology. The company offers an inflow control device (ICD) that can react autonomously when water concentrations reach a critical level to isolate specific zones in a well - much like a "smart" well, but with the ability to deploy the autonomous ICDs in greater numbers, at frequent intervals.
"One of the biggest culprits that lead to sand production is the influx of water," says Simonds.
Weatherford's C-series packers enable open-hole completions with zonal isolation throughout the life of the well, the company says. The "cup"-style packers include a setting mechanism that can mold and change with the wellbore, and form a reliable seal in irregularly shaped holes.
"We have also begun deploying this utilizing our RFID technology," he adds, citing a recent North Sea "interventionless" completion. "We are now commercializing technology that can eliminate ball drops. We are developing smart tools that can do a variety of tasks downhole without having to go through the difficulties associated with intervention that the oilfield has come to consider common practice."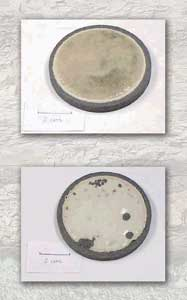 The nonaggressive, slow-acting MudSOLV NG treatment removes the filter cake more uniformly, resulting in higher retained permeability across the entire interval, as seen at top. Aggressive treatments like acid create localized open areas (wormholes or pinholes) in the filter cake, leaving large areas of filter cake unremoved. (Images courtesy Schlumberger)
Enhanced technologies
With advances indrilling and completion technologies, "we are seeing a growing trend in the industry towards open-hole completions, which is occurring in nearly all sand control markets around the world," says Thomas Murphy, sales and marketing manager for Sand Management Services at Schlumberger. "One area that is being impacted by this increased confidence level is the high-cost subsea and deepwater segments of the sand control market, where getting it right the first time is critical. Intervention costs, in many cases, will prove to be financially impractical and have to be avoided."
The number of open-hole completions has grown significantly in the deepwater market, along with the need for reliable installation and long-term production, Murphy notes. To meet the challenges, Schlumberger has developed the OptiPac Alternate Path gravel pack service, a system that includes screens and shunt tubes, specialty fluids, and customized pumping design to help ensure integrity of the completion. "Although this type of technique is not necessarily new to the industry," he says of Alternate Path, "the current challenges being presented by operators in this high-risk environment are new, and require enhanced technologies and a seamless approach where all phases of the sand face completion need to be well aligned and coordinated to deliver on the required objective."
Schlumberger's Sand Management Services and the Wellbore Productivity team at M-I SWACO, a Schlumberger company, work together to create the technologies and execution workflows required for some deepwater open-hole completions, Murphy says.
"From an execution point of view, a workflow is required that takes us from the reservoir drilling fluid, all the way through to commencing production. Effectively drilling and protecting the reservoir, displacing the open hole section prior to gravel packing, placing the gravel pack and effectively removing the filter cake are the key steps.
"With these new demands in the industry, we are focusing on fluid technologies to meet the low friction requirements for gravel pack carrier fluids in the longer intervals, filter cake breaker chemistry that effectively removes the filter cake while also maintaining compatibility with our gravel pack carrier fluids, and the ability to do this at higher temperatures while still meeting the OptiPac Alternate Path system fluid performance requirements," he says.
The MudSOLV NG filter cake breaker service for open-hole completions "is not only designed for gravel pack fluid compatibility and uniform filter cake destruction, but also for compatibility with the completion assembly to control corrosion and prevent premature sand control failure," says Charles Svoboda, vice president of Wellbore Productivity, M-I SWACO. "The chemical breaker treatment provided by this service is designed in conjunction with the reservoir drill-in fluid (RDF) utilized to drill the interval. RDF composition and engineering can significantly impact the ability for an interval to be completed and ultimately produce.
"We are also looking into minimizing the rig time spent preparing the well for completion by ensuring fluids used to drill the well are compatible with the chosen completion assembly," he says. "As well, we want to ensure the well is free of debris generated during the drilling or completion processes. Our SMART 3D displacement services package includes all three critical components for wellbore displacement—hydraulic, mechanical, and chemical—to ensure the wellbore is debris-free and ready for the next operation."
Adds Murphy: "From a hardware point of view, we are addressing the challenges downhole that will arise from the higher pumping pressures generated from gravel packing longer intervals along with the ability to isolate multiple intervals in an open-hole gravel pack completion environment." That effort includes the Hornet surface gravel-packing system, a fit-for-purpose gravel pack blender that uses a weight loss measurement system to control proppant concentrations. "This can be critical in the low-rate, low-concentration gravel packing environment," he says.
OptiPac Alternate Path screens use transport tubes without nozzles to move slurry from joint to joint. (Image courtesy Schlumberger)
Extending capacity
Halliburton in 2012 deployed its next-generation Enhanced Single-Trip Multizone (ESTMZ) FracPac completion system on three ultra-deepwater Gulf of Mexico wells operated by Chevron, which worked with the company to develop the system. Chevron wanted to install single-trip multi-zone completions as a more economical alternative to conventional stacked pack completions. But single-trip systems at the time were not robust enough to be cost-effective, according to Halliburton. But at only 8 b/min, pumping rates for existing systems were too slow, given the stimulation requirements of the wells.
The ESTMZ system increased pumping rates to up to 45 b/min, and increased the differential pressure rating from 6,000 psi to 10,000 psi. Halliburton also developed thicker, stronger materials that could withstand greater volumes of proppant: as much as 3.75 million lbs per well, at maximum pumping rates, which allowed considerably longer production zones.
Halliburton says the system saved Chevron an average of 18 days per well to complete.