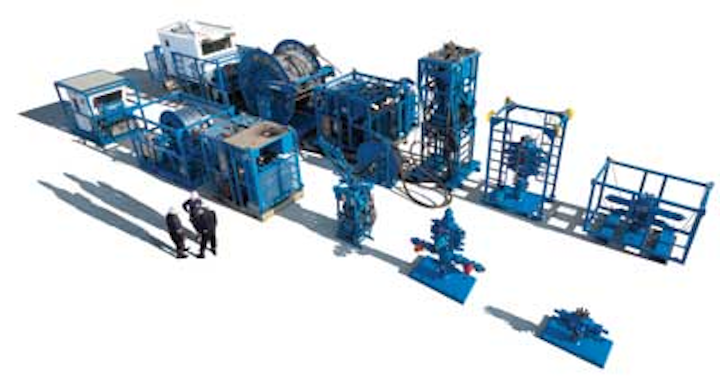 Customized service has been deployed on a number of Southeast Asia workovers
Tim Ramsey
Gordon Mackenzie
Adrian Terry
Rick Stanley
Baker Hughes
As the number of offshore installations increases globally and others mature, there is a growing industry requirement for more cost-effective intervention methods. Many times, these installations require a costly and complicated intervention to remediate the well for continued optimumproduction. In some cases, the cost and logistics of conducting such an intervention with conventional methods make the endeavor technically and economically infeasible.
Dating from original developments in the early 1960s, coiled tubing (CT) has become an integral component of many well services, workover, and other intervention programs. According to estimates from the Intervention & Coiled Tubing Association (ICoTA), well servicing and workovers account for 75% of all CT applications, and the global number of CT units continues to increase. The advantages associated with CT are well known, and largely center around cost and efficiency benefits. A CT application can be run without a workover rig, it can rapidly trip in and out of the well, and CT operations may be performed without having to kill the well.
As the offshore E&P community continues to drill deeper, highly deviated and horizontal wells, larger and more technically complex completions have resulted. CT service providers have followed suit by developing larger and more robust equipment to deploy larger CT pipe sizes and support increasingly challenging wellbore interventions.
Conventional CT pipe sizes have increased dramatically in the last 50 years, from ½-in. OD to nearly 7-in. OD tubing. This has subsequently increased the size and weight of CT unit skids, which must be transported to location by a vessel and positioned on the deck of the platform using a crane. However, many older, marginal, or depleted fields have platforms with access, deck space, and crane limitations (often with downgraded ratings) that restrict the use of larger and heavier conventional CT units.
Alternative offshore deployments and configurations exist, including the deployment of temporary or self-erecting crane packages to lift the CT unit and associated equipment onto the platform, in instances where platform cranes are not adequate. For platforms with insufficient deck space, the CT unit may be placed on the platform, while the pumping equipment remains onboard a nearby support vessel. In cases where both deck and crane limitations preclude these options, the CT unit operation may be run from a lift boat, barge, or rig.
While these alternate options may be technically feasible, they may be too costly to justify the expense. In some cases, wells have been abandoned before reaching their potential producing life because the economic incentive was not strong enough to compel the operator to deploy a conventional CT unit.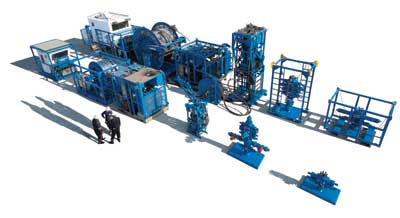 Micro CT units are a more compact, lighter weight and modular system using a combination of equipment and proprietary intervention modeling software to circumvent the deployment challenges of larger CT equipment.
Think small for big gains
These realities guidedBaker Hughes in the development of its Micro CT Coiled Tubing service, a more compact, lighter weight and modular system using a combination of equipment and proprietary intervention modeling software to circumvent the deployment challenges of larger CT equipment. The unit effectively bridges the gap between traditional capillary and CT services to allow operators to economically service wells that might otherwise have to be shut in or abandoned.
The smaller CT system is primarily designed to run 5⁄8-in., ¾-in., and 1-in. work strings with a 20,000-lb pull injector capacity, but can also run larger CT, injector heads, and reels. The unit breaks down into nine main components. The modules include:
A control cabin designed for an operator and with an additional fold-down seat for an assistant. The cabin includes integrated stairways, handrails, and flood lights.
An engine module and hydraulic module power packs, designed to meet Zone II, DNV 2.7-1, and/or Class 1 Div II specifications. The engine module drives the hydraulic module's various hydraulic systems through a quick connecting propshaft. The modules assemble in about 15 minutes with a few hoses, cables, and quick-connecting driveshaft.
An auxiliary module provides powered hose reels for quick rig up and easy manual handling, along with BOP accumulator banks for pressure control typically associated with CT units. In situations where deck space is limited or a larger CT reel is required, the control cabin can be stacked upon the auxiliary module.
An option for two drum sizes, capable of holding 10,000 ft (3,048 m) and 17,000 ft (5,182 m) of ¾-in. tubing (or larger tubing with shorter lengths).
A pressure control/injector/gooseneck basket, which holds a 20,000-lb capacity injector head capable of running both capillary and coiled-tubing stings; a 3 1/16-in., 10,000-psi (689-bar) working pressure well control stack.
The modular nature of the system reduces the need for self-erecting cranes and support/supply vessels, as it is easier to transport and rig up compared to conventional systems. The system also minimizes logistics and onboard personnel to reduce HSE risks. To date, the customized CT service has been deployed in a number of workovers in Southeast Asia to assist in downhole scale removal, solids clean out, milling, perforating, and gas-lift extension projects.
Scale removal
An operator in the Gulf of Thailand was challenged with the buildup of scale deposits in a 13,200 ft (4,023 m) well that prevented access to deeper portions of the well. Multiple wireline attempts had proven unsuccessful in removing these deposits, which compelled the operator to use CT to remove the scale and improve well production. The Micro CT service was proposed, as barge-supported CT operations were not economically feasible, and the platform did not have sufficient deck space to rig up either a conventional CT equipment package or a hydraulic workover unit. In addition, the rig's crane capacity had been derated, which prevented any heavy lifts onto the platform.
A site survey was conducted using the company's CIRCA modeling software to simulate CT operations and to provide a thorough understanding of the available deck space. This information was then used to engineer a customized equipment spread that was deployed to the platform, thus eliminating the need for a support vessel.
The workover then began by running a 1-in. CT string to 13,200 ft TD, where a jetting tool affixed to the string pumped a 15% HCl inhibited-acid solution treatment to dissolve the scale deposits from the tubing completion. The scale was removed in one trip, as confirmed by a separate wireline run to verify the post-treatment condition of the tubing and collect additional data to improve well productivity.
The job took four days of actual operating time and required no milling tools. By placing the modular system on the platform deck, the operator was able to eliminate the need for a standby support vessel. At a day rate of $30,000, avoiding a support vessel saved the operator 30% to 40% of the costs of a conventional CT operation.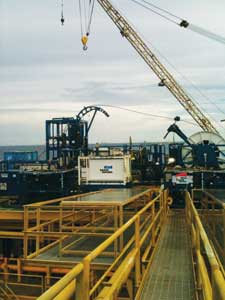 An operator in the Gulf of Thailand used Baker Hughes Micro CT system because barge-supported CT operations were not economically feasible, and the platform did not have sufficient deck space to rig up either a conventional CT equipment package or a hydraulic workover unit.
Boosting production
An operator of a monobore single gas well in the Golok Barat field offshore Malaysia was experiencing dwindling production and challenges with reaching and perforating the lower completion due to a damaged permanent tubing patch straddle section at a depth of 5,269 ft (1,606 m). The patch had previously been installed to abandon an upper zone at 5,194 to 5,354 ft (1,583 to 1,632 m), but now had to be milled out to allow access to the lower zone and boost production.
The operator narrowed its intervention options down to the small CT system or tractor-deployed milling, but settled on the CT system because of its smaller footprint and lighter weight. Baker Hughes conducted coiled tubing simulations on the well, which had a corkscrew profile characterized by a tortuous well path due to high dogleg severity of 5.04°/30.28 m at 2,053 ft (626 m) and a maximum hole angle of 71°.
Given these challenges, the service provider and operator arrived at a deployment plan that called for first milling the ID restriction to gain access below the permanent tubing patch, followed by spotting a gel pill across the milled section to reduce potential cross flow and finally, perforating with slickline. While the milling operation was successful using friction-reduced water at a pump rate of 0.8 to 1.0 bpm and 4,000 to 4,500 psi (276 to 310 bar), the subsequent slickline run became held up at 5,262 ft (1,604 m).
A secondary option of perforating the lower section with the small CT unit was then initiated. A total of 23 runs, including 14 perforation runs, were performed with the small CT unit over 20 days, without any major issues. The production effect was instantaneous with a gas rate of 15 MMcf/d. The intervention has allowed the operator to continue producing the well and access new reserves without the expense of an extensive workover operation.
This small CT operation allowed for various downhole tools to pass through restrictions and perforate the new production interval. No NPT was recorded, and the operation was carried out as per the job program. Good communication and teamwork between the service company and the operator were key to executing the job safely and without incident.
Future applications
While the Micro CT service was initially developed for theAsia/Pacific region its growing successful track record there has garnered greater interest from offshore operators abroad. The Gulf of Mexico, for example, contains a large number of small-deck satellite platforms, many of which have been in production for decades and are in need of workover operations to boost production. In addition, the industry desire for modular and lightweight rig components with a minimal footprint has increased over the past two decades in the GoM, and service providers have answered this call by designing ever smaller and more nimble rig equipment.
The Micro CT service was specially designed with these industry requirements in mind, and Baker Hughes continues to tailor the service for the Gulf of Mexico,West Africa, Middle East, and Europe.