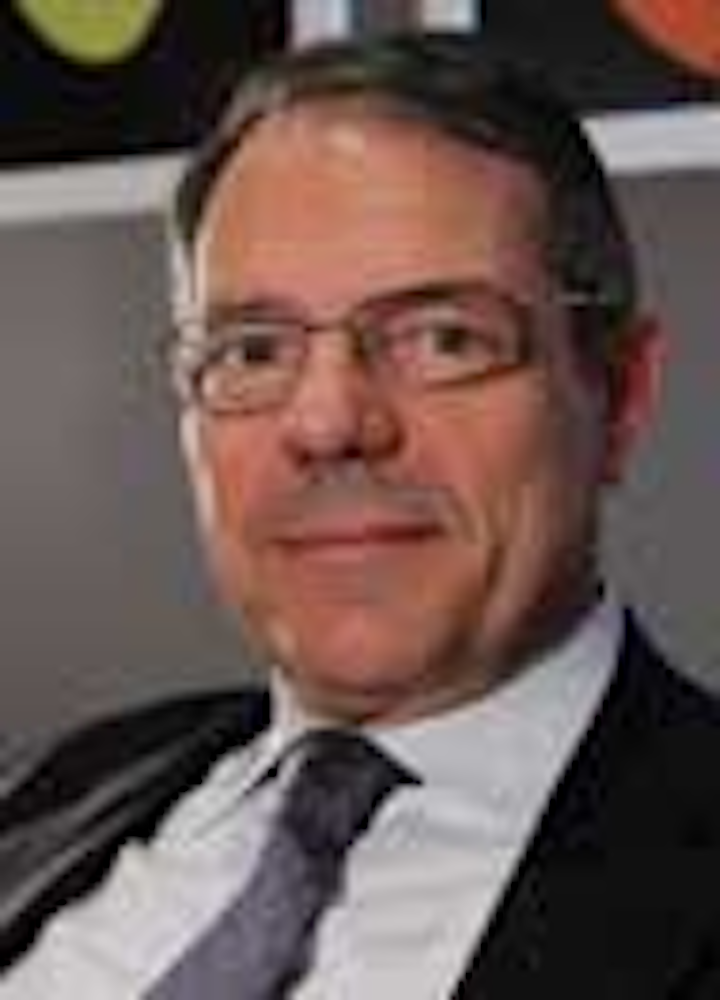 High-profile projects test limits of technology
Gurdip Singh
Contributing Editor
Over the next five years,SBM Offshore will focus on technology-driven turrets and large floating production, storage, and offloading vessels (FPSOs).
| | | |
| --- | --- | --- |
| | | Ivan Replumaz, managing director, SBM Offshore and SBM Malaysia Sdn Bhd. |
"We will be doing biggerFPSOs and complex turret systems," says Ivan Replumaz, managing director of SBM in Malaysia, based in Kuala Lumpur. The company tightly guards its turret technology, and further research is ongoing at SBM's laboratory in France. Critical components, such as swivel systems, are made in its home bases, while fabrication of other parts is conducted at selected and trustworthy shipyards.
Turrets are getting more and more complex as hydrocarbon production moves into deepwater basins. It is one technology that will remain project-specific, with engineering based on sea and weather conditions, Replumaz says. SBM has more than 50 turrets operating globally.
Work at SBM's R&D laboratory at Carros includes testing of new swivel seals, material fatigue, abrasion, and mechanical resistance. The lab has recently conducted a qualification program for a very high-pressure swivel, rated at 830 bar (12,038 psi).
Among its ongoing projects, SBM is in the midst of completing a 10,000-metric ton turret for BP's Quad 204 FPSO. Rated as one of the largest, at 100 m (328 ft) in height, the turret will have a mooring force of 2,250 metric tons in the 100-year return environmental conditions. It will be installed this year on the FPSO to be moored in the Schiehallion field, where BP is replacing an older FPSO. Based on SBM's proprietary bogie-bearing design, the turret will use suction anchors to moor the FPSO in the west of Shetland field.
"This is a step up for state-of-the-art turret technology. It is the most complex unit SBM has ever supplied to the oil and gas industry," says Replumaz.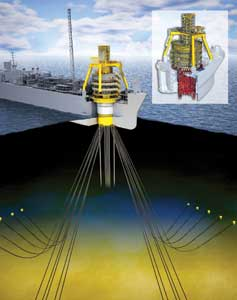 A cutaway view of SBM's turret mooring system. (Images courtesy SBM Offshore)
Depth challenge
SBM expects more and more challenging turret and FPSO projects in coming years as hydrocarbon production moves to deeper waters, Replumaz notes. Present turret technology supports FPSO operations in water depths of 3,000 m-plus (10,000 ft). The turret's average diameter has doubled in the last 20 years to 25 m (82 ft). A key component of these large turret designs is the bogie bearing system, which interfaces between the geostationary turret and the rotating vessel.
Going forward, however, the industry will have to develop technology for depths up to 4,000 m (13,000 ft), he says. The ultra-deepwater challenges include development of production lines and installation expertise. The industry will have to relook at flexible flowlines and develop higher strength lines to produce from deeper waters. He also sees more efforts going into developing technologies for installations of subsea systems in deepwaters.
SBM's second biggest turret is for the Ichthys FPSO, which will be moored, without disconnection, for the 40-year production life of field in the typhoon-prone Western Australian waters. The turret is scheduled for completion in November 2014. The Inpex-operated field will produce gas and condensates from approximately 50 subsea wells at water depths of 280 m (919 ft) in block WA-285-P in the Browse basin.
SBM is also working on an 11,500-metric ton turret for Shell's Prelude FLNG development. The 93-m (105-ft) turret runs through the facility and will be secured to the seabed by mooring lines. Prelude will stay on site for 20-25 years of field production life, starting from around 2016.
At 488 m (1,600 ft) long by 74 m (243 ft) wide and containing more than 260,000 metric tons of steel, Prelude will be the largest vessel ever made. It will weigh more than 600,000 metric tons when in operation in the Prelude and Concerto gas fields in Australia's Browse basin. Replumaz calls these high-capacity FPSOs "Generation 3."
Growing demand
SBM's bigger FPSOs will have topsides weighing an average 23,000 metric tons. The Generation 3 FPSO will be a response to the demand for bigger facilities at deeper water fields, Replumaz says. Comparatively, the average topside on a Generation 2 FPSO is about 10,000 metric tons, considerably larger than the average 1,000-metric ton topsides on Generation 1 units.
Among SBM's latest contract is with Shell, for the provision of an FPSO for the Stones project. The FPSO will be installed in water depths of 2,896 m (9,500 ft) in the US Gulf of Mexico, and have a 10-year lease with an option to renew for another 10 years. The converted Suezmax tanker will have a disconnectable buoyant turret mooring (BTM) that allows it to weathervane in normal conditions and disconnect on a hurricane alarm. The BTM will be configured with steel lazy-wave risers (SLWRs), a first application for a disconnectable FPSO. The mooring system will also incorporate the ability to adjust line tension during operations by use of an in-line mooring connector (ILMC).
SBM will leverage the pioneering BTM on the company's 30 years of experience in turret technology.
The Stone FPSO is a typical Generation 2 design with a processing capacity of 60,000 b/d and 15 MMcf/d of gas treatment and export. The FPSO will have 7,000-metric ton topsides and 800,000 bbl of crude oil storage capacity.
Replumaz sees a growing market for the Generation 3 FPSO, which comes with capacity to handle between 160,000 b/d and 180,000 b/d of liquid production and 1 MMbbl of storage capacity.
SBM is in the market to buy at least one more tanker in the coming months and has two hulls on hand for a number of projects under negotiation. The company expects to put three to four big FPSOs a year on the market over the next five years.
FPSO demand for the next five years is estimated at 70 units, 40 of which will be larger units converted from very large crude carriers. SBM's target is half of the 40 large FPSOs, each an investment of $1 billion. Overall, the company aims to secure one-third of the projected 70 units.
In the meantime, the company is busy with four projects for deepwater Brazil: FPSOCidade de Ilhabela, in 2,300-m (7,546-ft) water depths; Cidade de Paraty, in 2,140 m (7,021 ft); Cidade de Saquarema, in 2,130 m (6,988 ft); and Cidade de Marica, in 2,120 m (6,955 ft).
Cidade de Paraty, the company's most complex unit, is equipped with membrane technology to remove CO2. It is the first FPSO designed to do deep dehydration of gas by removing the water with molecular sieves. It would also provide gas and CO2 compression up to 550 bar (7,977 psi). SBM's first of the four presalt FPSOs,Cidade de Paraty achieved first oil in June 2013, and is ramping up production from Lula Nordeste in block BM-S-11 in the Santos basin. Its topsides weigh about 14,000 metric tons and can process 120,000 b/d of oil and 5 MMcm/d (177 MMcf/d) of associated gas. The topsides include compression and carbon dioxide removal facilities and water injection capacity of 150,000 b/d.
SBM currently operates 11 FPSOs around the world, along with a semisubmersible platform in the Gulf of Mexico. Looking ahead, the company sees further demand for technology in the harsh North Sea environment, the Brazilian deepwaters, and Australia.
Replumaz also expects a pickup in deepwater development in Indonesia and Malaysia as the hydrocarbon-endowed Southeast Asian nations take exploration into deeper waters.