First-ever project done from an FPSO offshore Nigeria
Michel Piemontese
Marco Colombo
Giuseppe Ripa
Dario Pellicano
ENI E&P
Pratyush Singh
John Murphy
Weatherford
Sand production is a major concern to the industry and is more critical today, especially in offshore environments where tolerance to sand production is low. Sand influx into the wellbore may lead to problems such as valve and pipeline erosion, sand deposits in separators, and economic loss from production limitations. Mechanical sand control methods are considered reliable and there are options available, from simple to sophisticated, depending on the situation. When sand control is predicted to be a life of well issue, operators often install sand control from the outset.
So it was with ENI E&P in an offshore field offshore northwesternNigeria which was first produced in 2003 and subsequently upgraded in 2009. Production is from subsea wells at a water depth of about 2,000 ft (610 m), where the temperature is as low as 5°C (41°F), via flow lines to an FPSO. All the wells in this field required sand control measures in the reservoir section from the onset, to prevent sand production from the five producers and sand back-flow into the four injectors. The producers are equipped with three frac packs, one gravel pack, and one expandable sand screen. Injectors are equipped with standalone screens. In one of the wells the frac pack clearly failed, resulting in sand production that threatened the subsea flowline and wellhead integrity from erosion over a four-year period of sand production.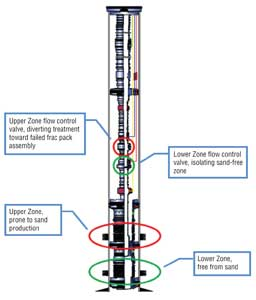 Completion schematic. (Image courtesy Weatherford)
After reviewing available data, it was determined that to minimize the risk on the subsea asset and to increase the maximum sand free rate (MSFR), some form of sand control remediation was required. The obvious approach was to work the well over, but this would involve costs and delays in addressing the problem. So, several chemical sand-control solutions were considered. The use of chemicals such as resins has had some success but when treating wells with resin, once the treatment has cured over the substrate, it cements the sand grains together and reduces formation permeability and consequently loss of production. However, another alternative was the zeta potential altering system (ZPAS). This has a limited risk of reservoir permeability impairment and can be applied by mixing the chemical with seawater and simply bullheading it into the formation through the flowline.
Zeta potential altering chemistry
Zeta potential modification is not new and has been used in the oil field for years in such applications as corrosion and scale inhibition, as well as in drilling fluids to improve solids dispersion. The active ingredient of the ZPAS is an inner salt of a very low molecular-weight polymer, that when added to the base fluid disperses and rapidly coats any metal oxide substrate such as sandstone or any other anionic downhole formation. It also contains a component that can disrupt the water layer that coats solid surfaces in the formation. It is not an absolute sand-control solution, such as an expandable screen, gravel pack, or a frac pack, but it creates an ionic attraction between the sand and fines grains, and modifies the relative permeability of the formation. The main features of the system are that it enables an increase in MSFR and eliminates or significantly reduces sand fines migration.
ZPAS is a matrix treatment that modifies the zeta potential of the anionic formation particles to within a range of +3 to -5mV, where the sand and fines particles become attracted and agglomerate. ZPAS works on the anionic substrate. It modifies the zeta potential of most fines and reduces or stops fines migration, thus preventing or significantly reducing the near wellbore damage they cause. This process presents a low risk to the reservoir, and can be pumped using rate diversion into long producing intervals.
Displaying 1/2 Page 1,2Next>
View Article as Single page