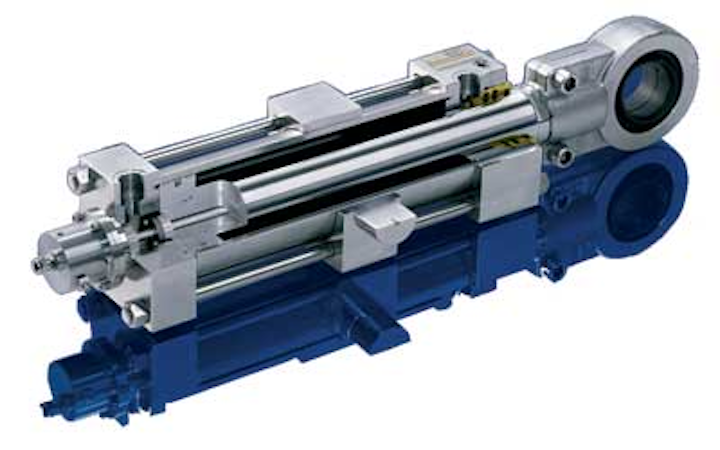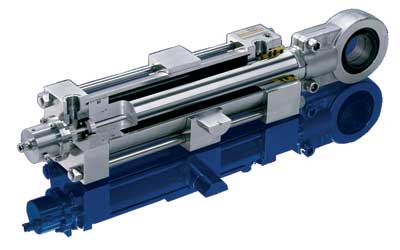 Servo-cylinder with ex-proof rod position transducer. (Image courtesy Atos)
Atos has expanded its range of valves and cylinders for the offshore sector. The company manufactures explosion-proof stainless steel valves designed for reliable operation in extreme corrosive environments, at low ambient temperature down to -60°C (-76°F), and in application making use of water-based fluids and pure water.
Explosion proof stainless steel solenoids are now available with multi-certification markings ATEX, IECEx, and ROST for gas, vapors and dust:
Gas group IIC, conductive dust IIIC, T° class up to T6/T85, with high protection level for explosive Gas (Gb) and Dust atmosphere (Db).
UL certification is also available:
CULUS listed according to UL1002 & CSA22.2 n°139 Group I Class C&D.
Atos' range includes leak-free poppet style or spool-type; direct or pilot-operated; on-off or proportional solenoids, with (standard) 10 W or low consumption (3.5 W) power supply.
The company's cylinder range includes CKA execution, ATEX-certified to Ex II 2 GD ck IIC T6 (T85°C) against the risk of explosion in hazardous atmospheres. They are derived from standard CK cylinders and designed to prevent or provide protection against overheating of the cylinders' surface and generation of electrostatic discharge, which may develop into potential ignition sources. Other items in the CKA range are servocylinders with an ex-proof rod position transducer or with ex-proof fixed or adjustable proximity sensors.