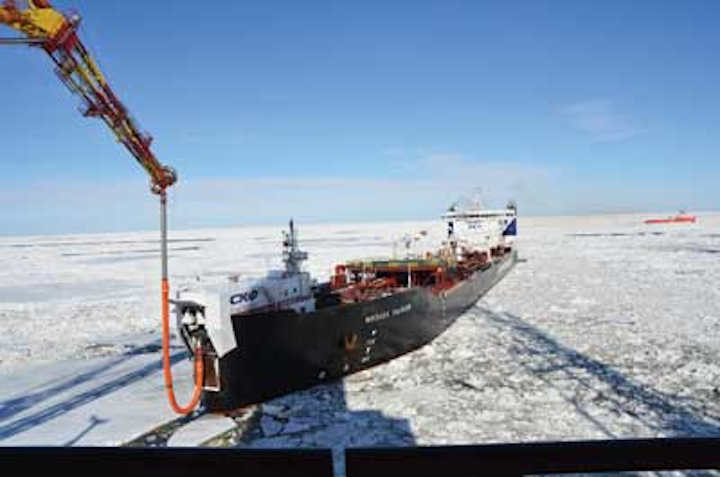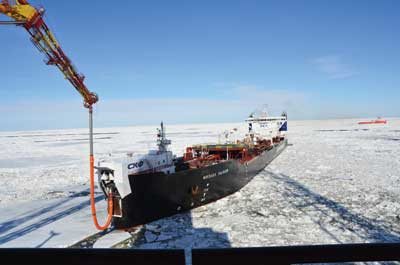 Oil is loaded onto the tankers using an integrated direct oil loading system. The emergency shutdown system for the loading triggers within a maximum of seven seconds, thereby preventing oil spills. (Photos courtesy Gazprom)
Natalya Petrova
Special Correspondent
Following reports that 1 MMbbl of the new ARCO (Arctic Oil) crude blend has been produced fromPrirazlomnoye field, Gazprom Neft Deputy General Director Vadim Yakovlev said that during 2015 the company plans to optimize the process and production parameters for stability and best-in-class project delivery, rather than maximizing production.
To meet its production targets, a total of approximately 2.2 MMbbl of oil will be produced from the Prirazlomnoye field in its first year of commercial development.
The project has a maximum production level of 5.5 – 6 MM metric tons (40.3 – 44 MMboe), which is expected to be reached in 2020 – 2021. Yakovlev told journalists on the Prirazlomnaya platform that the production plateau will be around 4 MM metric tons (29.3 MMboe) and will last for at least the three following years.
He also told journalists that "production from Prirazlomnoye is profitable, despite current low oil prices," and went on to say, "[Oil prices] are not critical for Prirazlomnoye."
He also made similar comments regarding the imposition of Western sanctions, which include a prohibition on transfer of technology and equipment required for development of offshore hydrocarbons.
"We will not be critically affected," Yakovlev continued. "Yes, it will cause some difficulties. Our suppliers will be required to obtain permits, and this will cause some delays. In a few isolated cases, delivery of non-critical equipment and components has been refused, but we've always been able to find an alternative," explaining that the company was resolving these issues through import substitution and localization (provision of services by Russian service company personnel and from Russian sources).
Asked whether the only "Russian content" on the platform was the actual metal structure, while all the equipment and software installed on the platform was foreign, Yakovlev stated, "Yes, the bulk of the equipment—the drilling facilities and the process equipment—is in fact foreign-made."
Prirazlomnoye is the world's first project involving oil extraction from the Arctic continental shelf using a stationary platform. Production began in December 2013 (as part of a pilot production program). A new design, ice-resistant, fixed, offshore oil production platform (the Prirazlomnaya Platform) was developed specifically for this field to accommodate all the process operations, including drilling, production, crude oil storage, and preparation and shipment of the end product.
ThePrirazlomnoye oil field is in the Pechora Sea, 60 km (37 mi) from shore. Recoverable oil reserves from the deposit are in excess of 70 MM metric tons (513 MM boe). Gazprom Neft Shelf LLC is the project operator and subsurface license holder.
Gazprom Neft Shelf plans to start drilling the second production well for the project in 1Q 2015. A third production well will be drilled over the course of the following year, with a total of four wells being drilled into the field over the next year.
At present, the field has one production well which has been completed and is currently in operation, and an injection well is nearing completion. Extended-reach drilling is being used.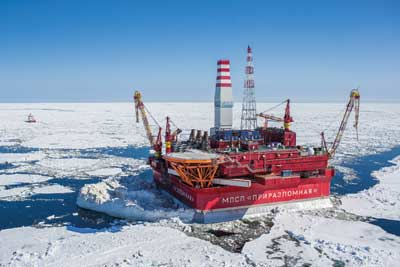 An ice-resistant, fixed, offshore oil production platform (the Prirazlomnaya Platform) was developed specifically for this field to accommodate all the process operations, including drilling, production, crude oil storage, and preparation and shipment of the end product.
In total, the project will involve commissioning of 36 wells: 19 production, 16 injection, and one cuttings disposal well.
The platform has the capacity to support drilling a maximum of 40 wells. Four exploration wells drilled at the field at various times during the exploration phase have been drilled and plugged at the bottom.
"The entire process system here has already been commissioned," Yakovlev said. "This occurred in August, when all of the startup trains were commissioned. As far as further operations at the Prirazlomnaya Platform are concerned, essentially all that remains is to drill the field.
"The actual drilling is performed using marine risers, and there is no contact with the water."
The platform, which is designed for operation under extreme environmental conditions, was designed and built in Russia under contract to Gazprom. The platform has a zero discharge system to prevent drilling or production waste from discharge. Rather such waste is to be pumped into a special disposal well or, if necessary, collected in containers and transported to shore for disposal.
All oil produced is stored in tanks situated in the platform caisson, whose 3 m (9.8 ft) concrete walls are covered with a two-layer sheet of corrosion-resistant/wear-resistant clad steel. The caisson has a capacity of approximately 94,000 metric tons (689,000 boe) of crude oil. The platform also makes use of so-called "wet storage" of oil, in which water is used to displace the volume occupied by oil that is removed from the tanks; this prevents oxygen from entering the tanks, thereby preventing the accumulation of explosion-prone mixtures.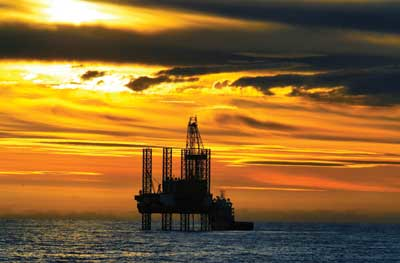 The Prirazlomnaya Platform will see a lot of sun rises and sun sets from now to 2021.
Oil is loaded onto the tankers using an integrated direct oil loading system. The emergency shutdown system for the loading triggers within a maximum of seven seconds, thereby preventing oil spills.
TheMikhail Ulyanov and Kirill Lavrov ice-class oil tankers with deadweight of 70,000 metric tons, built specifically to transport oil from the Prirazlomnoye field, support year-round oil delivery.
The author
Natalya Petrova is an editor-in-chief of Offshore Russia and Oil & Gas Journal Russia, published by Nedra Publishing, Moscow, under PennWell's license. She has managed OGJRussia since 2007.