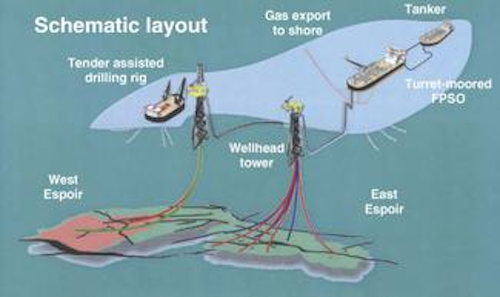 Flow assurance must contend with seabed canyons
Jeremy Beckman
Editor, Europe
Côte d'Ivoire will become West Africa's fourth deepwater producer, following sanction last year of the Baobab project. Unlike other operators in the region, CNR International (Côte d'Ivoire) SARL has opted for a fast-track development, with a four-year discovery-to-production time frame.
Simultaneously, the company is working to raise production from Espoir, in much shallower water north of Baobab, through the addition of a second wellhead platform. Both projects are due onstream during 2005-06. Thereafter, both sets of facilities could serve increasingly as hubs for tiebacks of smaller finds.
CNR entered Côte d'Ivoire in July 2000, when it acquired fellow Canadian independent Ranger Oil. Over the previous two-and-a-half years, Ranger and its partners, state oil company Petroci, Addax, and Tullow, had been re-developing Espoir, in offshore block CI-26. Phillips originally brought the field online in 1982, using a jackup production system. At the outset, it was producing 20,000 b/d, but this rate was halved by the time the field was prematurely abandoned in 1988.
According to Bill Taylor, finance manager of CNR International, Phillips was confronted by high operating costs and very low oil prices. Coincidentally, the board was rationalizing its international operations.
"Another factor was the production-sharing contract (PSC) regime in Côte d'Ivoire, which was very different to what we have now," Taylor said. "The Petroleum Law had an adverse effect on Phillips' contract, making it very difficult for them to achieve value."
Martin Cole, managing director of CNR International, also led the original management team that brought Ranger into Espoir in 1997, eventually replacing Addax as operator of the proposed field re-development. Ranger was already operator of block CI-102 and had proven its technical competence in West Africa with the shallow water Kiame project off Angola.
"We developed what turned out to be an 8-MMbbl field with an FPSO and two subsea wells," says Cole. "Not many others would bother to do this now, but it gave us huge credibility with the Côte d'Ivoire government, as did the fact that we had been advising and working with Sonangol."
null
From Ranger's viewpoint, he added, "We felt Côte d'Ivoire was the type of country where we wanted to do business, where we could be an influential player, with good hydrocarbon potential. Also, our COO at that time was an admirer of what had been achieved by Umic – now Devon Energy – which had discovered and developed the Lion and Panthere fields in blocks west of Espoir."
Espoir development
Espoir is 19 km south of the coastal town of Jacqueville and extends over a 30-sq-km area beneath a north-south trending seabed canyon in water depths from 400 to 1,500 ft. According to a presentation by Ranger at the Offshore West Africa '99 conference in Abidjan, the field comprises two hydrocarbon accumulations, East and West Espoir, divided by a saddle. The main producing reservoirs are within a Lower Cretaceous clastic sequence, with a series of northwest to southeast downthrown faults. Upper Cretaceous shales provide top and lateral seals.
During the field's original six-year production span, 14 wells were drilled, of which five were extended reach with deviations above 50°. A total of 31 MMbbl was produced out of a presumed 110 MMbbl recoverable, with 62 bcf of associated gas being flared. Overall oil in place was estimated at 406 MMbbl, with around two-thirds contained in East Espoir. On abandonment, bottomhole pressure readings revealed depletion of 1,500-1,800 psi in Eastern Espoir's higher-volume Upper series reservoirs. Water cut was around 10%.
The re-development aimed to increase recovery through a combination of water injection and gas-lifted high angle wells. Under a first phase focused on East Espoir, five producer and four water injector wells would be drilled from an unmanned wellhead tower in 400 m of water on the edge of the shelf break. All production wells would be gas-lifted, some with deviations exceeding 80°, and with long completion intervals to maximize productivity. The latter would also be designed to ensure optimum targeting of injection water into the productive intervals.
Fourteen main options were screened for the production facilities. The partners opted for a 12-slot, minimal facility (test separation only) on East Espoir, with tender-assisted drilling. Production would be piped 3 km to a 1-MMbbl storage FPSO. Processed crude would be offloaded to shuttle tankers, with surplus gas sent to shore for power generation. The FPSO would be equipped to process 40,000 b/d of oil, inject water at up to 60,000 b/d, and to provide compression of 60 MMcf/d for gas lift and export.
In November 1998, the Ivorian ministry approved the development. Subsequently, Addax was bought out in two separate deals, leaving the current partners as CNR (operator) with 58.7%, Petroci holding 20%, and Tullow Côte d'Ivoire with 21.3%.
Late in 2000, Saibos transported the 2,200-metric-ton wellhead tower's deck and jacket from Gulf Island Fabricators in Louisiana directly to Abidjan. Saibos, as main project contractor, also installed the platform and the 20-km, 10-in. diameter pipeline taking Espoir's surplus gas to Adjue on the coast.
In late December 2001, the FPSO Espoir Ivoirien, a converted Aframax tanker, also arrived from the Far East. The vessel had undergone strengthening of basic steelwork at the Subic Bay yard in The Philippines before heading to Keppel Fels in Singapore for a comprehensive fit-out. Both the steelwork and topsides installation were managed by Prosafe, which also designed the internal turret and fluid swivels, with capacity for up to 10 risers. The prevailing swell in these waters militated against use of a purely spread-moored floater, which is the commoner option in the Gulf of Guinea.
Prosafe runs the vessel on CNR's behalf under an initial 10-year lease, with options for a further 10-year extension.
Pride International started development drilling on Espoir in spring 1999, using a modular drilling package installed on the platform by a crane barge. First oil was produced with two wells onstream, in February 2002, followed by first gas that fall.
The initial wells were drilled in the lower productive zone, with water injection subsequently implemented in the upper pay zones. During this period, the program was set back slightly when problems uphole delayed completion of the fourth producer; however, the fifth and final producer was completed last September, raising oil output to 25,000 b/d.
"We're still pushing up our injection," Cole adds. "We currently have more well injection capacity than is provided for by the vessel's 60,000-b/d water handling equipment. So we're looking to bring in another facility, which will also be employed on West Espoir."
Development of this section of the field will be "pretty much a look-alike of East Espoir," Cole maintains, "i.e., based on another wellhead tower and deck, with tender-assisted drilling. This platform will also be tied back to the FPSO." Five producer wells and two water injectors are planned.
Last April, CNR also drilled an exploratory well on the Acajou structure, 9 km southeast of Espoir, using the Trancsocean semisub Sovereign Explorer. Well Acajou IX encountered a gross oil column of over 75 m. A test on a 13-m interval of oil-bearing sands flowed 3,500 b/d of 33° API crude. CNR commented at the time that the productive sands were thin, but thicker sands were intersected on the northern portion of the structure, below the oil/water contact.
"If Acajou is developed, it would be as a satellite to Espoir," Cole says, "but it requires further appraisal. We plan to drill our next well here this year."
A well late in 2002 on the Emien structure – another potential satellite to Espoir – came up dry, and was subsequently side-tracked and converted into a water injector. There are other prospects worth probing, Cole adds, but these are for the longer term.
Baobab
Following its acquisition of Ranger, one of its first acts was the discovery of Baobab with its first well in block CI-40 in spring 2001. Well Baobab-1x was drilled 8 km south of Espoir, in 1,485 m water depth, 10,080 ft TD. Two drill stem tests produced a combined flow rate of over 6,700 b/d of 22-23° API oil. One year later, a second well on the southern part of the structure, Baobab-2x, flowed over 10,000 b/d on test. This result led to an upward revision of oil in place from 700 MMbbl to 1 Bbbl, of which 200 MMbbl appeared to be recoverable.
CI-40, awarded to Ranger in April 1998, covers 575 sq km. Baobab is 27 km south of Jacqueville and extends for 14 sq km beneath a north-south trending seabed canyon in 3,500 to 5,200 ft water depths.
Early last year, the partners CNR (57.6%), Petroci (15%) and Svenska Petroleum (27.4%) committed to a full-scale, $600-million development, based on a 2.4-MMbbl storage FPSO with subsea well clusters. Development drilling started last fall, with production targeted for spring 2005.
"This has been an aggressive schedule," Cole points out, "and we've gone for development with only one appraisal well. For a 100-MMbbl field in the North Sea, three to four appraisal wells would normally be needed. However, we felt we didn't need to waste more money on further appraisal in this case based on our seismic and the results of the two wells drilled. The second well was deviated, so we have got an idea of the improved deliverability that could be achieved from one that is drilled horizontally."
Oil production should start in spring 2005 at 45,000 b/d, building to a peak of 60,000 b/d. This will be offloaded directly from the FPSO, with gas exported to the Espoir FPSO through a 15.5-km, 6-in. rigid flowline, to be installed later this year by Subsea 7.
"Local demand for gas hasn't increased at the rate the Côte d'Ivoire government originally forecast," Cole says, "but as ours is associated gas, we have priority."
The FPSO, yet to be named, will be supplied and operated by Modec International LLC and will be positioned on the northern part of the field. The riser configuration will be conventional, according to Cole, but this is not the case for the pipeline installation.
"The topography is weird, with the reservoir extending across a very deep canyon. The pipeline will have to come up this canyon and over the continental shelf. And carrying Baobab's heavy crude, there is potential for emulsification. However, we have undertaken various flow assurance studies to understand and mitigate the risks."
Technip was awarded a $125-million contract to supply and install rigid pipelines, flexible risers, and steel core umbilicals this fall, followed by installation of the water injection manifolds and other subsea tie-ins early next year. Technip subcontracted laying of the 8-km, 12-in, water injection line to Subsea 7.
"The discovery well was in 5,000 ft of water, but we are drilling development wells from the sides of the canyon, in 3,500 ft of water. So there will be two production drill centers, north and south, both with facilities for six producer wells. Additionally, there will be two water injection manifolds, each with the capability to tie in four wells."
Under the first development phase, the semi Transocean Richardson is drilling eight producer and three water injector wells. FMC Kongsberg is supplying the subsea trees, manifolds, flowlines, and associated control equipment.
Another exploratory well drilled by the partners late in 2002, 8 km southeast of Baobab, found small quantities of lighter oil in the separate Kissipo structure. "We're still evaluating its potential. It may be a satellite tieback at some point," Cole says.
New seismic acquired over block CI-40 last year revealed numerous other leads and prospects. "But we're pretty flat out developing what we have at the moment," Cole says.
"We're still looking to pick up further acreage," he says, "but you also have to monetize what you have."