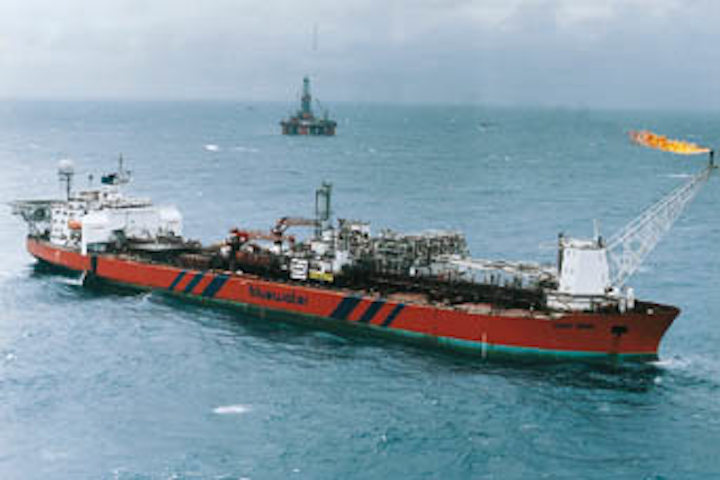 No holdup in deployment, but no applications
Marshall DeLuca
Business Editor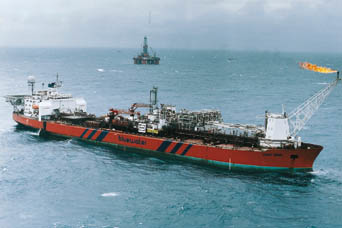 Bluewater's Uisge Gorm FPSO.
A total of 129 tanker-based floating production and/or storage vessels currently are operating in every offshore sector of the world, except the Gulf of Mexico. If the US Gulf is one of the hottest exploration and development markets in the world, why are there no floating production, storage, and offloading (FPSO) vessels, assigned either to testing or long-term production duties?
This has been a item of debate in the industry for some time and a topic discussed in a number of industry conferences and workshops. The Minerals Management Service (MMS) and a number of companies have recently taken a long hard look into the issue to see why this technology, which has proven itself in every other sector of the world, has not reached the Gulf of Mexico. The simple answer to the question of "why" is that no operators have applied for a permit to deploy one.
There were earlier reports that the MMS was apprehensive about allowing an FPSO in the Gulf. However, MMS has emphatically denied this. An MMS spokesperson explained: "We don't have anything against FPSOs, it's just that no one has applied to use one."
"If a company wants to use an FPSO, we [MMS] will treat it as any sort of plan of development. They would have to prove to us that safety is first, the plan is in the best interest of safety, and show a conceptual plan of how they would do it with all safety considerations," he continued.
Why the wait?
According to the spokesperson, "there has not been a true opportunity for the utilization of FPSOs in the US Gulf thus far. Intensive leasing driven by deepwater royalty relief may lead to the opportunity of using an FPSO, but this has not happened thus far." The hiatus may not last much longer.
One unidentified major operator in the US Gulf reportedly was making plans to apply for the use of an FPSO for a deepwater field. If the application is presented and accepted, it will serve as a test case for the entire industry.
Astilleros of Spain is currently building a multi-purpose oil tanker for a group of companies including Statoil, Rasmussen, Smedvig, and Navion that will have FPSO, shuttle, and drilling capabilities for operations in the US Gulf.
DeepStar, a Texaco-led joint industry project with most major deepwater operators participating, has placed a committee in discussion with MMS on the subject of FPSOs.
Peter Lovie, Business Development Manager of Bluewater Offshore Production Systems said that he has no idea when an FPSO will enter the Gulf, but people are beginning to realize that it is a good idea for deepwater.
"Who wants to go first is a big guess, and the economic incentive will have to be large enough to drive it forward," Lovie said.
Using an FPSO in the Gulf is thought to be extremely advantageous to the industry, compared with some proposed production solutions. One major advantage is the high water plane area offered by an FPSO, which adds a greater load carrying capacity and increased space.
Also, there have been many developments allowing for fixed and floating platforms (spars, towers, and tension leg platforms) in deepwater to service the deepwater fields. However, most of these vertically configured structures are limited in space, and if more equipment is needed during the field's production life, platform capacity needs to be increased. This has been very costly in both production downtime and the expense of refurbishment.
FPSO designers contend that such expansions for these vessels can be made relatively quickly and cheaply with a tanker-based FPSO, compared with other designs. Furthermore, there will always be a limit to how deep a vertically fixed structured can be deployed, whereas an FPSO has a largely unlimited depth envelope. The drawback to FPSOs, of course, is that the wellheads must be moved to the seafloor, a not insubstantial consideration.
Single hull issue
The most discussed concern for deploying an FPSO in the US Gulf is environmental. Some on the technical staff at MMS are concerned, quite rightly, with any increased risk of a Valdez-esque oil spill incident.
Almost all of the FPSOs deployed around the world are converted tankers, and they feature a single hull storage compartment. A single hull lacks the added physical protection that a double hull offers, increasing the chances for an oil spill. There has been speculation that a double hull requirement will be imposed on any FPSO entering the US Gulf, however, the MMS has not commented on the prospects for such a requirement. No decision on the matter could be expected until an application is forthcoming.
According to Bluewater, an average of 12-15 tankers are continuously working in the US Gulf, performing lightering between larger tankers berthed at any of the nine offshore lightering points and discharge points onshore. This is considered by many industry technicians more hazardous than FPSO operations.
Bjarte Bruheim, President and Chief Operating Officer of Petroleum Geo-Services commented: "The major concern is the environmental part of it, especially the storage part. But on the other hand, the shuttle tankers that come from overseas carry more than a floating production system would have out there."
However, the US is in the process of required double hull tankers calling at any US port, which would include lightering tankers.
Another environmental concern deals with the mobility of an FPSO during production. If a loading line breaks loose from the vessel during production, a major spill can occur. On the other hand, there were similar fears a few years back regarding subsea production. Today, this is accepted, if not necessary, technology.
"There is a 10-year track record for the North Sea regarding HSE (Health, Safety, and Environment) issues that should calm concerns down. There haven't been any major incidents in the North Sea for a floating production system," said Bruheim.
North Sea record
FPSOs have established an exemplary track record in the harsh environment of the North Sea. Twelve oil companies presently are producing with a fleet of 21 FPSOs. "With the deepwater discoveries, to produce using a floating production system would be so important. Because it is accepted in the North Sea it will probably be accepted here," said Bruheim.
"The MMS is just being very careful, which is what we would want," said Lovie. They have said that they have attended a number of workshops and conferences on the subject and will make the decision when the first application comes in.
The question, therefore, remains, as to "who first" not "why." And, whether single hulls will be allowed, or double hulls required. Whoever decides to take the first chance will be the test for everyone.
Copyright 1998 Oil & Gas Journal. All Rights Reserved.