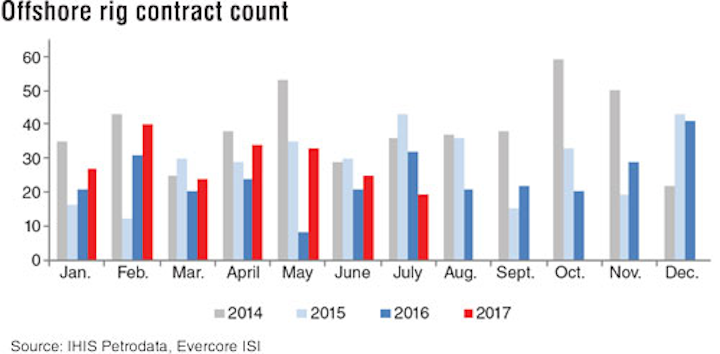 | | | |
| --- | --- | --- |
| | | Bruce Beaubouef Houston |
While industry fundamentals remain difficult, the offshore drilling market is in the midst of a bottoming process, says a new report from Evercore ISI.
In its "Offshore Rig Market Snapshot" issued in mid-July 2017, the firm noted that a total of 19 new contracts were announced in July, up from 10 at this point in mid-June. A total of 25 contracts were confirmed last month, down from 33 in May but up from 21 a year ago.
The report also said that of the 25 contracts firmed last month, nine were for term with jackups dominating in a two-to-one ratio. The term jackup contracts were for Southeast Asia and the Middle East, while the term floater contracts were signed by ONGC and Eni for deepwater projects under development.
Thus far in July, floaters lead with three term contracts versus two for jackups, while almost two-thirds of the 19 contracts announced thus far were for floaters - the first month floaters have led since November 2015.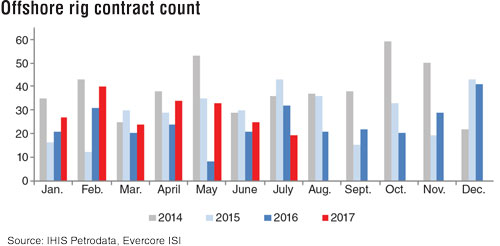 With the industry having approved three deepwater developments over the past month (seven year-to-date), the firm says that it expects at least 14 contracts to be announced in the coming weeks to continue the trend of finishing higher on a year-over-year basis for the seventh straight month.
The report also noted that fleet attrition has slowed in recent months, as contractors complete rig sales and finalize contracts to reactivate idle rigs. Of the five term contracts confirmed in July, all five were idle or moving to location, while theEnsco DS-10 is under construction. Similarly, of the nine term contracts in June, six were idle versus two drilling, while one was in the shipyard.
Despite increased contracting activity in recent months, Evercore says it expects rig retirements to reaccelerate in the coming months as the fleet of cold stacked floaters and jackups continue to age. Excluding operator-owned rigs, the firm says it counted 74 cold stacked floaters and 69 cold stacked jackups currently, with the average floater fleet cold stacked for 1.3 years versus 2.7 years for jackups. There are 13 floaters and 34 jackups cold stacked for more than 2 years that are strong candidates for retirement, the report said.
GE, Maersk Drilling extend digitization to nine rigs
Following a positive pilot project last year, GE and Maersk Drilling say they have expanded the scope of their digital collaboration, designed to enhance drilling productivity.
The pilot project covered one vessel and one asset, but the new target is nine vessels and 110 critical equipment items, such as the top drive, draw works, thrusters and main engines, over the course of a multi-year program starting later this year.
GE says it will implement its SeaStream Insight Marine asset performance management solution to improve the consistency and predictability of drilling performance on nine Maersk Drilling rigs.
This provides real-time efficiency reports and performance indicators based on data gathered during daily offshore operations, and in Maersk Drilling's case is targeting a 20% maintenance cost reduction and improvements in drilling efficiency.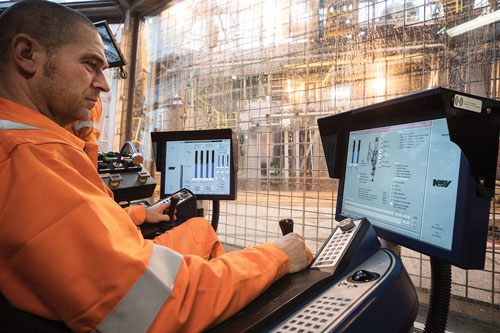 GE and Maersk Drilling say they have expanded the scope of their digital collaboration designed to enhance drilling productivity. (Courtesy Maersk Drilling)
Jesper Hansen, CIO of Maersk Drilling, said: "Through our partnership with GE, we are not only creating value for our two companies, but the industry as a whole. We believe that the systematic adoption of reliability-centered maintenance analysis and digitization will be a step change in our industry, and Maersk Drilling plans to lead the way. To do that," Hansen continued, "we must acknowledge the need to break down the industry silos and work collaboratively across the value chain, as the sharing of data will enable further digital breakthroughs, which can enhance efficiency and remove waste across the supply chain. By offering new efficiency services to our customers, Maersk Drilling has taken the next step in digitalizing the offshore drilling industry."
Tim Schweikert, president and CEO, GE's Marine Solutions business said: "By scaling from one pilot project to fleets, it helps drive consistent drilling excellence at a global level, and this is how digital solutions will bring a multi-billion-dollar impact to the industry. Moving forward, we will continue to deliver measurable outcomes through the program and help Maersk Drilling and our partners better perform even during this period of industry downturn."
By offering performance analytics for each rig, Maersk Drilling believes it can reduce deviations and increase productivity in operations such as drilling, tripping in, tripping out, and running/pulling the riser.
Another achievement is predictive maintenance. Maersk Drilling and GE say they have developed digital twins - virtual representations of critical equipment on the rig tuned through sensor and other equipment data - for the major drilling and marine systems equipment.
Through using the digital twins in combination with GE's zonal analytics, the digital solution is said to decrease unnecessary maintenance and associated costs. In addition, the solution can detect equipment anomalies that could cause equipment to break own, providing foresight weeks in advance of pending issues.