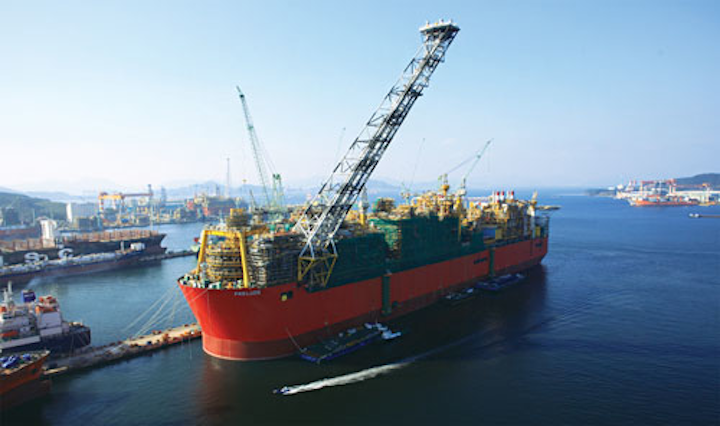 | | | |
| --- | --- | --- |
| | | Jeremy Beckman London |
Hilcorp Alaska was the sole bidder for the first lease sale in Alaskan federal waters since 2008. The company submitted bids in the Cook Inlet, off south-central Alaska, the highest being for three blocks in the Sedovia area. An evaluation process is under way.
•••
Wood Group is working on detailed engineering of the topsides for Husky Energy's new White Rose gravity-based wellhead platform offshore Newfoundland. Four of the contractor's branches in Europe and the Americas are involved.
•••
Bahamas Petroleum Co. has raised $3.25 million to help fund exploration of its southern licenses offshore the Bahamas. The company is negotiating with potential farm-in partners to co-finance drilling of its first well, with a view to capitalizing on currently lower rig rates.
South America
ExxonMobil and partners Hess and CNOOC Nexen Petroleum have sanctioned the $3.2-billion first-phase development of the Liza oil field, 200 km (124 mi) offshore Guyana. Following strong results from the latest appraisal well, Liza-4, recoverable reserves across the block now stand at 2-2.5 Bboe. SBM Offshore will supply a leased FPSO - a converted VLCC - to be spread-moored in 1,525 m (5,003 ft) of water, and producing up to 120,000 b/d of oil from 17 wells linked to four subsea drill centers, with associated gas treatment and water injection capability. First oil should follow by 2020.
Repsol has commissioned a 4,000-sq km (1,544-sq mi) 3D seismic survey over the offshore Kanuku license, updip of Liza, while Tullow Oil expects to spud the Araku-1 exploration well offshore neighboring Suriname this fall.
•••
Petrobras and China's CNPC plan to jointly evaluate opportunities both in Brazil and elsewhere, jointly applying their strengths across all segments of the oil and gas chain. The two companies have been partners since 2013 in the production-sharing agreement for the deepwater presalt Libra area in the Santos basin offshore Brazil.
In the southeastern part of the Campos basin, Petrobras has offered for sale its 70% operated interest in the heavy-oil Maromba field in the shallow-water BC-20A concession, close to the producing Peregrino field. Chevron is the other partner.
West Africa
Samling Resources has commissioned PBJV Group to supply a well intervention vessel and associated services to P&A 15 wells at the declining Chinguetti and Banda fields offshore Mauritania. The Premier Oil-operated Chinguetti, in deepwater 80 km (50 mi) from the coast, is close to ceasing production.
•••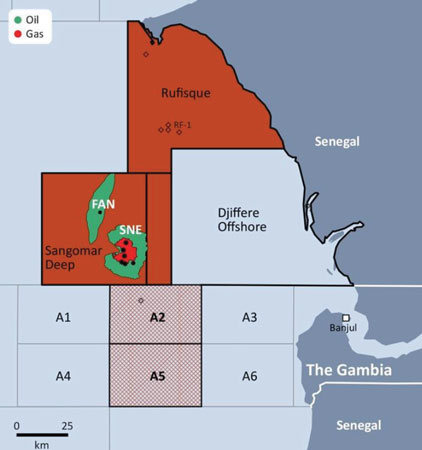 Blocks A2/A5 offshore The Gambia. (Map courtesy FAR)
The Gambia's government has approved FAR's assumption of an 80% operated stake in offshore blocks A2 and A5, with current incumbent Erin Energy retaining 20%. FAR will part-carry Erin for the costs of the first exploration well, likely to be drilled in 2018. Both blocks are next to and on trend with the SNE oilfield off Senegal to the north, with large shelf-edge prospects identified from 3D seismic. Water depths range from 50-1,200 m (164-3,937 ft).
•••
NNPC, First Exploration & Production, and Schlumberger have agreed to jointly develop the shallow-water Anyala and Madu fields in the Niger Delta, 40 km (25 mi) offshore Nigeria. Schlumberger would provide technical services and capital in kind until first oil, anticipated in 2019. The phased development, estimated to cost $700 million, would make use of an existing FPSO with oil and gas processing capacity.
•••
Equatorial Guinea's government has awarded Irish independent Clontarf Energy deepwater block 18 under the nation's 2017 Bid Round. It covers 5,056 sq km (1,952 sq mi) of undrilled acreage within the Northern Rio Muni basin - Clontarf's initial focus will be on structural/stratigraphic traps in Cretaceous sands plays.
•••
The world's first converted floating liquefaction vessel should have departed Keppel Shipyard in Singapore for Cameroon. Owner Golar LNG will deploy theHilli Episeyo, formerly a 1975-built Moss LNG carrier, on the Sanagud Sud and Ebome gas fields offshore Kribi for Perenco and state-owned Société Nationale des Hydrocarbures. The converted vessel has storage capacity of 125,000 cu m (4.41 MMcf), with sponsons fitted on both sides of the hull to house liquefaction and gas compression equipment.
Keppel Shipyard is currently converting theM/T Tempera into an FPSO for deployment on Perenco's Yombe field offshore Republic of Congo, to the south. It will replace the FPSO Conkouati that has operated on Yombe for more than 25 years.
•••
BP is exiting block 24/11 offshore Angola after deciding that its 2014 Katambi gas discovery is not commercial.
Russia
Rosneft has discovered oil in the Laptev Sea via the Tsentralno-Olginskaya well, drilled horizontally from the shore of the Khara-Tumus Pensinsula in Khatanga Bay, north of the Karsnoyarsk region. Analysis of core samples taken from subsurface depths of 2,305-2,363 m (7,562-7,752 ft) showed high levels of oil saturation.
Farther to the east in the Sea of Okhostk, the semisubmersibleHakuryu-5 has been drilling the first exploratory well for Gazpromneft Sakhalin on the Ayashky license block. The rig has been winterized with drilling mud used from the outset, along with a system for riser-free sludge disposal, to assist wellbore stability.
•••
Allseas'Pioneering Spirit has started deepwater pipelay for Gazprom's TurkStream gas lines in the Black Sea: each will have throughput capacity of 15.75 bcm/yr. Allseas' Audacia has been constructing the shallow-water section near the Russian coast.
Mediterranean Sea
Wood Group is performing front-end engineering and design (FEED) for Gastrade for the Alexandroupolis Independent Natural Gas System project offshore Greece. This will feature a floating LNG and regasification (FSRU) vessel, providing a new gas supply source to markets in southeast and central Europe. An investment decision should follow in late-2017.
•••
Greek independent Energean has submitted a field development plan to Israel's Petroleum Commissioner for the Karish and Tanin gas fields offshore Israel. Development will start with three wells on Karish, linked to an FPSO 90 km (56 mi) offshore, with production capacity of 400 MMcf/d and a dry gas pipeline connecting to the Israeli natural gas system. Estimated capex is $1.3-1.5 billion, with first gas slated for 2020. Six wells should then be drilled on Tanin.
Caspian Sea
Eni will assume 50% of subsoil use rights for the Isatay block in the Kazakh sector of the Caspian Sea from JSC KazMunayGas. The two companies will jointly operate the block, thought to potentially hold large hydrocarbon resources, and will apply proprietary exploration techniques developed by Eni.
Middle East
ADES International Holding has a three-month drilling contract for Belayim Petroleum in the Gulf of Suez offshore Egypt, using the jackupADMARINE 88. Another ADES jackup, ADMARINE VIII, contracted to Petrozenima, was due to start a fracking job last month on the North July well in the same region.
•••
Qatar Petroleum (QP) plans to double the size of a new development project on the southern part of the offshore North field, first announced in April, in order to lift Qatar's LNG production to 100 MM tons/yr. The investment would increase the field's gas output by 20% to 4 bcf/d.
Total and QP have jointly assumed the reigns of the offshore Al-Shaheen oilfield, 80 km (50 mi) north of Ras Laffan, from previous operator Maersk Oil under their North Oil Company partnership. A new phase of development, due to start this summer, involves drilling 56 wells with two rigs initially, to be joined by a third at the start of next year.
•••
National Iranian Oil Co. (NIOC) and Total have signed a 20-year contract for development and production of Phase 11 of the South Pars gas/condensate development in the Persian Gulf. This was the first signing involving a foreign oil company under the new Iranian Petroleum Contract. Total operates the development, in partnership with CNPC and NIOC subsidiary Petropars.
The first phase, with an estimated cost of around $2 billion, calls for 30 wells and two wellhead platforms connected to existing onshore treatment facilities via two subsea pipelines. Changing reservoir conditions could in time necessitate the addition of 20,000-metric ton (22,046-ton) offshore compression platforms, a first for South Pars, and the largest ever built for the Persian Gulf. Analyst Wood Mackenzie expects Phase 11 to recover more than 10 tcf of sweetened gas and 450 MMbbl of condensate, with potential spin-offs to local Iranian contractors in terms of enhanced engineering capabilities.
Another European major, Eni, has reportedly agreed to perform appraisal studies with NIOC for development of the giant Kish gas/condensate field, discovered in 2006, close to Kish Island in the Persian Gulf.
East Africa
GE Oil & Gas has agreed to collaborate on development projects in Area 4 off Mozambique with EEA, a joint venture between Eni and CNPC. EEA has a 70% operated stake in the concession in the Rovuma basin. GE will initially supply subsea production systems and associated services for the recently contracted Coral South FLNG vessel, which will have an LNG capacity of around 3.4 MM tons/yr, supplied through six subsea wells. The agreement extends to future upstream projects in Area 4.
India
Reliance Industries and BP have sanctioned development of the R-Series dry gas fields in block KGD6, 70 km (43 mi) offshore eastern India in water depths of more than 2,000 m (6,562 ft). The partners plan a subsea tieback to the block's existing control and riser platform. The R-Series (D34) project should produce up to 425 MMcf/d and come onstream in 2020. RIL and BP expect to submit development plans to India's government for two further projects before year-end: the three combined carry an estimated price tag of $6 billion, and should eventually add 1 bcf/d to the country's domestic gas production.
ONGC has yet to receive government approval for its takeover of GSPC's Deen Dayal West field in the same KG basin, according to a recent statement by chairman D.K. Sarraf. Assuming this does come through, the company plans to further develop the field and integrate the facilities with Cluster 1 on block KG-DWN-98/2.
Asia/Pacific
Thailand was due to announce terms for an auction to take over concessions to operate the Bongkot and Erawan gas fields in the Gulf of Thailand. The current respective operators are PTTEP and Chevron, with the concessions due to expire in 2022 and 2023. Combined output is 2.2 bcf/d.
•••
JX Nippon Oil & Gas Exploration has produced first gas/condensate from the Layang field in block SK10 offshore Sarawak, at an initial rate of 12,000 boe/d. Layang is 7 km (4.3 mi) east of the producing Helang gas field. Production from both fields heads through subsea pipelines to the MLNG Tiga liquefaction plant in Bintulu, Sarawak.
Australia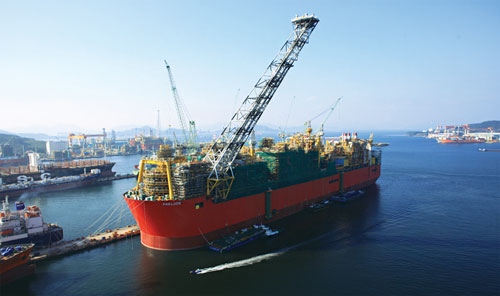 Prelude FLNG vessel at Samsung Heavy Industries Shipyard. (Photo courtesy Shell)">
ThePrelude FLNG vessel at Samsung Heavy Industries Shipyard. (Photo courtesy Shell)
Shell'sPrelude floating LNG vessel has departed the Samsung Heavy Industries shipyard on Geoje Island, South Korea, and was headed to the Prelude offshore gas field, 475 km (295 mi) northeast of Broome in Western Australia. On arrival, pre-installed mooring chains were due to be secured to the facility.
•••
Origin Energy has completed the final phase of the BassGas Mid Life Enhancement project in production license T/L1 offshore Tasmania. This involved the addition of a compressor system and condensate pumping unit at the Yolla-A platform, with compression of Yolla's gas already under way.