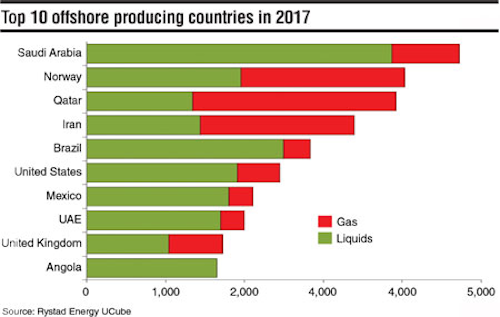 Rystad Energy forecasts offshore production at field-by-field level in UCube. The analysis shows that Saudi Arabia will continue to be the number one offshore producer with an estimated 4.8 MMb/d of which 3.9 MMb/d is liquids production. The Safaniya, Manifa, and Qatif oil fields as well as Berri will contribute the most production. Norway is estimated to produce just over 4 MMb/d, of which just over 50% is contributed to gas, most noticeably from Troll and Ormen Lange. The gas-dominant countries Qatar and Iran are expected to follow with 3.9 MMb/d and 3.3 MMb/d of expected total offshore production, respectively. Iran and Saudi Arabia show the strongest production growth globally compared to 2016.
Analyst assesses impact of grounded helicopters in Western Europe
The fatal helicopter crash in April 2016 near Turøy, Norway, involving the H225/EC225 has created uncertainty surrounding the future supply of Airbus's heavy aircraft.
In its soon-to-be publishedWorld Offshore Helicopters Market Forecast 2017-2021, Douglas-Westwood (DW) has analyzed the impact of the H225 issues.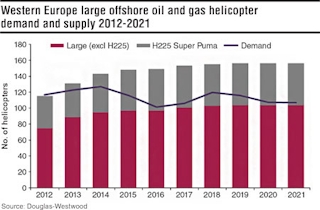 Despite the European safety regulator's decision to lift the flight ban on the Super Puma models, they continue to be grounded by the UK and the Norwegian Civil Aviation Authorities, with operators such as Statoil dropping them for good.
Should the grounding of the H225 continue, the most significant effect would be seen in Western Europe. As of December, the H225 alone accounts for 65% of the region's total large helicopter supply.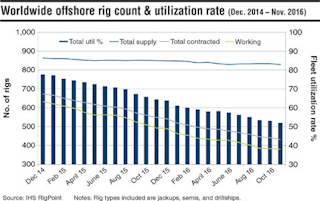 In 2016, helicopter utilization across the medium (including next-generation medium) and large aircraft is estimated to have averaged 58%. The large segment is anticipated to have seen a higher utilization at 68%, compared to medium units at 49%. This implied utilization rate is inclusive of the 52 Airbus Super Puma units in Western Europe.
In 2017, DW forecasts large helicopter utilization at 59%. In the event that all 52 units are removed from Western Europe's supply, the utilization rate is projected to improve considerably to 105% for large helicopters (i.e. implying a slight undersupply). This creates an opportunity for helicopter manufacturers to address the potential gap in the market. The undersupply would most likely be met by a combination of large helicopters from other regions and medium and next-generation medium aircraft in Western Europe.
- Marina Ivanova, Douglas-Westwood