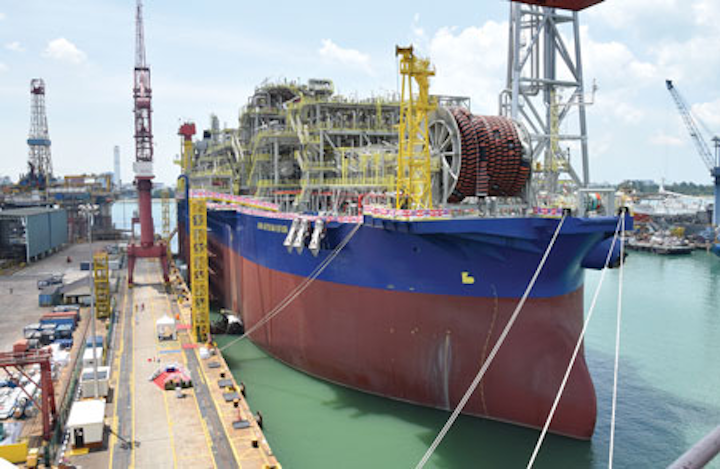 | | | |
| --- | --- | --- |
| | | Jeremy Beckman • London |
Deepwater expenditure globally will total $120 billion over the next five years, according to Douglas-Westwood's latestWorld Deepwater Market Forecast. Much of the focus in the initial period will be offshore West Africa and the Americas, with frontier regions becoming more prominent later on via projects such as Liza (Guyana), SNE (Senegal), and Zohr (Egypt). Various other mega-projects could go forward over the next 18 months, the analyst adds, as operators look to take advantage of lower service costs, with more than 118 deepwater fields set for drilling activity.
South America
BP expects to produce first gas later this year from its $2-billion Juniper project, 50 mi (80 km) offshore Trinidad & Tobago in 360 ft (110 m) water depth. Heerema Marine Contractors'Thialf was preparing to install the platform, built by TOFCO in Trinidad and Gulf Marine Fabricators in Texas. It will produce 590 MMcf/d from the Corallita and Lantana fields, exported through a 10-km (6.2-mi) flowline to the Mahogany B hub.
Perenco has acquired Repsol's 70% operated stake in the offshore Teak, Samaan and Poui block, southeast of Trinidad. The associated facilities have been producing 14,000 boe/d of late; Perenco is a specialist in extending the lives of mature fields.
•••
Anadarko is drilling back-to-back exploration wells offshore western Colombia, in an attempt to prove further reserves close to its play-opening deepwater Kronos gas discovery. The Purple Angel and Gorgon wells are both testing structures in the Purple Angel block: Anadarko is considering further wells on its Colombian Pacific acreage during 2018.
•••
Petrobras' latest FPSO theP-66 departed the BrasFELS shipyard last month for installation at the Lula Sul field in the deepwater Santos basin offshore Brazil. The yard was responsible for fabrication, integration, and commissioning of the topsides modules that will receive production of 150,000 b/d of oil and 6 MMcf/d of gas.
Brazil is reportedly considering staging two sub-salt licensing rounds this year, the first of which could take place by the end of June. Areas to be offered are thought to include four blocks close to large oil discoveries offshore Rio de Janeiro.
West Africa
Red Rio Petroleum has acquired for a nominal fee Comet Petroleum, which has exploration interests in the Sawahari Arab Democratic Republic. One is the offshore Guelta block, south of Morocco. Previous owner Tower Resources identified prospectivity in lower Cretaceous deltaic sequences in mid to shallow water depths, and in Triassic salt fault blocks to the west.
•••
TheStena DrillMAX has been drilling the deepwater SNE-5 appraisal well for the Cairn Energy-led partnership on the southern lap of the SNE oil field. The drillship will then spud SNE-6 to assess connectivity and deliverability of the upper SNE reservoirs, with options thereafter for further exploration drilling.
•••
Pura Vida Energy has agreed to conditional terms with a rig contractor to co-fund drilling of three back-to-back wells in shallow water on the Nkembe block offshore Gabon. The $20-million program, which will include a production test on the 1976 oil discovery Loba, will target around 100 MMbbl of reserves. A commercial flow rate from Loba could lead to a subsequent development.
•••
Eni's FPSO for its Offshore Cape Three Points (OCTP) project offshore Ghana was recently namedJohn Agyekum Kufuor, after the country's former president, during a ceremony at Keppel Shipyard in Singapore. The vessel is due to reach Ghana in April and will operate on the Sankofa-Gye Nyame field, with facilities for production of oil and gas, and injection of gas and water. It will be connected to 18 subsea wells, with the gas sent to the shore through a 63-km (39-mi) pipeline for use in Ghanaian thermal power plants.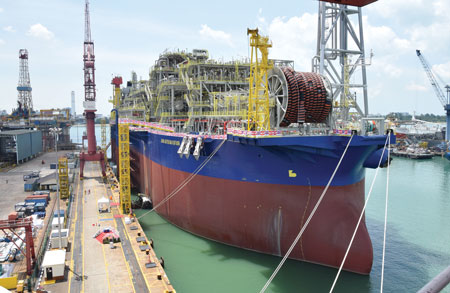 The John Ayekum Kufuor FPSO at Keppel Shipyard. (Photo courtesy Keppel Offshore & Marine)
•••
Production has started from the Eni-operated East Hub development project in block 15/06 offshore Angola. The newly onstream Cabaca South East field, 350 km (217 mi) northwest of Luanda, is connected to the FPSOArmada Olombendo via nine wells and four subsea manifolds. The floater has capacity to handle up to 80,000 b/d of oil which will supplement existing production from the West Hub's Cinguvu, Mpungi and Santos fields. Eni expects to bring two more fields into production via these facilities by the end of next year.
•••
BW Offshore has agreed to take a 56% operated interest in the Kudu license offshore Namibia, and will pay for past costs on completion of the deal. The company and partner state utility NAMCO plan a final investment decision later this year on the 755 bcf-2.3 tcf Kudu gas field, 170 km (105.6 mi) offshore, which original operator Chevron discovered in 1974. This will likely be developed via a floating production system with the gas sent through a pipeline to a new 885-MW gas-to-power plant in Namibia, reducing the country's reliance on imported energy.
Mediterranean Sea
Greece has reportedly held talks with Total on deepwater gas exploration in a block offshore western Greece. Last December, the Ministry of Environment & Energy named Hellenic Petroleum as "Selected Applicant" for western offshore block 10 in the Kyparissiakos Gulf (thought to be prospective for oil), and for offshore block 2, west of Corfu, in a joint venture with operator Total and Italy's Edison.
•••
Greek E&P company Energean Oil & Gas has appointed TechnipFMC as its concept and front-end engineering design contractor for the Karish and Tanin gas fields offshore Israel. Earlier, Energean announced it would develop the fields, discovered by a Noble Energy-led consortium, via an FPSO. It estimates the combined gas resources at 2.4 tcf and anticipates development costs of $1.3-1.5 billion.
•••
Lebanon has approved two decrees to complete the country's stalled first offshore licensing round. Following a study by the Lebanese Petroleum Administration, the government will invite bids by Sept. 15, 2017, for blocks 1, 4, 8, 9, and 10. For successful applicants, a commercial discovery could be followed by a 25-year production phase.
Russia
Lukoil plans geological surveys this year offshore the Russian Enclave in the Baltic Sea over three oilfields that the company discovered in 2015. The government of the Russian Federation issued a decree last year authorizing Lukoil-Kaliningradmorneft to exploit the subsoil areas.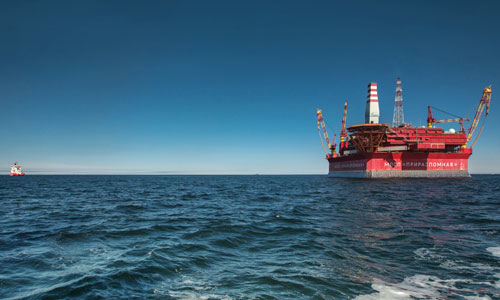 Prirazlomonya platform. (Photo courtesy Gazprom Neft)
In the Pechora Sea off northern Russia, Gazpromneft-Shelf has commissioned two new production wells at the Prirazlomonoye field. Both were drilled from the ice-resistant fixed platform, and one is equipped with a Russian-produced electronic submersible pump, the first deployed on a well on the Russian Arctic Shelf. Eventually the operator aims to commission 32 wells from the platform.
Caspian Sea
The North Caspian Operating Co. (NCOC) has awarded Fluor Corp. a two-year engineering service contract to perform conceptual studies and front-end engineering for projects in the Caspian region. NCOC operates the giant shallow-water Kashagan field and the Aktoty, Kairan, and Kalamkas structures in the Kazakh sector.
Middle East
Saudi Aramco has awarded wide-ranging brownfield work to three offshore contractors. McDermott's contract is an EPCI program that covers nine slipover jackets and decks, subsea pipelines and cables, and demolition of certain facilities at the offshore Safaniya field, 125 mi (201 km) north of Dhahran; and provision of a single-well observation platform at the Zuluf field.
The L&T Hydrocarbon Engineering/EMAS Chiyoda Subsea consortium will build and install four wellhead decks and associated facilities at Safaniya, and perform upgrades to 17 platforms serving various Aramco fields in the Arabian Sea.
•••
INPEX and ADNOC have agreed in principle to extend the duration of their joint development of the Satah and Umm Al Dalkh oilfields offshore Abu Dhabi until end-2042. In addition, INPEX's interest in Um Al Dalkh will be raised to 40%.
•••
Qatar Petroleum (QP) plans to integrate the Qatargas and RasGas ventures into a single entity, named Qatargas, which will operate the collective offshore and onshore LNG facilities. QP said the merger would enhance Qatar's competitive position: shareholders in the two companies are ConocoPhillips, ExxonMobil, Shell, and Total.
•••
Malaysian company Bukhary International Ventures has signed a memorandum of understanding with National Iranian Oil Co. on recovery of gas from the Ferdowsi and Golshan discoveries in the Persian Gulf. The two fields are respectively 85 km (53 mi) and 65 km (40 mi) offshore, and southeast of Bushehr. Both also contain oil, but BIV's focus over the next seven months will be on the gas and the export options to onshore facilities.
India
ONGC will spend $66 million developing the North West B-173A field off western India via a wellhead platform, three wells, and associated pipelines connected to the company's Western Offshore facilities. The location is 5 km (3.1 mi) northwest of the B-173A field. Produced oil and gas will both be evacuated through the Neelam process center.
Asia/Pacific
Woodside Energy plans to start drilling two appraisal wells by mid-year on its deepwater Thalin gas discovery offshore Myanmar. The program will incorporate coring and drillstem testing.
•••
Shell has agreed to sell various interests offshore Thailand, including 22.222% of the giant Bongkot field and adjoining acreage, to KUFPEC Thailand for $900 million. This is part of Shell's ongoing program to raise $30 billion in divestments, following its takeover of BG Group last year.
MISC Berhad has started converting the Aframax tankerBunga Kelena 5 into a floating storage and offloading vessel, Benchamas 2. The vessel was chosen due to features that should allow for technical upgrades and integration work compatible with weather conditions at Chevron's Benchamas field in the Gulf of Thailand. Following conversion the vessel should sail to the field early next year.
•••
Vietsovpetro has produced first gas and condensate from the TU-6 well of the BK-TNG platform on the Thien Ung field offshore Vietnam. Production heads to the mainland via the Bach Ho field pipeline system.
Malaysian contractor Yinson Holdings has held talks with Repsol on a potential FPSO for the Ca Rong Do field in the Nam Con Son basin in block 07/03 offshore southern Vietnam. The partners are set to decide on a field development plan by mid-year, with start-up targeted for the second half of 2019.
•••
CNOOC has started production from the Enping 23-1 oil fields in the Pearl River Mouth basin of the South China Sea, in water depths of around 90 m (295 ft). The main facilities include one platform and 13 production wells, connected to existing infrastructure serving Enping 24-2. Three wells were online at start-up, and CNOOC anticipates attaining peak output of 24,800 b/d in 2018. Later this year, the company also aims to start up its offshore Weizhou 12-2 oil field project.
Wison Offshore & Marine says the world's first barge-based floating storage and regasification unit (FSRU) has undocked from the drydock at the company's yard in Nantong, China. Following installation of the topsides, the vessel was ready for delivery to contractor Exmar. This was also the first FSRU built in China, Wison said, and the first with a small-scale storage capacity. Regasification capacity is 600 MMcf/d.
•••
Premier Oil has ordered subsea tress and wellheads from GE Oil & Gas for the Bison, Gajah Puteri, and Iguana field developments in the Natuna Sea off Indonesia. Initially Premier requested three sets of trees and wellheads, due to be delivered by early 2018. The Tree on Mudline series trees, to be manufactured at GE's plant in Batam, Indonesia, are suited to shallow-water operations using jackup rigs.
In Indonesia's offshore Kutei basin, Eni has completed drilling and testing of its first appraisal well on its Merakes gas discovery in the East Sepinggan block.
The structure is 35 km (21.7 mi) from the Jangkrik field, which Eni is developing via an FPSO and which should come onstream by mid-year. The company assesses Merakes' in-place reserves at 2 tcf, and anticipates a subsea tieback to Jangkrik.