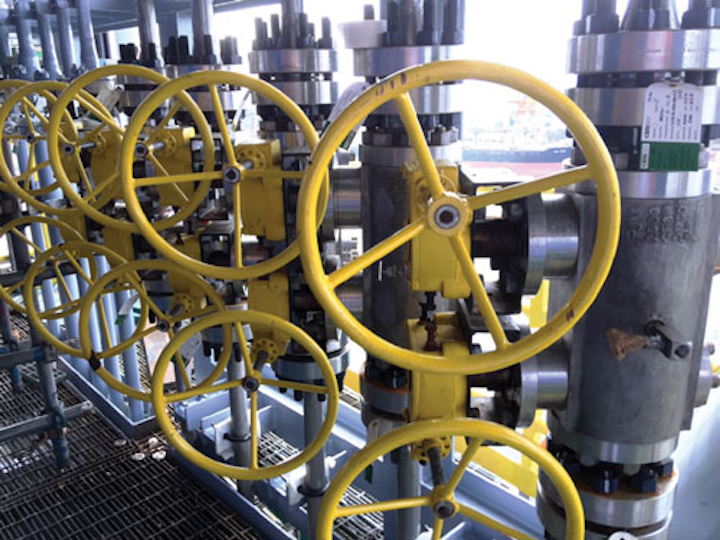 James Moir
PJ Valves
Total's Kaombo project in Angola's deepwater block 32, 175 km (109 mi) southwest of Soyo and the Angola LNG facilities, is due to be completed later this year. It involves conversion of two very large crude carriers (VLCCs) into a pair of turret FPSOs, namedKaombo Norte andKaombo Sul.
These will be connected via 300 km (186 mi) of subsea interfield pipelines to 59 subsea wells in water depths of 1,400-1,900 m (4,593-6,233 ft) over an 800-sq km (309-sq mi) site that covers six of the 12 discovered fields in the block. Total estimated reserves across the Kaombo field amount to 650 MMbbl, with production expected to reach 230,000 b/d.
Effective treatment of seawater and produced water is critical to help maximize recovery of the oil and to maintain a sufficiently processed resource for re-injection into the reservoirs. However, filtration of seawater in this area presented a challenge due to the high level of salinity, making the water extremely corrosive and liable to rapidly corrode any valves it came into contact with. PJ Valves (PJV) was selected to provide a solution which met these criteria coupled with cost-saving ideas.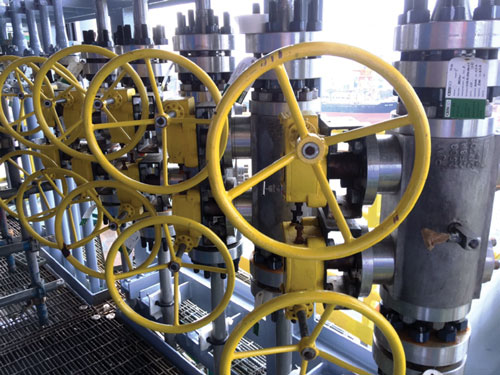 Typical valves supplied for an FPSO. (Image courtesy PJ Valves)
Based on its previous experience with similar projects, PJV recommended the use of side entry valves in places rather than more expensive top entry valves, bringing an upfront capex saving to the project. However, in terms of maintenance, top entry valves are designed to be serviced while still fixed in piping, meaning it is less time consuming and costly to maintain them.
The company and the client also collaborated to identify special coatings to counter the effects of the harsh environment, including stringently managed application of the project-specified coating systems on ball valves. They selected carbon coating as a wear and erosion-resistant surface for tungsten valves, while electro-less nickel-plated coating provided the required corrosion resistance. The choice of base materials such as nickel aluminium bronze and duplex stainless steel also ensured the valves would be able to withstand Kaombo's changing process conditions and rigours of use.
PJV has supplied and manufactured around 2,000 valves in various consignments for this project, including ball, globe, check and needle valves, and both single and double-block and bleed valves. For orders that involved non-destructive testing and special paint systems, the company used both its own manufacturing facilities and those of a trusted partner to complete items outside of its production range.