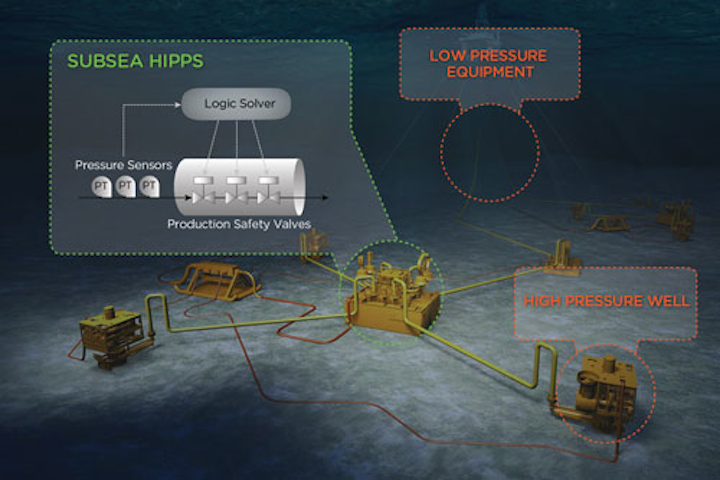 Lars Herbst
Bureau of Safety and Environmental Enforcement
The same ingenuity that has marked exploration and production in the Gulf of Mexico throughout the 20th century takes a modern form when one considers the approaches now being used in deepwater environments. Throughout the Gulf's outer continental shelf, recent projects involve new technologies or non-conventional applications of technologies from other aspects of the industry. There is no doubt that these advances have helped America secure energy resources that were previously unreachable. For example, from 2014 to 2016, eight of the world's most advanced production facilities became operational in the deepwater Gulf, including Shell's Olympus and Stones, Chevron's Jack/St. Malo, and Anadarko's Lucius and Heidelberg. Together, these eight production facilities are expected to produce in excess of 600,000 b/d of oil. Each of these operations has overcome challenges related not only to reservoir conditions, but also water depth, subsea pressure, extreme temperatures, and strong currents.
The same challenges that energy companies face in deepwater operations are felt by the Bureau of Safety and Environmental Enforcement (BSEE) as it strives to efficiently review each operator's conceptual and operations plans. After the exploration phase ends, deepwater offshore lessees that plan to proceed will submit the conceptual plan of their production approach to BSEE. It typically takes a few months or less before those plans are approved. Soon thereafter, the industry operator submits a much more detailed deepwater operations plan. That is when the real work begins, and BSEE engineers begin review of the plan and various permits. Other bureau program engineers integrate reviews of other aspects of the project. For example, the Pipeline Section reviews pipeline permits.
The deepwater operations plan is the company's description of how the prospect will be developed, including all equipment and techniques. BSEE engineers will review the plan to, among other things, make sure it adheres to the "barrier concept," which means there are two independent mechanical barriers that can prevent safety breaches. Examples of the information in the plan include (1) a description and schematic of the typical wellbore, casing, and completion; (2) design and fabrication information for each riser system; (3) a description of the surface/subsea safety system and emergency support systems that describes what valves will close at what times and for what reasons; (4) a discussion of any new technology that affects hydrocarbon recovery systems; (5) and 11 other general categories of information. BSEE engineers carefully review every component of the plan in order to make sure that the operation will be conducted safely with minimal risk to the environment.
Over the years, the bureau has earned a reputation of being thorough in its reviews while also applying common sense to its decision making. One recent situation reveals the way it will work with industry to conduct reviews in a timely manner. ExxonMobil approached BSEE about the possibility of pre-approving a technology that the company was not sure they would employ on the Julia field, a deepwater Tertiary reservoir. ExxonMobil's plan was to tie subsea wells into Chevron's Jack/St. Malo platform.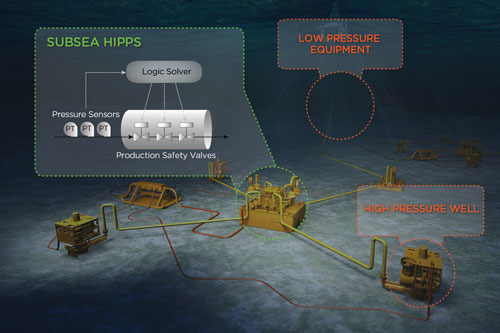 A rendering of a HIPPS. (Courtesy Clarus)
Desiring to reach full production as quickly as possible, ExxonMobil asked the bureau to preapprove use of a high integrity pressure protection system, or HIPPS. Such a system had never been deployed in the Gulf of Mexico before in a subsea environment and the operator was not sure that it would be used; the need to use it would depend on whether a well has a shut-in tubing pressure that exceeds the maximum allowed operating pressure for the pipeline and riser systems. The bureau did not hesitate to undertake the review of something that might never be deployed for this project: Engineers were assigned and the reviews began promptly.
In assessing the use of a subsea HIPPS, BSEE applied the same common sense logic it uses for all deepwater operations plan approvals, asking questions such as: Will the system operate safely during worst-case conditions? Does the system have suitable barriers? Are the materials being used appropriate for the conditions to which they are exposed? In other words, is the facility ready for an emergency, and if one occurs can a shut-in be successfully carried out?
Many of America's oil deposits lie miles below the seafloor of the Gulf of Mexico, requiring operations that must first overcome the challenge of working in up to 10,000 ft (3,048 m) of water. As new deepwater production platforms, such as Hess' soon-to-be deployed Stampede, continue to advance through construction and production phases, BSEE works to coordinate pre-production inspections within operator timetables. That is one reason the bureau successfully completed the pre-production inspection of the Stampede topsides at the Kiewit shipyard in Ingleside, Texas. Any changes that might be needed can be accomplished more efficiently while the structure is still in the shipyard.
One of the most exciting review efforts that BSEE is currently engaged with involves Shell's Appomattox project, one of the largest Gulf of Mexico projects ever commenced, with production capacity of more than 120,000 boe/d. Almost every piece of Appomattox's production equipment is being designed for first-time use. The equipment must be capable of handling temperatures of more than 350°F (177°C). Reservoirs that exceed temperatures of 350°F trigger additional reviews by the bureau because conventional equipment is not rated to handle intense heat. Much of the technology Shell is employing for the Appomattox project will be used for the first time in subsea environments. To maximize safety reviews, BSEE is requiring that many of the systems be reviewed by independent third parties with sufficient technological expertise. Throughout the process, the bureau continues its longstanding approach of listening, evaluating, and making safety-focused, common-sense decisions.
Since its formation, the bureau has been committed to an efficient review and inspection program. Once its engineers and inspectors conclude that adequate steps have been taken with regard to safety and minimizing risk to the environment, it proceeds with project approval. As a result, BSEE feels confident that America's offshore energy industry is safer and our nation's incredible natural resources are being properly stewarded.