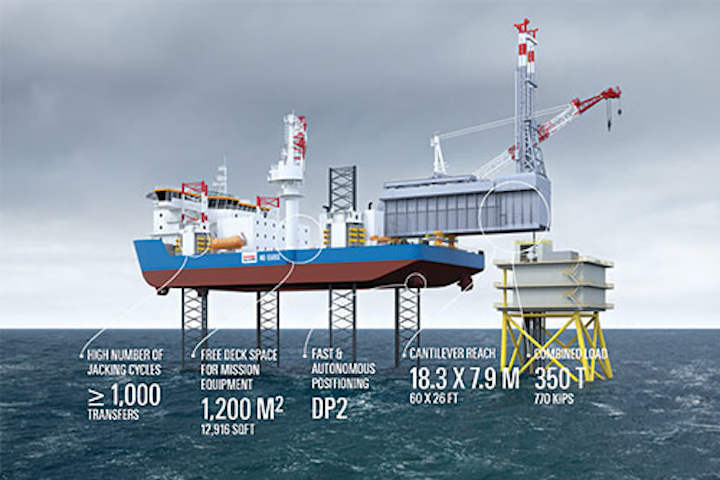 | | | |
| --- | --- | --- |
| | | Jessica Tippee • Houston |
Borr Drilling Ltd. has signed a letter of intent with Transocean for the acquisition of 15 high-specification jackup rigs. The transaction is expected to total around $1.35 billion, and consists of all of Transocean's jackups, comprising 10 rigs in its existing fleet and five newbuilds under construction at Keppel FELS Ltd. The consideration for the transaction also includes the remaining contract backlog and yard instalments to Keppel FELS for the newbuilds, whose board of directors has pre-approved the novation of the newbuilding contracts.
The transaction is subject to the parties executing definitive agreements and satisfying formal closing conditions, including a final approval from the boards of directors of both companies. It is expected to be completed by the end of the month. Borr said that a deposit in line with what has been agreed between the parties has been paid to Transocean. Financing has been secured through a private placement of equity securities, and the company also announced an $800 million equity offering to fund the acquisition.
On Monday, March 27, Ocean Rig UDW Inc. filed for Chapter 15 bankruptcy protection in the United States Bankruptcy Court for Southern District of New York. The next day the drilling rig contractor announced that it entered into an agreement with creditors representing more than 72% of its outstanding consolidated indebtedness for a financial restructuring.
Noble Corp. plc and GE have formed a partnership to collaborate on an advanced data analytics system for offshore drilling rigs known as the Digital Rig solution, which aims to improve operational productivity. By using data analytics to make asset management more efficient, the solution will allow the drilling contractor to better manage the asset lifecycle and provide more productive drilling for customers.
The agreement calls for GE to initially deploy its latest digital asset performance management system on four Noble drilling rigs as part of a fleet pilot program. The expected efficiencies captured through the implementation of the solution target a 20% reduction in repair and maintenance expenditures across the pilot rigs.
The partnership will allow data-driven operations intelligence to provide benefits that include:
Enhanced drilling process efficiency - Foresight of asset anomalies and drilling process deviations to reduce operational disruptions and enhance performance consistency.
Shift to predictive asset management - Redefinition of maintenance strategies, with a focus on predictive asset management to achieve long-term, sustainable opex reductions across the fleet.
Reduction of third-party service costs - Anytime, anywhere rig visibility and insights that leverage the one-to-many impact of shore-based experts to reduce third-party service costs.
David W. Williams, chairman, president and CEO of Noble Corp. plc, said: "With shifting market dynamics, the offshore industry is on the cusp of change. Drilling contractors must seize the moment to enhance their competitive edge. We believe the shift to data-driven decisions will have a significant effect on drilling efficiencies. It is imperative for our industry to embrace the digital revolution to stay efficient and nimble…"
GustoMSC debuts latest self-propelled cantilever jackup design
GustoMSC has unveiled the NG-5500X-LD, the latest in the NG series of self-propelled jackup designs. Based on the proven NG-2500X and NG-1800X designs, the NG-5500X-LD is a solution for light drilling and well intervention in a large number of mature fields in the Southern North Sea, Middle East, and Southeast Asia. The conditions of these fields are characterized by water depths of up to 80 m (262 ft) except for the Southern North Sea, which reaches up to 50 m (164 ft).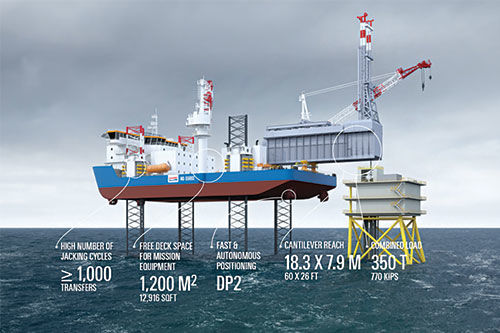 The NG-5500X-LD is designed for light drilling and well intervention in the Southern North Sea, Middle East, and Southeast Asia. (Courtesy GustoMSC)
Until now this was the domain of classic drilling jackups and tender barges with associated day rates and operational restrictions. GustoMSC claims the new design bridges the gap between the successful shallow to midwater service units and the full-fledged drilling rigs. The unit can remain offshore when adverse weather conditions occur, resulting in more workable days, improved efficiency, and reduced non-productive hours during operational charters. Other features include good maneuverability (DP-2), diagonal pre-loading, a transit speed of up to 8 knots, and added safety and accuracy when using the variable frequency drive controlled jacking system.
The 1,200-sq m (12,917-sq ft) main deck allows for flexible use while the cantilever featuring the X-Y skidding system provides a large drilling envelope of 18.3 m x 7.9 m (60 ft x 26 ft) and additional deck space as it raises the entire cantilever and drill floor structure above the main deck by around 3.6 m (12 ft). This envelop ensures access to a vast majority of brownfield platform layouts, the company claims. With 250 tons of hook load at 60 ft and up to 350 tons (770 kips) at 50 ft the rig can perform light drilling operations with a drilling depth of 12,000 ft (3,658 m). The hull measures 87.5 m (287 ft) in length, 42 m (138 ft) in width, and 8 m (26 ft) in depth. It can accommodate 90 persons on board.
Jan De Nul taking delivery of twin subsea construction vessels
AVIC shipyard in Weihai, China, has launched Jan De Nul Group's new multi-purpose vesselAdhémar de Saint-Venant. Sister vessel Daniel Bernoulli was expected to be launched from the same yard in late March. Both have been designed to perform a variety of functions: subsea rock installation through an inclined fall pipe or a flexible fall pipe; subsea trenching, installation of cables and umbilicals; and installation works by means of a heave compensated crane. Other features are DP-2, a fully diesel-electric machinery arrangement, and accommodation for 60 crew members.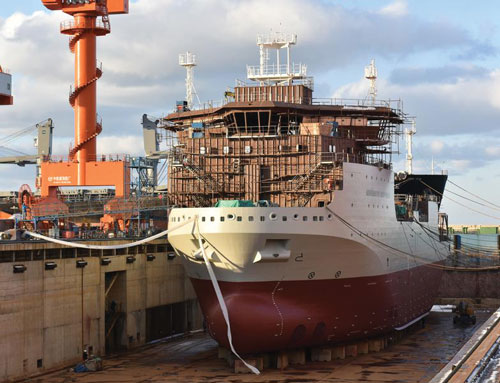 TheAdhémar de Saint-Venanthas a 'STRENGTHBOTTOM' class notation: this allows the vessel to be beached, enabling cable installation works in very shallow waters. (Courtesy Jan De Nul)