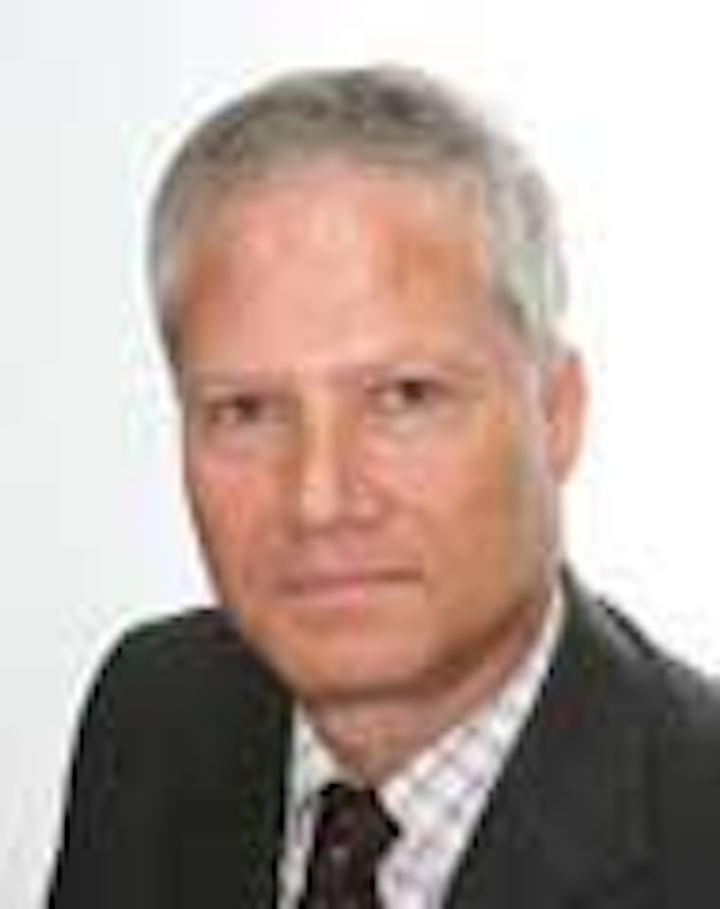 | | | |
| --- | --- | --- |
| | | Jeremy Beckman London |
Deepwater E&P will revive this year following the cutbacks of 2014-15, according to a report by Wood Mackenzie. However, of the 40 larger deepwater projects at the pre-final investment decision (FID) stage, around half would not reach an internal rate of return of 15% even at $60/bbl, the analyst claimed. More cost-cutting measures are therefore likely over the long term. Globally, Wood Mackenzie forecasts total spending on upstream E&P of $450 billion this year, 3% higher than last year but still 40% below the figure for 2014.
Another analyst, Douglas-Westwood, foresees a pick-up in floating production system awards, with SBM Offshore and Samsung already working on assignments for the Liza and Mad Dog Phase 2 projects respectively offshore Guyana and the US Gulf of Mexico. Other contracts should follow for Petrobras' Libra and Sepia fields in the presalt Santos basin of Brazil and Hurricane Energy's Lancaster oilfield west of Shetland.
Gulf of Mexico/Caribbean Sea
Mexico has decided to postpone announcing the winners of its Round 2 oil and gas block tender until June 19. This will give bidders more time to factor in modifications proposed by the industry. The round includes 15 shallow-water areas in the Cuencas del Sureste, Tampico-Misantla, and Veracruz regions. Chevron, ConocoPhillips, and Statoil are among the companies that have already opted to participate.
This spring, Premier Oil expects the offshore block 7 partnership to spud its first exploration well, targeting the 100 to 500-MMboe Zama prospect.
•••
Late last year Chinese contractor BGP Marine began acquiring a 25,000-km (15,534-mi) 2D multi-client survey over the Cuba Economic Zone of the Gulf of Mexico. The survey is designed to improve interpretation of the geology offshore Cuba, where there has been little exploration to date, and to identify prospective structural and stratigraphic trends for use in future, more detailed seismic surveys.
•••
MX Oil has signed a memorandum of understanding with Grenada's government on exploration and potential development of waters close to the island's maritime boundary with Trinidad and Tobago. The area includes the prospective Grenada Tobago basin acreage, on trend with gas discoveries to the south.
South America
ExxonMobil has awarded SBM Offshore a front-end engineering and design contract for an FPSO for the 1-Bboe deepwater Liza oil and gas field offshore Guyana. Subject to an FID this year, SBM will also build and operate the vessel. Late in 2016 ExxonMobil submitted an initial development plan for the field to Guyana's government, based on subsea wells tied back to the FPSO.
The drillshipStena Carron has since drilled a discovery well for the same partnership on the Payara structure, 15 km (10 mi) northwest of Liza, encountering more than 29 m (95 ft) of oil-bearing reservoirs. Another well was due to follow on the Snoek prospect, 10 km (6 mi) south of Liza.
•••
Petrobras has produced first oil and gas from the Lapa field in the presalt Santos basin through the FPSOCidade de Caraguatatuba, moored 270 km (168 mi) offshore São Paulo state in the BM-S-9 concession in 2,140 m (7,021 ft) of water. The vessel has capacity to process 100,000 b/d of oil and to store 1.6 MMbbl: with this new field onstream, Petrobras' operated presalt output now exceeds 1.2 MMb/d.
Halliburton will collaborate with the company on devising new solutions in geophysics, drilling and completions to open up development of complex reservoirs, including deepwater presalt and mature fields. The contractor will manage the program at its Brazil Technology Center in Rio de Janeiro.
West Africa
BP has agreed to acquire a 62% operating interest from Kosmos Energy in four blocks offshore Mauritania, and 39% of Kosmos' Saint-Louis Profond and Cayar Profond blocks off Senegal. The acreage includes the ultra-deepwater Tortue gas field where Kosmos has so far proven 15 tcf-plus. BP will commit $1 billion to a multi-year exploration and development program with a view to forming a new LNG hub offshore northwest Africa. Under the agreements, Kosmos will remain operator in the exploration phase and expects to drill three more wells this year. In addition, the two companies plan to jointly pursue new opportunities in both countries and in The Gambia to the south.
•••
ExxonMobil's first ultra-deepwater wildcat off Liberia was a dry hole. The drillshipWest Saturn drilled the well on the late-Cretaceous Mersurado prospect in block LB-13, 50 km (31 mi) offshore in 2,500 m (8,202 ft) of water.
•••
Quantum Power Gas has awarded Micoperi an EPC contract for the Tema LNG import terminal, to be located close to Ghana's capital Accra. Micoperi will be responsible for all offshore and onshore infrastructure, with a floating storage and regasification unit supplied by Höegh LNG connected to the country's gas distribution network.
•••
BW Energy Gabon, a subsidiary of floater specialist BW Offshore, has agreed to acquire Harvest Resources' operating interest in the Dussafu production-sharing contract offshore Gabon for $32 million, and a further 25% stake from partner Pan Petroleum Gabon. Earlier, Harvest said the discoveries in the concession would be produced via an FPSO. BW is looking to deliver first oil in 2018.
•••
BP has embarked on a program to refurbish theGreater Plutonio FPSO, which recently produced its 500 millionth barrel of oil from fields on block 18 offshore Angola. Due to the combination of salt, heat and humidity, the vessel needs to undergo renewal of its exterior surfaces to extend service by 10 years or more.
Eastern Europe
Nord Stream 2 AG has awarded Allseas a letter of intent to lay potentially both strings of the second Nord Stream trunkline system in the Baltic Sea. This would take a further 55 bcm/yr of gas from Russian onshore fields to a landfall in northern Germany for distribution across Europe.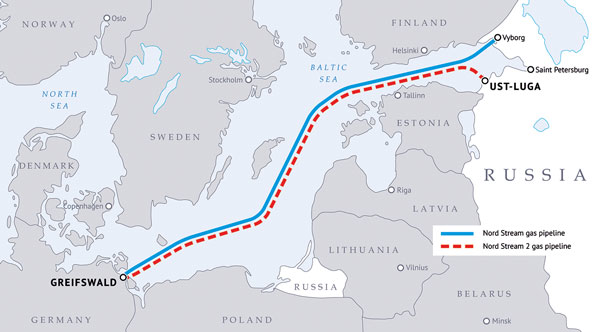 The proposed route of the Nord Stream 2 gas trunklines. (Map courtesy Gazprom)
Allseas will also lay the first line of the TurkStream gas pipeline system across the Black Sea from Russia, using its new flagship vesselPioneering Spirit, again with an option for the second string. Construction of the 900-km (559-mi) subsea pipeline is due to start in the second half of this year. Additionally, operator Gazprom has held talks with Italy's Edison and Greece's DEPA on another potential gas line in the Black Sea exporting Russian gas to Greece.
Mediterranean Sea
Cyprus' government has issued exploration licenses for three exploration blocks offshore the southern part of the island under the country's third licensing round. ExxonMobil and Qatar Petroleum jointly secured block 10, with block 6 awarded to Eni and Total, and block 8 solely to Eni. Conversion to hydrocarbon exploration licenses will depend on successful negotiation of contract terms with the government.
•••
Eni also secured two blocks under Egypt's EGAS 2015 international bid round. Both are in shallow water: Eni will operate the North El Hammad block, west of its Abu Madi West and Baltim-Baltim South offshore concessions which contain the producing Nooros gas field. The company will partner with operator BP in the North Ras El Esh block, southwest of the Temsah and Port Fouad development areas.
•••
Greek E&P company Energean plans to develop its newly acquired Karish and Tanin gas fields offshore Israel via an FPSO. Late last year the Israeli government approved a $148-million transaction transferring the fields from a Noble Energy-led group, the aim being to further competition in the country's hydrocarbon industry. The fields, discovered during 2011-13, hold combined resources of 2.4 tcf. Energean expects to submit a development plan in mid-year, focused initially on Karish (three to four wells) and followed by two to three more on Tanin once Karish is off plateau. Production could start in 2020, with development costs estimated at $1.3-1.5 billion.
Noble and its partners plan to drill an appraisal/production well on the deepwater Leviathan field, after their contracted rig has finished work on the Tamar-8 producer.
Caspian Sea
SOCAR has signed a letter of intent with the BP-led Azerbaijan International Operating Co. that would allow the latter to continue development of the Azeri-Chirah-Gunashli (ACG) field in the Azeri sector until 2050. ACG, 100 km (62 mi) east of Baku in 120-170 m (394-558 ft) of water, is the Caspian's largest producing oil field. Production, which started in 1997, comes from six platforms and is exported to global markets via two onshore pipelines.
Middle East
Saudi Aramco has contracted McDermott International to supply four jackets and three gas observation platforms offshore Saudi Arabia, with a combined weight of 11,595 tons. McDermott will handle fabrication at its sites in Dammam and Dubai.
India's L&T Hydrocarbon Engineering, in partnership with EMAS CHIYODA, has an order to supply and install four wellhead decks for Aramco at the Safaniya oil field and to upgrade 17 platforms at various fields in the Arabian Sea off Saudi Arabia.
•••
South Oil Co. has extended Petrofac's contract for the Iraq Crude Oil Export Expansion Project by a further year. Over the past four years Petrofac has managed exports of more than 1.5 Bbbl of Iraqi oil from the facilities 60 km (37 mi) offshore the Al Fao peninsula in the south of the country. These include a central metering and maintenance platform and four single point moorings.
•••
Bahrain LNG WLL has arranged financing for a proposed LNG reception and regasification terminal to supplement local gas production in Bahrain. The facilities will include a floating storage unit, an offshore LNG receiving jetty and breakwater, an adjacent regasification platform, and subsea gas pipelines. Construction should finish early in 2019.
Asia/Pacific
ONGC has contracted NPCC to replace 10 wellhead platform topsides sets at the Mumbai High North and South fields offshore western India. The $141-million EPC program, due to be completed by end-2018, includes removal and decommissioning of the existing topsides.
•••
Petronas'PFLNG SATU has produced first LNG from the Kanowit gas field offshore Sarawak, a month after gas was introduced from the field into the associated KAKG-A central processing platform. The vessel, featuring an external turret/12-leg mooring system supplied by SOFEC, can produce 1.2 MM metric tons/yr (1.32 MM tons/yr) of LNG, and is designed for future redeployment on other shallow-water fields offshore Malaysia.
PFLNG SATU vessel has started LNG production offshore Malaysia. (Photo courtesy SOFEC)">
Petronas'PFLNG SATU vessel has started LNG production offshore Malaysia. (Photo courtesy SOFEC)
Shell has started oil production from the Malikai TLP, stationed in 500 m (1,640 ft) of water, 100 km (62 mi) offshore Sabah. This is the company's second Malaysian deepwater development following Gumusut-Kakap in 2014. The platform is designed to handle up to 60,000 b/d of oil.
•••
INPEX, JOGMEC, and Marubeni have agreed to principles for joint exploration with Rosneft offshore southwest Sakhalin Island. They may use the seismic vesselShigen, owned by Japan's Agency for Natural Resources and Energy, for the exploration campaign.
•••
CNOOC has delivered first oil from the Penglai 19-9 comprehensive adjustment project in the Bohai region of the South China Sea. Development involved installation of a new wellhead platform connected to existing facilities at the Penglai oil field, and drilling of 57 production wells, two of which are currently operational.
New Zealand
OMV expected to restart production last month from the Maari oil field, 80 km (49.7 mi) from the Taranaki coast, after interim repairs to the wellhead platform. A routine inspection had revealed a crack in one of the facility's 12 horizontal struts, 4 m (13 ft) below the water line.
AWE has agreed to sell its operating interest in the Tui Area offshore oil fields to Tamarind Management, which plans to apply its late field life experience to extend production beyond 2019.