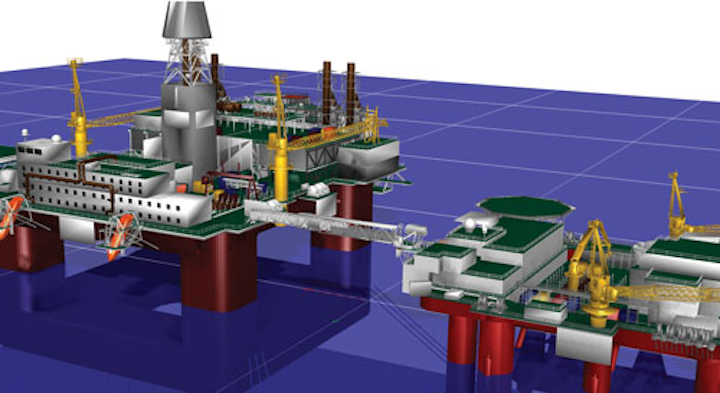 Wolfgang Wandl
Global Maritime Deep Sea Mooring & Global Maritime Vryhof
Just like many other areas of the upstream oil and gas industry, the mooring sector is under pressure to deliver technology innovations to operators and drilling contractors to reduce operational time and risk, protect asset integrity, and ensure maximum efficiencies.
Looming over this is the difficult market environment over the last 18 months, making it all the more important to increase efficiencies in mooring operations.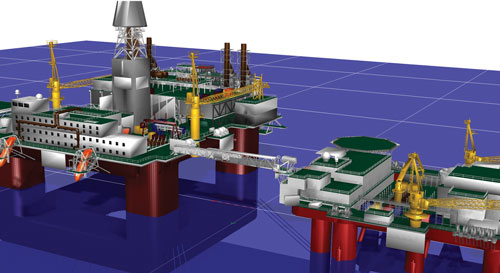 Availability and forecast response analysis facilitates the link-up of flotels to their main rigs.
According to McKinsey & Co., the number of contracted floater rigs has seen a 38% decline over the last two years and jackups a 28% reduction. Day rates have also declined by around 50% on average for new contracts between 1Q 2014 and 3Q 2016, with any increase in oil prices likely to take many months before it permeates fully into the sector.
It is for these reasons that mooring must meet operators' demanding criteria from both an operational and cost standpoint. This article will examine how technical innovations are achieving this in the areas of real-time monitoring, mooring/anchoring precision and flexibility, and response forecasting.
Real-time monitoring
The last few years have seen an increased demand for the real-time monitoring of mooring systems, with the key driver being the need to increase efficiencies and protect the asset's integrity.
In addition, with many mooring systems increasing in their complexity - having to navigate around existing infrastructure, for example - the need to track equipment deployments and their conditions in real-time has become paramount. Worst-case scenarios from untracked equipment include damage to risers, production, or drilling shutdowns, or even small hydrocarbon leaks.
One recent technology innovation developed by Global Maritime Deep Sea Mooring is a newly patented radio-frequency identification (RFID) marking and identification system. As part of this system, each piece of mooring equipment has a marking band that contains a printed ID for physical reading, a QR and/or data matrix code for optical reading by handheld devices, and an RFID tag for reading with radio waves from a handheld device.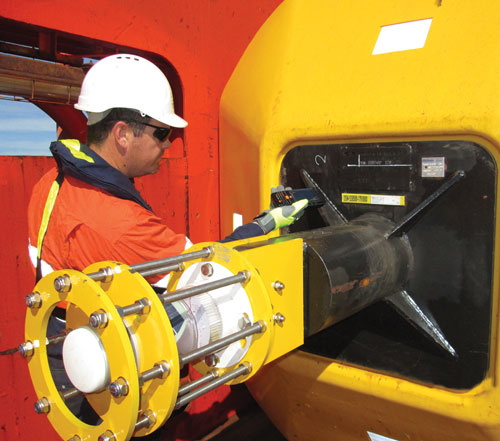 The RFID system ensures traceability and identification of all mooring equipment. (All images courtesy Global Maritime Deep Sea Mooring)
The new system works to achieve traceability and identification of all mooring equipment as well as accurate data capture, from planning to mooring line documentation. This leads to a greatly reduced risk in misreading identification information, less effort needed to handle equipment, and less time spent on tasks such as steel brushing or locating the necessary information. There is also a reduction in operational time when it comes to pre-lay operations and rig moves.
For operators, contractors and rig owners, this means increased levels of visibility in mooring operations, a reduction in risk, and a positive impact on safety, efficiencies, and asset integrity.
Precision, flexibility needed
There is also a need for increased precision and flexibility in mooring operations.
Many installations today are based around existing infrastructure. In the case of LNG, for example, floating storage units and floating storage regasification units are often located close to land-based operations and alongside existing infrastructure, such as jetties. Furthermore, different seabed and soil conditions also abound.
One such technology that attempts to meet this need for precision is Deep Sea Mooring's Advanced Distance and Positioning System (ADAPS). ADAPS helps attach the anchors prior to deployment, ensures that the anchor lands in the required position, and provides the pitch and roll of the anchor along with the depth of penetration.
The result is a powerful tool for monitoring real-time anchor positioning - a crucial factor when there is a minimal distance between the anchor and any subsea infrastructure. It also potentially eliminates the need for remotely operated vehicle work during pre-lay operations and rig moves, resulting in cost and time efficiencies.
Flexibility and precision over the anchor itself is also important. Global Maritime Vryhof's patented Stevtensioner technology, for example, makes it possible to install anchors with smaller leads.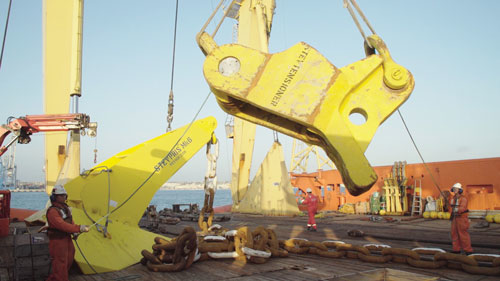 Vryhof's patented Stevtensioner technology makes it possible to install anchors with smaller leads.
The Stevtensioner is essentially a chain-shortening clutch with the active mooring chain connected on one side and a reaction chain running through it. A vertical pull can induce more than twice the pull in the horizontal leg. A repeated heaving up and slacking of the Stevtensioner in a yo-yo action builds up the load in the mooring chain until the required tension is achieved.
This ability to use anchors with smaller leads enables operators to use smaller and cheaper vessels in mooring installations, leading to a significant impact on the bottom line.
Finally, Vryhof's Stevpris MK6 anchors are said to be able to provide security in all seabeds and soil conditions, with holding power more than 30% higher than that of any other existing drag anchor today.
The anchors were recently deployed on the Safe Zephyrus semisubmersible accommodation vessel in the Ivar Aasen development, located about 175 km (109 mi) offshore Karmøy, Norway. As well as the anchors, 12 mooring lines were also pre-laid, with the mooring configuration consisting of Stevpris anchors, fiber rope inserts, subsurface buoyancy units and chains, and wires.
Response forecasting
Mooring efficiencies today are highly dependent on providing answers with engineering data and response forecasting crucial to ensuring that the right decisions in mooring and other maritime operations are made.
It is with this in mind that Deep Sea Mooring looks to provide expertise in hydrodynamic and vessel motion analysis; mooring and dynamic positioning (DP) analysis; and probabilistic and deterministic stability analysis.
With the support of a data analysis server, the company can carry out 120 engineering simulations in parallel, thereby shortening computational times, reducing assumptions and simplifications, and delivering highly accurate engineering analysis for customers.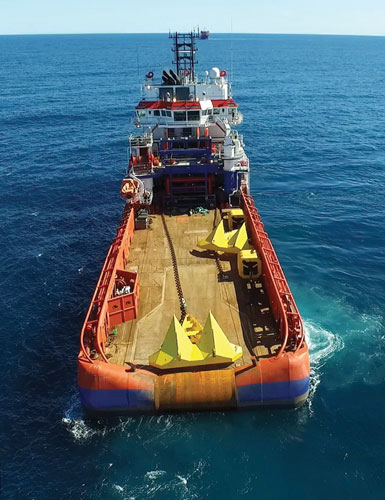 Vryhof anchors are ready for deployment on an Australian semisubmersible.
One such engineering example is availability and forecast response analysis to facilitate the link-up of floating offshore accommodation platforms (also known as flotels) to their main rigs with an impact on both DP positioning and mooring.
To this end, Deep Sea Mooring is partnering with StormGeo, a provider of decision-support services for weather sensitive operations, to combine hydrodynamic software and weather forecasts to accurately predict the relative movement for all ship types and floating structures.
At a time of increased offshore complexities and relentless focus on the bottom line, it is clear that mooring technologies need to step up to meet the demanding criteria of operators, drilling contractors, and rig operators today. Through added value and increasing innovation, this is being achieved.