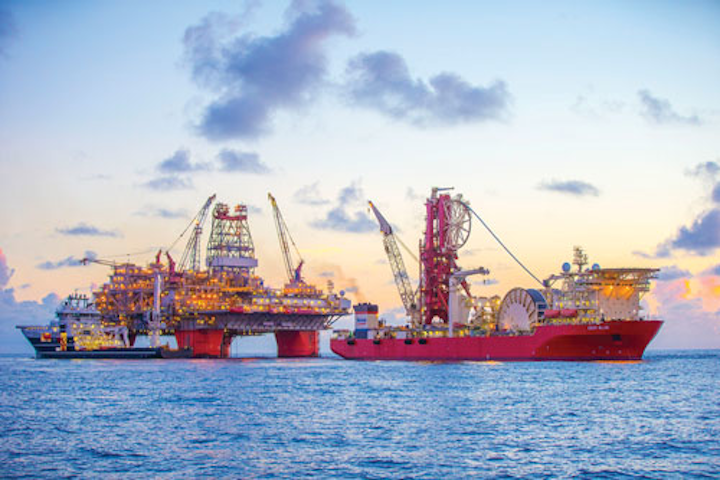 Sarah Parker Musarra
Editor
Throughout 2016, the industry had weathered not only another year in a brutal downturn, but also another year of difficult conversations surrounding the future viability of the current cost structures of offshore projects, particularly in regards to deepwater developments. Douglas-Westwood reported a 35% decline in deepwater expenditure rates between its March 2015 and March 2016 forecasts.
The industry will certainly continue to grapple with these and other questions as it looks to be entering a recovery period, but the first major offshore start-up news of 2017 provided an example of how operators are evolving their processes and procedures.
In January, BP announced the recent start-up of its Thunder Horse South Expansion project in the deepwater Gulf of Mexico. The operator actually turned the taps on at South Expansion in December 2016, bringing the project onstream 11 months early and $150 million under budget.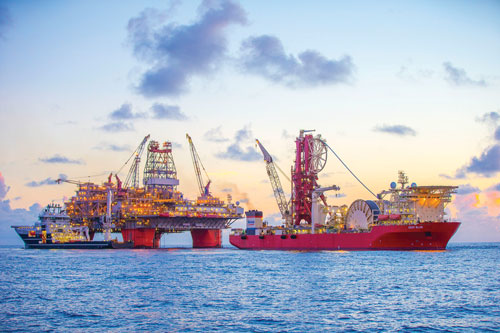 To bring Thunder Horse South Expansion into production early and under budget, BP engaged early on in the development process with contractors such as Technip, whose pipelay vesselDeep Blue is shown here alongside the Thunder Horse PDQ platform. (All images courtesy BP)
Richard Morrison, regional president of BP's Gulf of Mexico business, said that the project's achievements showed the effectiveness of its regional strategy, which he explained was "all about increasing production from within our existing asset base and large portfolio of undeveloped resources."
The project saw the addition of a second drill center about 2 mi (3 km) away from the existing site of the supermajor's Thunder Horse facility, and is expected to increase production by up to 50,000 boe/d (gross). The new production system is a collection point for several new and existing wells to be connected to the platform by two 11,000-ft (3,353-m) flowlines, which were installed on the seabed in late 2016.
BP said that the project's first new well tapped into the highest amount of hydrocarbon-bearing sand seen to-date at the Thunder Horse field, with a confirmed 500 ft (152 m) of net pay.
The Thunder Horse oil field was discovered in July 1999 and entered production in 2008. The complex is comprised of two adjacent fields (North and South) with three main reservoirs in the Upper Miocene turbidite sandstones. BP operates the field (75% working interest) with ExxonMobil (25%) as a co-owner.
Optimizing existing infrastructure
Thunder Horse is home to the semisubmersible modularized production/drilling/quarters (PDQ) facility of the same name, the company's largest platform in the Gulf of Mexico. Located 150 mi (240 km) southeast of New Orleans in Mississippi Canyon blocks 778/822, the ABS-classed Thunder Horse PDQ was claimed at the time of its construction to be the largest of its type in the world, housing more than 300 people.
The 50,000-ton platform sits in more than 6,000 ft (1,828 m) of water and has a production capacity of 250,000 b/d of oil and 200 MMcf/d of natural gas. It was touted at one time as producing from some of the deepest wells in the Gulf.
"It is an amazing asset. At that time, it represented really the forefront of technology in terms of deepwater development," BP's Steve Raymer, the project manager for Thunder Horse South Expansion, toldOffshore. "We invested a lot there."
Explaining how the development illustrated the company's stated regional strategy, Raymer pointed to the company's continued level of investment in Thunder Horse, both field and facility. Earlier in 2016, the company began a major water injection project at the platform to boost recovery of oil and natural gas from one of the field's three main reservoirs.
BP has refurbished the platform's existing topsides and subsea equipment over the last three years. In addition, it also drilled two water injection wells at the site. From them, water will be injected into the reservoir to increase pressure and enhance production, which is expected to allow the Thunder Horse facility to recover an additional 65 MMboe over time.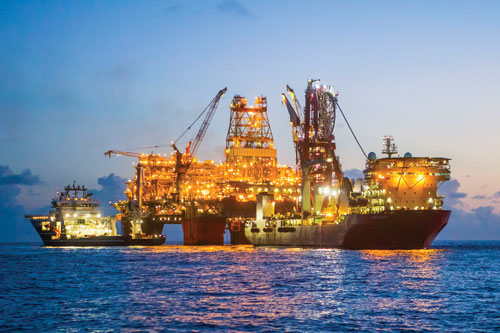 Thunder Horse South Expansion entered production 11 months early and $150 million under budget, despite the down market. Steve Raymer says that BP believes very strongly in its deepwater Gulf of Mexico assets, and pointed out that the company also sanctioned another such project, Mad Dog 2, in the current environment. 'Deepwater is a big part of BP's business, and we are confident in it,' he said.
Thunder Horse South Expansion builds on and continues that investment, Raymer said, increasing the build-out's cost-effectiveness.
"By doing projects that tap into or use that existing infrastructure, it allows us to really maximize the investment that we have already made, it allows us to do projects for the smallest incremental cost possible, which is really where we think we can add a lot of value in an existing portfolio."
For example, South Expansion's three new wells and existing fourth well at the expanded DC (drill center) 45 are connected by new flowlines to the existing manifold DC 41, located directly underneath the platform. Transocean'sDevelopment Driller IIIworked its first well.
"By doing a tie-in to that existing infrastructure, we did not have to add new risers to the platform, Raymer said. "Furthermore, there was an existing umbilical system that was already there, going to the drill center 45. We were able to use the same umbilical that was originally designed to serve just this one well…by applying subsea chemical metering technology to service all of the four new wells for South Expansion. We did not require a new umbilical for the project."
The chemical metering technique employed on South Expansion had been proven for more than two years on one of BP's Angolan projects, leading the operator to transfer the learning to the Gulf of Mexico.
Standardization, supplier relations
Similar to the usage of its existing asset and infrastructure as a springboard to a shortened project development cycle for South Expansion, BP utilized some spare equipment and legacy designs from Thunder Horse. Raymer called it a major contributor to the project's success.
"I can say that without using the standard offering, I do not believe we would have had the same result," he said of the decision, which allowed the company to speed up South Expansion's development cycle while realizing substantial savings.
Having spare equipment readily available and the designs on-hand enabled a very efficient option. In addition, the equipment was field-proven, as it had been operating on the original development.
"We were able to cut down a lot of engineering design time as well as the cost and schedule time that it takes to design something brand-new," Raymer said.
Further to that, the South Expansion team varied the traditional operator/supplier paradigm. When delivering the company's 2017 strategy to investors in February, BP CEO Bob Dudley specifically pointed to the company's early engagement with its contractors, and its streamlined operations as the reasons for its success.
BP had enjoyed a long history of working with many of the contractors and suppliers on the South Expansion project; in some cases, these companies had also previously worked on Thunder Horse, which helped in delivering value to the project.
As an example, the operator worked with both FMC Energy Systems (later FMC Technologies) on Thunder Horse's subsea systems. In April 2003, FMC unveiled Thunder Horse's first subsea system as part of a $250-million frame agreement to provide subsea trees, controls, manifolds, well connection systems, and other related offshore services to BP for its Gulf exploration and production activities. Later, in 2013, it was announced that FMC would also supply subsea equipment for Thunder Horse's water injection project.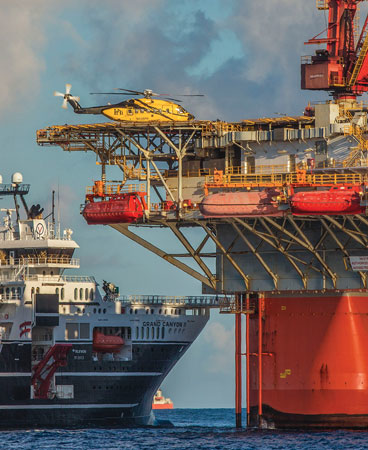 Helix Energy Solution's built-for-purposeGrand Canyon II (left), shown here with the Thunder Horse PDQ (right, foreground), assisted in pipelay. It performed the pull-in operations, the pre-commissioning, and other tasks.
Likewise, BP turned to longtime Gulf of Mexico partner Technip in 2015 for the design, engineering, fabrication, installation and pre-commissioning of South Expansion's production pipeline systems. The scope included project management and engineering; the coating, fabrication, installation, and permanent anchoring of two rigid production flowlines of 3.25 km (2 mi) each with four pipeline end terminations; and pre-commissioning and testing.
Raymer said these long-term relationships facilitated a process wherein BP could replicate a previous design or other solution. A timeframe is agreed upon, other necessary details are ironed out, and the contractor managed the process from there. This engagement is a practice BP calls "supplier-led solutions."
"In doing something they have done before, they were extremely successful," he said. "A big part of the reason for our cost and schedule performance was the partnership, the cooperation, and the performance that we had from our contractors…We were really able to leverage the learnings from what we have done before, and it really turned into a safe and efficient operation for us."
As two of a string of major upstream projects planned, both the Thunder Horse Water Injection project and Thunder Horse South Expansion are included in BP's larger plan to bring about 800,000 boe/d of new production worldwide from projects starting up between 2016 and 2020.
In February's investor report, Dudley confirmed the company was on track to meet this goal and revealed that a total of seven upstream projects, five of which are offshore, were on deck for a 2017 start-up. These should contribute to 500,000 b/d of capacity by the end of the year.
Thunder Horse South Expansion is seen as a vital step in helping the company to achieve this goal.
"It's extremely important. It is one of the first projects that we brought online to contribute towards that target. By bringing it on early, we feel like we really can build some momentum and start us off really well on that path to deliver 800,000 barrels of new production by 2020," Raymer said.
What to know: Thunder Horse and South Expansion
Start-up: Thunder Horse in 2008, South Expansion in 2016
Located: Deepwater GoM, 150 mi (240 km) SE of New Orleans
PDQ capacity: 250,000 b/d of oil and 200 MMcf/d of natural gas
Water depth: 6,000 ft (1,830 m)
South Expansion:

Added new drill center, three new wells 2 mi (3 km) from existing package
Thunder Horse maintained production throughout expansion
Six facilities, multiple vessels involved in development
Project completed 11 months early, $150 million under budget
Source: BP
Moving parts
One reason BP has cited as contributing to its success in bringing Thunder Horse South Expansion onstream 11 months early and $150 million under budget, was working closely with its contractors. That includes multiple vessel contractors, with at least four vessels working to get the project up and running.
"I think South Expansion is a perfect example of how big deepwater projects can be economic in a low price environment if we design them in a smart and cost-effective way," Raymer said.
There were two additional achievements that helped contribute to the project's success story. Raymer said he was proudest of South Expansion's safety record of 1,500 days without injury or incident despite two construction sites and multiple vessels, and that the project kept producing while South Expansion was ongoing.
"The Thunder Horse platform itself has a drill rig that was working and operating while we were installing this project," he explained. "Also, DC 45, the new drill center that is part of South Expansion, had a drill rig for the entire time that we were doing the construction on this project. It is still there continuing to drill and complete wells for the project."
Drilling the first of South Expansion's three new wells was undertaken by Transocean's ultra-deepwater semisubmersibleDevelopment Driller III. Rather than anchoring to the seafloor, its dynamic positioning system uses sensors and computer-controlled thrusters to hold the KFELS-designed rig steady while drilling operations progress.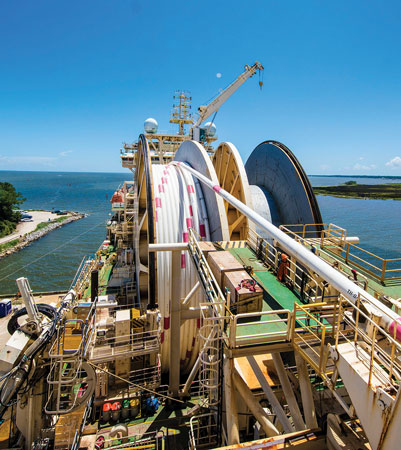 Technip's spoolbase in Alabama was one of six facilities involved in the Thunder Horse South Expansion project, where the two 11,000-ft (3,353-m) flowlines were fabricated and spooled ontoDeep Blue.
At Technip's spoolbase outside of Mobile, Alabama, long sections of pipe measuring 10-in. in diameter and more than an inch thick, were welded together to form the two 11,000-ft (3,350-m) flowlines. The lines were then spooled around a massive reel mounted on the deck of its pipelay and construction vesselDeep Blue.
During an eight-day period,Deep Blue unspooled and lowered the new flowlines to the seabed, connecting the existing drill center to the new drill center, DC 45. In assistance, Helix Energy Solutions' ROV support vessel Grand Canyon II performed the pull-in operations, pre-commissioning, and the flooding, cleaning, and gauging the pipelines to ensure their integrity.
BP said it worked with Technip to use both traditional physical and advanced 3D simulation modeling techniques to initiate the flowlines without affecting the platform's production.
Beyond the flowlines, multi-service subsea construction vesselSiem Stingray installed the project's new subsea equipment, including production manifolds and jumpers. The vessel is under long-term charter to BP for inspection, repair and maintenance of existing subsea facilities.
"We were able to execute this entire construction campaign, commissioning, and startup for South Expansion so successfully only by getting great cooperation from all of the different people, groups, and leaders that were safety leaders on each of those very important assets," Raymer said.