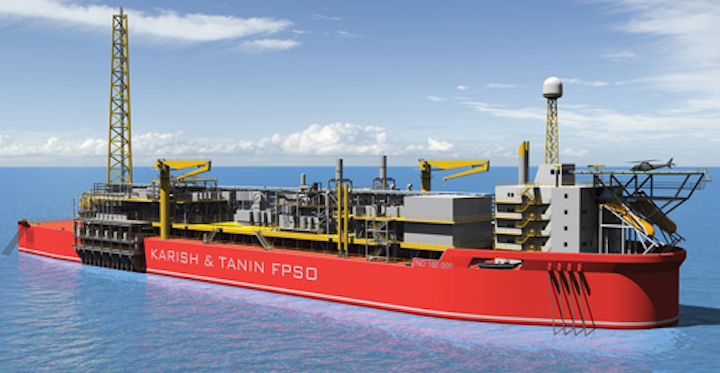 Further prospects in area could extend production beyond 2060
Jeremy Beckman
Editor, Europe
Israel's Petroleum Commissioner recently approved Energean's field development plan for the deepwater Karish and Tanin fields via the Eastern Mediterranean region's first FPSO. This marks a departure from the Tamar and Leviathan projects in the same area, both under development through deepwater subsea completions connected via long-distance flowlines to fixed platforms closer to the shore.
Offshore spoke to Energean's Technical Director Dr. Stephen Moore about the thinking behind the production concept, and the company's long-term plans to commercialize the gas, in partnership with private equity fund manager Kerogen Capital.
•••
Offshore: Karish and Tanin were discovered and appraised by the Noble Energy-led group during 2011-13. Both fields are close to Leviathan, but in deeper water depths. Did this impact development planning in any way?
Moore: Tanin is the deepest discovery well in Israel in 1,773 m [5,817 ft] of water, while Karish is the second deepest at 1,738 m [5,702 ft]. The Tamar and Leviathan discovery wells are at depths of 1,686 and 1,634 m respectively [5,531 and 5,361 ft], and with regards to development complexity these additional few meters makes little to no difference. All the discoveries offshore Israel are effectively at the same depth except for the shallower water fields such as Mari B, Pinnacles, Noah and Gaza Marine.
Tanin is effectively a northern extension of Leviathan lying on the other side of a saddle. The most southerly gas in Tanin is situated just a couple of kilometers from the northern edge of Leviathan. Tanin sits about 20 km [12.4 mi] northwest of Tamar and Karish roughly 25 km [15.5 mi] north of Tamar: the distance between Tanin and Karish is around 45 km [28 mi].
Offshore: Are Karish and Tanin from the same subsurface intervals as Leviathan, and is the gas/liquids content similar? Are there any technical challenges in developing the reservoirs?
Moore: Tanin and Karish contain gas in the same intervals as Tamar and Leviathan – the so-called Tamar sands: layers A, B, C and D. These are world-class turbidite sandstones located below the Mesozoic salts and evaporates. They are normally pressured, relatively cold and with excellent reservoir properties.
Tanin's fluids are very similar to those found in Tamar and Leviathan. The gas is methane rich and relatively dry, while Karish's fluids are somewhat richer containing thermogenic components likely sourced from deeper sediments.
However, development of these reservoirs presents no significant or unique challenges. The gas is not corrosive and contains insignificant volumes of inert substances, and the reservoirs normally have good aquifer pressure support.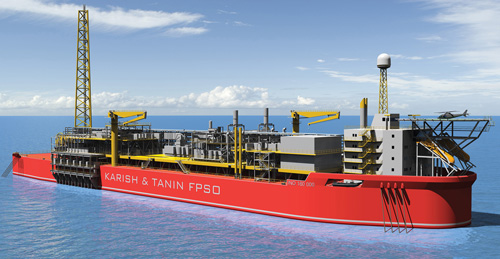 Artist's impression of the Karish/Tanin FPSO. (All images courtesy Energean)
Offshore: Who provided the estimates of the two fields' 2C (contingent) resources, and has Energean performed its own analysis of their potential?
Moore: Noble commissioned a Competent Persons Report [CPR] on Tanin in 2012 and on Karish in 2015. Following completion of Energean's technical work a new CPR has been commissioned. All CPRs have been produced by NSAI which have also provided similar reports for Tamar, Leviathan, Aphrodite and others in the region. They are the leading experts on fields in this part of the world and were a natural choice for Energean.
The new draft CPR produced for Energean has identified a larger volume of recoverable gas and liquids than was declared in the older reports. In addition, Energean has fully quantified the upside potential in the discovered accumulations and the undrilled structures in the leases which has led to a significant increase in the assigned prospective resources in both leases. Prospective volumes (unrisked) exceed the current 2C resources, which are around 67 bcm of gas and 32 MMbbl of oil. Prospective resources sit within other structures in the Tamar sands as well as in deeper, potentially oil-prone, horizons of the Cretaceous and Jurassic.
Offshore: Are the two fields fully appraised, and does Energean plan to drill for further gas/light oil in the area in future?
Moore: The Karish Main field in the Karish lease is sufficiently appraised to enable development drilling to be undertaken with high confidence of the results. Two additional exploration prospects have been identified to the north of Karish Main and these will be drilled some time after the main field has been developed. The Karish structure is relatively simple with the majority of contingent resources in the C sand. The gas-water contact was penetrated by the exploration well and this conforms to the seismic amplitude anomaly. Hence volumetric uncertainty is very low in this unit.
Significant upside potential has also been identified in the B and D sands, and these units will be appraised during the development campaign. We also plan to drill to an exploration target a few hundred meters below the D sand to investigate its potential.
Tanin is a more complex structure. The discovery well is in the A block, which is considered to be in communication with the B and C blocks via faults (seismic data shows they share a common contact). The C block will be appraised while it is developed. It contains enough gas to justify at least one well, but will likely need two to fully exploit its resources. The Tanin lease also contains five further prospects that have significant upside and which are structurally simpler. It is probable these features will be drilled prior to developing Tanin A to C. A deeper oil play has also been identified and structures mapped in both leases that may be drilled in the future. The FPSO has been designed to allow a future oil discovery to be tied back subsequently.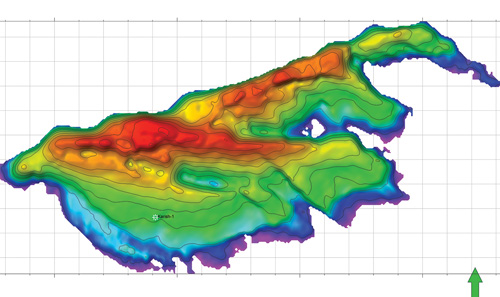 The Karish/Tanin fields and older well locations.
Offshore: What led the company to decide on the Eastern Mediterranean region's first FPSO for the development, and what were the alternative options?
Moore: Energean screened all potential development options. We apply a screening process that examines Value, which is a function of capex, opex, schedule, technical risk, flexibility, environmental and safety aspects, and so on. The FPSO-based solution was selected mainly because it was assessed to have the lowest technical and execution risks. The FPSO solution also provides the smallest environmental footprint as it avoids bringing liquids close to or onshore. The onshore scope is very small.
Israel is a very environmentally-conscious country and Energean has a strong track record of managing production and developments in an environmentally sensitive part of Greece. Hence, we placed significant weight on a solution that mitigates environmental risk. By doing this we will also hopefully simplify the approval process in Israel and shorten the execution schedule. Other options considered – shallow water platforms, onshore processing – would have been much more complex to execute and to gain the requisite permits and approvals. Another benefit of an FPSO is that it allows back pressures on the reservoir to be minimized – hence increasing recovery factors – and offers a flexible solution for tying back other small discoveries in the area.
Energean performed all early feasibility and screening work in house with some support from IO on cost modeling. During the feasibility stage, we employed KBR subsidiary Granherne while Genesis performed concept engineering as part of Energean's larger arrangement with Genesis' parent company TechnipFMC.
Offshore: How do local sea/weather conditions impact a floater in this area?
Moore: Sea and weather conditions in the Eastern Med are relatively benign compared with other parts of the world where FPSOs and FPUs have been deployed. No significant challenges were identified. It was important to ensure that a spread-moored arrangement could be employed (rather than turret-mounted). This has been achieved by positioning the FPSO bow into the main weather direction, from the West. Weather from the North (to the starboard) therefore dictates mooring system design and riser configuration. Due to the water depths and large, high-pressure nature of the risers, lazy wave SCR risers are necessary. TechnipFMC provides solid expertise in this area.
Offshore: Did you consider subsea tiebacks to a platform in shallow water, as with Tamar and Leviathan?
Moore:Tieback to a shallow- water platform was investigated. While this solution would have been slightly cheaper to build, the assessed overall value was significantly lower. For a development like Karish and Tanin it is possible to accommodate all process facilities on a normal sized FPSO.
Offshore: When is TechnipFMC due to complete the front-end engineering design [FEED], and what are the main issues to be addressed for this project?
Moore: FEED will be completed by end September. All major scope-related decisions were closed out in the concept phase that was completed in May. The decisions being addressed in FEED relate to selection of specific process equipment, for example, whether to use traditional shell and tube exchangers or more novel printed circuit exchangers; fine tuning of materials selection (stainless vs. carbon steel for the HP manifold); selection of main equipment vendors, for instance for the compressors and power generation equipment; and selection of the FPSO fabrication location.
From the start, we have worked on the basis of designing the simplest possible FPSO. Challenges related to simplification were addressed in the feasibility phase and refined in the concept phase. We are of course looking at ways to mitigate costs if possible, but overall cost is not the main driver. Any cost reduction opportunity is assessed to ensure it does not drive down overall Value. All costs are assessed on a total life-cycle basis including opex over what will be a very long production phase of 25-45 years.
Offshore: What will be the FPSO's daily gas processing capacity? Is there a need for water handling/reinjection or other special equipment onboard?
Moore: We have designed a system that can handle around 800 MMcf/d once it is fully installed. If needed in the future, a second riser will be included. The FPSO will accommodate two 400 MMcf/d trains of gas processing equipment. All utility systems, including oil, water, power and so on, were always sized to cope with 800 MMcf/d production. Produced liquids will be separated in the hull of the vessel. Light hydrocarbon liquids will be loaded to shuttle tankers every six to eight weeks.
The FPSO accommodates storage for up to 100,000 bbl of water. Water disposal will be irregular due to the high storage capacity. The produced gas is treated through a Joules Thomson plant. No hydrate inhibition system is needed due to the short distances from the wells to the FPSO. Water is removed in an MEG system and liquids are separated by gravity. Electrically-driven centrifugal gas compressors are used for transport to shore.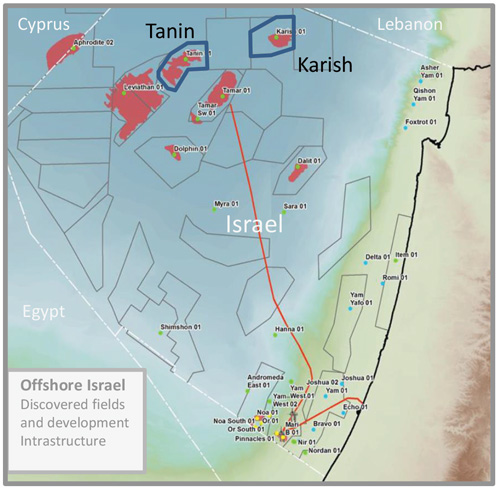 Location of Karish and Tanin fields in the deepwater Israeli sector.
Offshore: Are you planning novel ways to cut the costs of logistics for this project?
Moore: The FPSO is located about 50 mi [80 km] from Haifa port, which will be used for marine and air logistics. Compared with more remote operations logistic costs will be modest. Where possible, boat transport will be used for routine crew changes, minimizing travel by helicopter. The FPSO has been kept as simple as possible to limit offshore manning and maintenance requirements. This in turn helps minimize logistic costs. In Greece, Energean manages all its logistic assets internally. With its strong marine/shipping background it is possible that the company will directly own the supply and crew change vessels during the long production phase. Logistics in the drilling phase will likely comprise chartered vessels.
Offshore: The gas will tie into the INGL [Israel Natural Gas Lines] distribution network. How does this arrangement work?
Moore: INGL is a state-owned company responsible for running the gas distribution system in Israel and for making connections to neighboring countries, i.e. Jordan, Palestine, Egypt. We are working closely with INGL to define the interface between the Energean sales gas system and the INGL distribution system.
Energean and INGL have agreed on a novel design for the sales gas pipeline. The final 10 km [6.2 mi] of this line will be transferred to and operated by INGL after installation and start-up by Energean. This will allow third parties to tie into this state-owned section offshore via pre-installed branches. The line will increase in diameter about 15 km [9.3 mi] from shore, from 24-in. to 32-in., maximizing capacity for third parties. The line has been designed to operate at pressures higher than the rest of the distribution system. This enables the line pack in the line to be employed to smooth out supply and demand fluctuations to a degree. Pressures will be reduced at Dor.
The Karish infrastructure will not interface with any facilities owned or operated by the Noble-led partnership. The government of Israel was keen for Energean to install a totally standalone system to engender both competition and security of supply. In any case, screening work showed that a shared development was unlikely to add value to the Karish and Tanin project.
Offshore: Does Energean plan to appoint a contractor to build and lease the FPSO and gas line?
Moore: There was never an intent for a third party to build and lease to Energean the FPSO. A lease option was considered, but this would have involved setting up a new company through which the FPSO would be developed. This is an approach followed by many oil majors around the world. There is no plan to structure the project in this manner and we will not be tendering for a lease-owned FPSO. We have, however, explored the possibility of a third party owning part or all of the sales gas pipeline, and as stated earlier, INGL will eventually own the last 10 km. But only a gas producer or INGL can hold a permit for operating a gas pipeline, excluding the option to set up a pipeline operating company with third-party equity.
Offshore: What was the attraction to Kerogen of this particular project?
Moore: Kerogen wanted to invest in Karish/Tanin given that this project represented an opportunity to partner with Energean, a credible, E&P independent focused on the Eastern Med region, and a world-class offshore development asset located in an attractive geographical setting.
Offshore: Do Energean/Kerogen need to negotiate further gas sales before committing to an FID?
Moore: Energean Israel, a company in which Energean and Kerogen hold 50% each, has already signed two gas sales agreements [GSAs] and five MoUs exceeding 3 bcm/yr. We are working to sign the remaining GSAs and to achieve the planned FID [field investment decision] by year end.
Karish and Tanin will deliver natural gas to the Israel market during the term of the leases, which run until 2044 with an option of a 20-year extension. Other hydrocarbon liquids may be exported to both regional and international markets.
Current certified contingent resources will allow us to produce with a plateau of 4 bcm/yr over a period of about 18 years (allowing for ramp-up and tail), and as already mentioned, there is significant upside in the Karish and Tanin leases and in other blocks not yet explored and future discoveries that could be tied back to the FPSO. The leases allow for an automatic extension of 20 years should all obligations be met. Hence the total production phase could be up to 45 years under Energean's management. All currently discovered gas resources will be developed and sold in Israel.