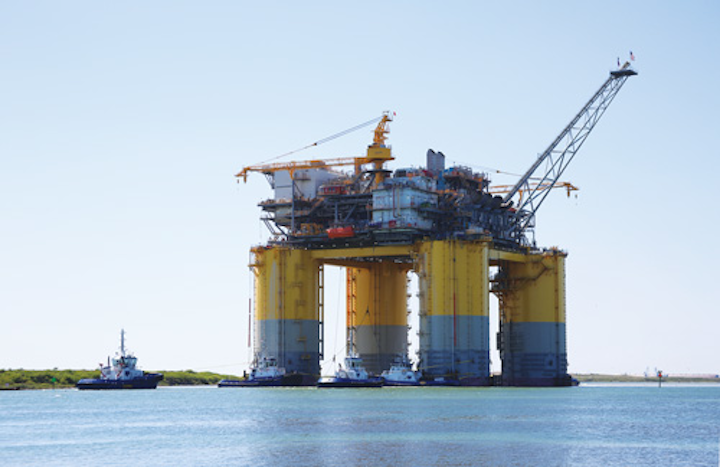 TLP has been installed, two-rig drilling program under way
Bruce Beaubouef
Managing Editor
Hess Corp. is advancing the development of its Stampede project in the deepwater Gulf of Mexico, with first production expected in the first half of 2018.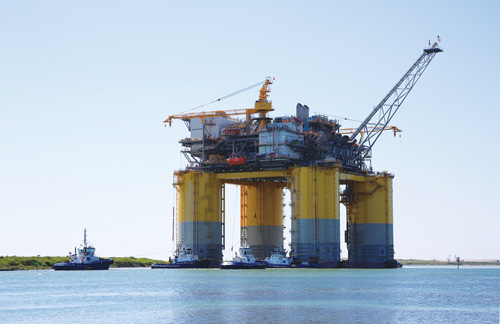 Courtesy Hess Corp.
The Stampede field, discovered in 2005, has been deemed to be one of the largest undeveloped fields in the GoM, with estimated gross recoverable reserves in the range of 300-350 MMboe. It is located 115 mi (185 km) south of Fourchon, Louisiana, in Green Canyon blocks 468, 511, and 512.
The field is located in approximately 3,500 ft of water, with a reservoir depth of 30,000 ft, and several pay intervals layered within a span of 3,000 ft at that depth.
The development plan calls for six subsea production wells and four water injection wells from two subsea drill centers tied-back to a TLP. Gross topsides processing capacity is about 80,000 b/d of oil and 100,000 b/d of water injection.
The TLP has been installed, with hookup and commissioning progressing on schedule. The subsea production wells are being drilled from two drill centers, with piggable flowlines tying the wells back to the TLP. A two-rig drilling program is under way. One well has been drilled and completed, and completion operations are under way on the second and third wells.
Artificial lift will be required for the field, and water injection may be utilized for reservoir pressure support. A total of six producing wells and four water injection wells are anticipated.
Hess has a 25% working interest and is operator. Union Oil Co. of California, a Chevron subsidiary, Statoil, and Nexen Petroleum Offshore U.S.A., a CNOOC Ltd. company, each have a 25% working interest.
TLP tow out
The Stampede TLP was towed out to the Green Canyon area and installed at its site location this past May. Crowley Maritime Corp.'s ocean class tugboats and 455-series high-deck strength barges supported the operation. Crowley says that six of its vessels worked alongside other third-party assets to deliver the platform, tendons, and other equipment from Kiewit Offshore Services' facility in Ingleside, Texas.
In the first stage, Crowley's ocean class tugboatOcean Wind and the 455-series barges 455-3, 455-5 and 455-7 worked with other contracted vessels to deliver many 300-ft (91.4-m) sections of 12 3,400-ft (1,036-m) tendons that would secure the TLP to the seabed. From there, the company's Ocean Sun and Ocean Sky, along with several third-party tugs, towed the TLP through the Ingleside Channel to offshore waters.
TheOcean Sun, Ocean Sky, and two third-party anchor-handling tugs safely towed the Stampede hull for four days before reaching the project site.
Upon arrival, Crowley's tugboats began the third phase of work, positioning and stabilizing the platform using the tugs' dynamic positioning capabilities while the TLP was secured to the tendons.
Crowley says that the tugs were positioned in a stationary star pattern, and used their tow wires to hold the platform steady in the middle. After Hess and its installation contractor, Heerema Marine Contractors, completed installation and the platform was made storm safe, Crowley's assets were demobilized and returned to nearshore waters.
Contract awards
Hess has consistently awarded supply and service contracts since the project was sanctioned in October 2014. Some of the more notable contract awards included:
• Wood Group Mustang provided front-end engineering design for the TLP
• MODEC International was selected to provide engineering and management services for the TLP
• Oceaneering International Inc. was selected to supply umbilicals and umbilical distribution hardware, including electro-hydraulic, steel tube umbilicals totaling approximately 8.9 mi (14.3 km) in length
• Danos was selected to perform mechanical hook-up and commissioning support services for the TLP
• Subsea 7 was selected to perform installation of flowlines, steel catenary risers, umbilicals, jumpers, and associated subsea architecture which tieback two drill centers to the TLP
• BMT Scientific Marine Services will provide an integrated marine monitoring system for the TLP.
Lateral pipeline
Enbridge Inc. says it plans to build, own, and operate a crude oil pipeline that will connect the Stampede development to an existing third-party pipeline system. Approximately 16 mi (26 km) long with an 18-in. diameter, the Stampede lateral will originate in Green Canyon block 468, 220 mi (354 km) southwest of New Orleans in 3,500 ft (1,067 m) of water at the planned location. The pipeline is expected to be operational in 2018.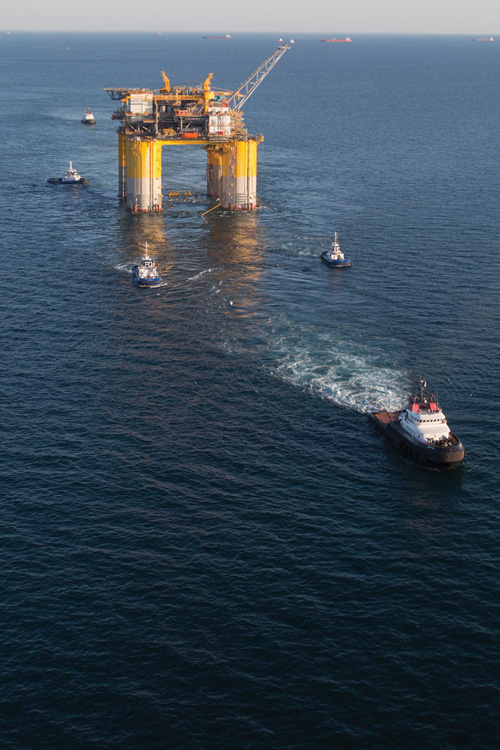 The Stampede TLP was towed out to Green Canyon area, and installed at its location 115 mi (185 km) south of Fourchon, Louisiana. (Courtesy Crowley Maritime Corp.)
Lean approach
Hess has implemented a "lean" approach on the Stampede project that focuses on applying lean principles and methodologies to create value by improving safety, quality, delivery and cost. "One great example of how we've applied Lean in Stampede is on the drilling completion side of the business," said Brian Truelove, Senior Vice President—Global Services. "Here we've brought in our partners, and we are working together to implement lean implementation on Stampede."
Dennis Creech, Vice President Lean Implementation at Hess, elaborated on the concept: "The Lean Stampede drilling and completions project is designed to get our key suppliers working together as a team. We want to identify the white space or handoffs between each one of those suppliers and eliminate the waste between it. The idea is that we want to set the new industry standard for wells drilled in deepwater in the Gulf of Mexico, and we want them to work as a team."