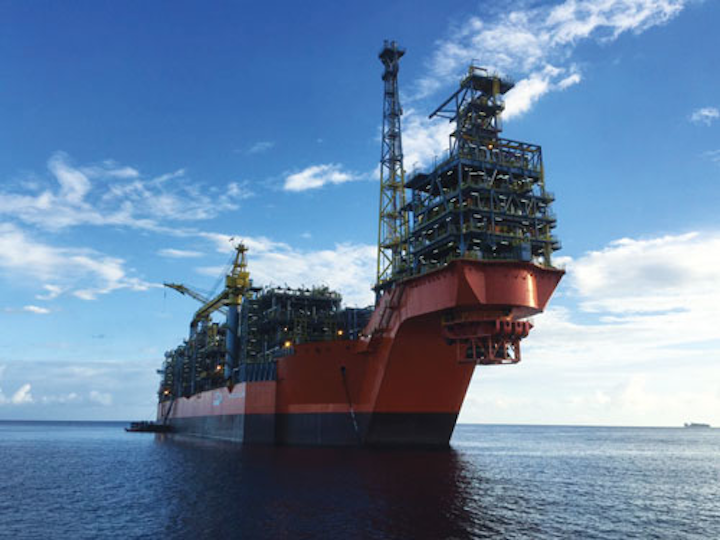 | | | |
| --- | --- | --- |
| | | Jeremy Beckman • London |
North America
The US Bureau of Ocean Energy Management was due to auction 224 blocks offshore south Alaska last month under the Cook Inlet Oil & Gas Lease Sale 244. The concessions extend from Kalgin Island to Augustine Island. This was the state's first outer continental shelf lease sale since 2008.
•••
Cost savings have allowed Husky Energy and its partners to move forward with the $1.6-billion West White Rose development offshore Newfoundland and Labrador. Construction of the field's fixed wellhead platform should start this fall, with production sent to theSeaRose FPSO on the White Rose field for processing. First oil should follow in 2022 building to a peak of 75,000 b/d. Husky also has a new oil discovery, Northwest White Rose, 11 km (6.8 mi) northwest of the FPSO.
•••
Mexican regulator CNH has allocated a new oil-prone deepwater block to PEMEX on the Chiachiquin area of the Gulf of Mexico, next to the company's Nobilis-Maximus block. However, PEMEX must bring in a partner to co-develop and eventually operate any resultant oilfield development, which looks unlikely to get under way before 2024.
Drilling should be nearing conclusion of Zama-1, the first exploration well on acreage awarded under Mexico's first international licensing round in 2015. Operator Talos Energy is pursuing two targets in Tertiary clastic reservoirs, according to partner Premier Oil.
Brazil
Production is due to start this month through the first FPSO on the giant deepwater Libra field in the presalt Santos basin. The early production vessel, supplied by the Odebrecht/Teekay OOGTK Libra joint venture, reached Brazil in May following a seven-week voyage from Singapore. It can operate in water depths of up to 2,400 m (7,874 ft), with an oil production capacity of 50,000 b/d and gas compression capacity of 4.4 MMcm/d.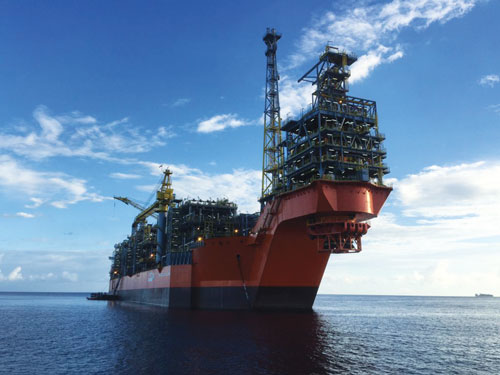 The Libra FPSO for early production system. (Courtesy Teekay)
A seventh FPSO has started operating on the presalt Lula field in the BM-S-11 block. TheP-66 is stationed in 2,150 m (7,054 ft) of water over the Lula Sul area, 290 km (180 mi) from Rio de Janeiro state. It can process 150,000 b/d of oil and compress 6 MMcm/d of gas.
•••
South Atlantic Holding has commissioned Heerema Fabrication Group to build the eight-legged jacket for the wellhead platform for Statoil's Peregrino Phase 2 development in the Campos basin. Heerema's yard in Vlissingen, the Netherlands, should start fabrication in November of the 135-m (443-ft) tall, 9,300-metric ton (10,251-ton) structure, which will house 15 oil production wells and six water injectors, in a water depth of 120 m (393 ft). Phase 2 production should begin in late 2020.
Caribbean Sea
BP has discovered 2 tcf of gas in two separate prospects offshore Trinidad. The Savannah well was drilled into a previously untested block southeast of the island in more than 500 ft (152 m) of water. The gas-bearing reservoirs will likely be developed via a tieback to the Juniper platform, which is due to enter service this year. Another well on the Macadamia prospect, beneath the SEQB discovery and north of the producing Cashima field, delivered 600 net ft (183 m) of pay from seven intervals. BP anticipates a platform-based development combined with the shallow SEQB reservoirs.
The company has also contracted McDermott to design, build, and install a six-slot 2,315-ton (2,100-metric ton) wellhead platform and a 13-mi (21-km), 66-cm (26-in.) dia. subsea pipeline for the Angelin field development in 213 ft (65 m) of water in the northern Columbus basin, 25 mi (40 km) east of Trinidad and Tobago. Up to 600 MMcf/d of produced gas will head to the Beachfield/Atlantic LNG center.
•••
Anadarko has proven more gas off Colombia's north coast via the Gorgon exploration well, 20 mi (32 km) northeast of the play-opening Kronos discovery. Earlier, the deepwater drillshipBolette Dolphin completed operations on another nearby gas find, Purple Angel-1.
Repsol and partner Ecopetrol have been drilling another wildcat, Siluro-1, on the RC-11 block in the Guajira basin, 42 km (27 mi) from the northern Colombian coast.
Mediterranean Sea
Total heads a consortium with ExxonMobil and Hellenic Petroleum that has applied for two deepwater blocks offshore Crete in southern Greece. They expect Greece's government to accept the application and release an international tender - if the bid is successful, Total would operate.
•••
Saipem's drillshipSaipem 12000 will drill two deepwater exploratory wells for Eni offshore southern Cyprus, starting in the fall. After completing the program, the vessel should sail west to work for the same operator in Portuguese waters.
Another Saipem rig, the semisubScarabeo9, is being modified to pass through the Bosphorus so that it can drill one or more wells for Eni in the Black Sea.
West Africa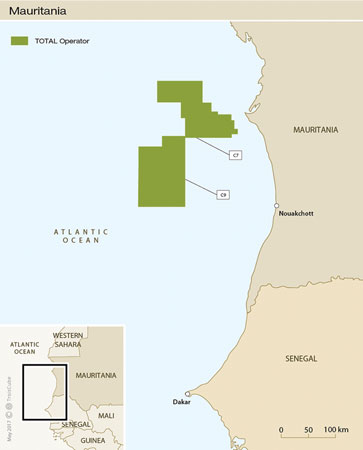 Total's new license offshore Mauritania. (Courtesy Total)
Mauritania's government has awarded Total a 90% operated interest in an exploration contract for block C7. This adjoins the company's deepwater C9 license, forming a contiguous area of 17,000 sq km (6,564 sq mi). State-owned SMHPM is the other partner.
•••
SCS and South Atlantic Petroleum were preparing to drill the Fatala exploration prospect offshore Guinea after signing a joint operating agreement for a 5,000-sq km (1,931-sq mi) block. The drillshipPacific Scirocco was due to conduct the program.
•••
Eni has started production three months ahead of schedule on the Offshore Cape Three Points (OCTP) block offshore western Ghana. Development takes in 770 MMboe of resources from the Sankofa Main, Sankofa East and Gye-Nyame fields, 60 km (37 mi) offshore, connected via 18 subsea wells to the 85,000 boe/d FPSOJohn Agyekjum Kufuor. A 63-km (39-mi) subsea pipeline can transport up to 180 MMcf/d of non-associated gas to a terminal in Sanzuke for delivery to Ghana's grid.
•••
ExxonMobil has signed a production-sharing contract with GEPetrol for deepwater block EG-11, 36 mi (58 km) west of Malabo, Equatorial Guinea. The 307,000-acre (1,242-sq mi) concession is adjacent to the producing Zafiro field in block B. Main initial work commitments are acquiring new and reprocessing old 3D seismic.
Asia/Pacific
Ophir Energy has sanctioned a fourth development phase at the shallow-water Bualuang oilfield in the Gulf of Thailand, at an estimated cost of $120 million. This will involve the addition of a new bridge-linked 12-slot wellhead platform at the Bualuang complex, equipped with power generation facilities; drilling of up to 14 wells; and expansion of the water disposal capacity on the Bualuang Bravo platform. First oil should follow in the second half of 2018.
•••
KBR and BIV Builders are forming a joint venture in Kuala Lumpur. 'KBIV' will combine their engineering, project delivery and asset management solutions in Malaysia and elsewhere in the region. KBR plans to draw on the full hydrocarbons life-cycle support services of its subsidiary Granherne.
•••
Vietnam's government should ratify a production-sharing contract for two little-explored blocks in the Phu Khanh basin offshore eastern Vietnam.
This follows the conclusion of negotiations between SOCO International, Vietnamese investor SOVICO and PetroVietnam. Blocks 125 and 126 are in mid-depth to deepwater, north of the oil-producing Cuu Long basin, and are thought to have potential for oil source, expulsion, and migration.
•••
Eni has produced first gas from the Jangkrik complex in the Makassar Strait offshore Indonesia. The Jangkrik and Jangkrik North East fields are in 400 m (1,312 ft) of water in the Kutei basin.
Production from their 10 subsea wells is sent to the newbuild FPUJangkrik for processing, then heads through a 79-km (49-mi) subsea pipeline to an onshore reception plant, also new.
The eventual destination is the Bontang gas liquefaction terminal. Eni expects to also tie in the nearby Merakes gas discovery to the FPU, possibly within the next two years.
Middle East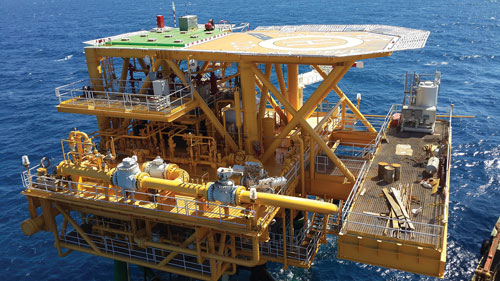 The Amal platform in the Gulf of Suez. (Photo courtesy Aquaterra Energy)
Aquaterra Energy has supplied and installed a Sea Swift conductor-supported platform for AMAPETCO's Amal field development in the Gulf of Suez offshore Egypt. The structure, fixed to the seafloor in 23 m (75 ft) of water, features a 385-metric ton (424-ton) topsides, accommodation and helideck, with provision for six wells and is connected via a bridge to the Amal-B platform.
•••
Saudi Aramco is forming a joint venture for a new maritime yard in the east coast of Saudi Arabia. Other partners are UAE fabricator Lamprell, National Shipping Company of Saudi Arabia (Bahri), and Hyundai Heavy Industries. One aim is to localize resources of Aramco's supply chain for offshore drilling activities. The 4.3-sq km (1.66-sq mi) yard will be the largest in the region in terms of production capacity and will be able to accommodate construction of four offshore rigs simultaneously. Full-scale production operations should start in 2019.
McDermott International's new yard in Dammam has loaded out its first jacket, subsequently installed by theDB 32derrick barge at Aramco's Safaniya oil field, 125 mi (200 km) north of Dhahran.
•••
North Oil Co. (NOC) has awarded Ramboll a pre-front-end engineering and design (pre-FEED) study for a new development on the Al Shaheen oilfield off northeastern Qatar. NOC plans to add three wellhead platforms to sustain production in the years ahead. Total is due to succeed Maersk Oil as Qatar Petroleum's partner in NOC this month.
•••
Oman's Ministry of Oil & Gas has granted exploration rights to Eni and Oman Oil Co. for the largely unexplored offshore block 52, following a bid round launched last October. The concession spans water depths of 10-2,000 m (33-6,562 ft).
East Africa
Eni and its partners have committed to Coral South LNG, Mozambique's first deepwater gas project and East Africa's first floating LNG facility. A consortium of TechnipFMC, JGC Corp., and Samsung will provide and install the FLNG vessel and associated subsea umbilicals, risers, and flowlines. The vessel, moored in 2,000 m (6,562 ft) of water, will produce close to 3.4 MMt/yr of LNG from the 16-tcf Coral field, all contracted to BP. In mid-2019 the drillshipSaipem 12000 will start development drilling, which could continue for 45 months.
Australasia
The central processing facility (CPF) for the INPEX-operated Ichthys LNG project is at the offshore location in the Browse basin, 220 km (137 mi) off northwest Australia. INPEX claims the semisubmersible platform, namedIchthys Explorer, is the world's largest, weighing 120,000 metric tons (132,277 tons), with a 130-m x 120-m (427-ft x 394-ft) topsides. Following mooring in 250 m (820 ft) of water, hookup and commissioning should be under way. The CPF will act as the hub for initial offshore processing of well fluids from the Ichthys field, imported through a network of subsea pipelines. Incoming gas will be exported through an 890-km (553-mi) subsea pipeline to the onshore LNG plant near Darwin, with most condensate and water transferred to the nearby FPSO Ichthys Venturer.
•••
Statoil and BP have agreed to license transfers for four permits in the Great Australian Bight off South Australia. Assuming government approvals, this will give BP full control of permits EP937 and EP938, and Statoil outright ownership of EP939 and EP940. Statoil says analysis of 3D data over its acreage indicates an active petroleum system, which could warrant exploratory drilling when market conditions allow.