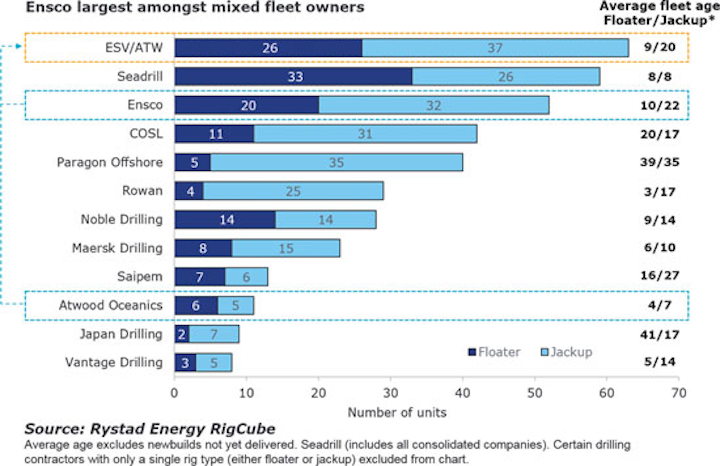 | | | |
| --- | --- | --- |
| | | Jessica Tippee Houston |
In late May, Ensco plc and Atwood Oceanics Inc. entered into a definitive merger agreement under which Ensco will acquire Atwood in an all-stock transaction valued at $839 million. Upon closing, which is expected in 3Q, Ensco will add six ultra-deepwater floaters including four drillships, and five high-specification jackups. The combined company will have a fleet of 63 rigs, comprised of ultra-deepwater drillships, versatile deep- and mid-water semisubmersibles and shallow-water jackups, along with a diverse customer base of 27 national oil companies, supermajors, and independents. Within the fleet of 26 floating rigs (semisubmersibles and drillships) are 21 ultra-deepwater drilling rigs, capable of drilling in water depths of 7,500 ft (2,286 m) or greater, with an average age of five years. The jackup fleet will reportedly be the largest in the world, consisting of 37 rigs, including 27 premium units that feature increased leg length, expanded cantilever reach, greater hoisting capacity, and offline handling capabilities. The agreement was unanimously approved by each company's board of directors. The transaction is subject to approval by the shareholders of Ensco and Atwood, as well as other customary closing conditions. The estimated enterprise value of the combined company is $6.9 billion.
Analyst firm Rystad Energy pointed out that this is the first merger between two offshore drillers since the downturn began. "Consolidation has been long overdue and the Ensco-Atwood merger is the first step towards a less fragmented industry," said Liz Tysall, Senior Offshore Rig Analyst at Rystad Energy. "The combined fleet will have 63 rigs - 26 floaters and 37 jackups giving Ensco the largest blended fleet as compared to other offshore drilling contractors with fleets including both floaters and jackups."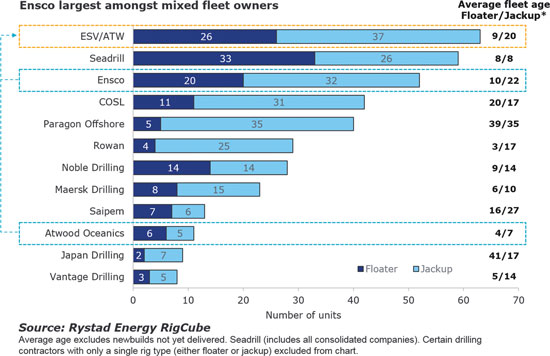 The combined Ensco-Atwood company will have a fleet of 63 rigs. (Courtesy Rystad Energy)
Excluding newbuilds, the average age of the combined floater fleet is less than 10 years while the average age of the jackup fleet is 20 years. According to the firm's RigCube database, combined the two companies will have just under 55 years of contracted rig backlog.
At the same time, Transocean announced that it had sold its jackup fleet to Borr Drilling Ltd. for a total consideration of about $1.35 billion. The sale, which was first announced in March, included the company's 10 high-specification jackups and five jackups under construction at Keppel FELS Ltd.'s shipyard in Singapore. Borr Drilling has acquired the construction contracts for the five jackups, and will undertake the remaining payment installments to Keppel FELS. The first three rigs are now expected to be delivered in 1Q 2018, 2Q 2018, and 2Q 2019, respectively, and the remaining two rigs in 2020.
Finally, Shelf Drilling has taken delivery of the first two of three jackup drilling rigs it purchased from Seadrill for $225 million. TheWest Resolute and West Triton have been renamed the Shelf Drilling Resourceful and Shelf Drilling Tenacious, respectively. The third jackup rig, the West Mischief, is expected to be delivered in 3Q 2017 upon completion of its current drilling contract with NDC offshore Abu Dhabi.
Sovcomflot expands icebreaker fleet
PAO Sovcomflot (SCF Group) has held a naming ceremony for the first of three icebreaking standby vessels (IBSBV) commissioned for operations at the Sakhalin-2 project. TheStepan Makarov was constructed at the Arctech Helsinki Shipyard and was commissioned under a long-term agreement between SCF and Sakhalin Energy for the Sakhalin-2 project. The vessel will have Saint Petersburg as her home port and is registered under the Russian flag.
Its main tasks are to ensure the safety of personnel on Sakhalin Energy's offshore oil and gas production platforms in the Sea of Okhotsk, to respond to emergency spills at sea, and to support the company's operations within its technical capabilities. The 2,000-dwt IBSBV measures 95.6 m (314 ft) in length overall and 21.6 m (70.9 ft) in breadth.
The Russian Maritime Register of Shipping, which is providing technical supervision during the construction of all four vessels, has assigned an ice class of Icebreaker 6 to the new vessel.
The first IBSBV was named after Stepan Makarov, a Russian admiral and a polar explorer who played a prominent role in establishing the Russian icebreaker fleet. He introduced the idea to use icebreakers for Arctic Ocean exploration, and was directly involved in the design and construction of Yermak, the world's first Arctic icebreaker (1898).
The other two IBSBVs are expected to be delivered later this year. Another ship commissioned by SCF for this project, the icebreaking supply vesselGennadiy Nevelskoy, arrived at Sakhalin Island in April 2017. The agreement between SCF Group and Sakhalin Energy, signed in 2014, involves the operation of all four vessels for 20 years.
FLNG heading to the US Gulf
Delfin Midstream and Golar LNG Ltd. have signed a joint development agreement to develop the Delfin LNG project in the Gulf of Mexico, using Golar's FLNG technology. The joint development agreement will facilitate the financing, marketing, construction, development, and operation of Delfin LNG, which is the first and only permitted floating LNG export project in the United States.
Delfin LNG includes a brownfield deepwater port, located about 50 mi (80 km) offshore Louisiana, to support up to four FLNG vessels producing up to 13 million metric tons of LNG per annum.
In 2014, Delfin purchased the UTOS pipeline, the largest natural gas pipeline in the Gulf of Mexico, and submitted its deepwater port license application in 2015. The project received a positive record of decision from the Maritime Administration on March 13, 2017. On June 1, 2017, Delfin received approval from the Department of Energy for long-term exports of LNG to countries that do not have a Free Trade Agreement with the US.
The final investment decision is expected in 2018, with first LNG to be delivered in 2021/22.
Golar is developing the Mark II next-generation floating liquefaction solution that will be used at this project. It will have more than 3 MMtpa of liquefaction capacity.