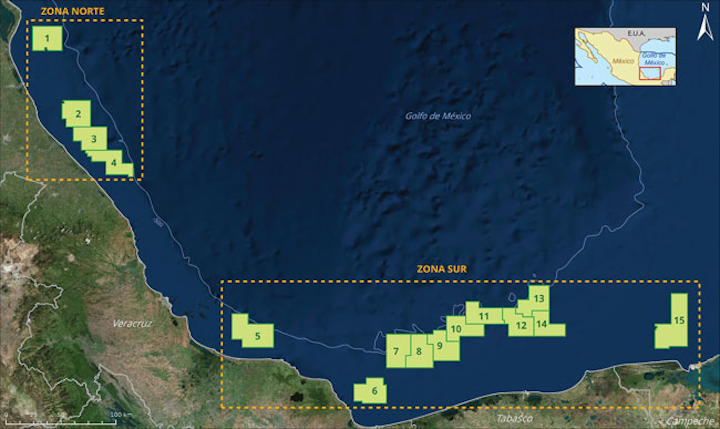 Ten blocks awarded in Round 2.1 lease sale
Bruce Beaubouef
Managing Editor
Interest in Mexico's offshore oil and gas resources is ramping up as companies make plans for deepwater development, and increase their E&P activities in Mexico's shallow-water areas.
Evidence of this could be seen in the results of Mexico's second bid round sale (Round 2.1), which took place on June 19. The Comisión Nacional de Hidrocarburos (CNH), which oversees the bid rounds, awarded 10 of the 15 shallow-water blocks on offer.
Altogether, 36 companies participated in the auction, either individually or as part of consortiums. Of the 12 companies that won licenses, seven were fresh entrants in Mexico's upstream sector.
Eni, which had already won a shallow-water block in Round 1, came away from the most recent tender with three additional licenses. Another big winner of Round 2.1 was new player Citla Energy, which won three licenses in partnership with both Eni and Cairn Energy.
PEMEX won two blocks, partnering with Germany's DEA Deutsche for Tampico-Misantla Area 2, and Colombia's Ecopetrol for Southeastern Basins Area 8.
The most sought-after block was Southeastern Basins Area 9, which attracted six bids from major international oil companies such as Chevron and China National Offshore Oil Corp., as well as independent companies such as Talos Energy and Diavaz.
Two bidders tied in their proposals for that block, but a consortium of Citla Energy and Cairn Energy were declared winners based on an additional cash bonus of more than $30 million. The block spans 562 sq km and is estimated to hold 169 MMboe in 2P reserves.
All of the areas offered in Round 2.1 were located off the coasts of the states of Veracruz, Tabasco, and Campeche. Together, the 15 blocks covered more than 8,900 sq km, and held a combined 4 Bboe in prospective resources.
The complete results of Round 2.1 are as follows:
Tampico-Misantla Area 1: Not awarded
Tampico-Misantla Area 2: DEA Deutsche and PEMEX
Tampico-Misantla Area 3: Not awarded
Tampico-Misantla Area 4: Not awarded
Veracruz Area 5: Not awarded
Southeastern Basins Area 6: Petronas and Ecopetrol
Southeastern Basins Area 7: Eni, Cairn Energy and Citla Energy
Southeastern Basins Area 8: PEMEX and Ecopetrol
Southeastern Basins Area 9: Cairn Energy and Citla Energy
Southeastern Basins Area 10: Eni
Southeastern Basins Area 11: Repsol and Sierra Oil & Gas
Southeastern Basins Area 12: Lukoil
Southeastern Basins Area 13: Not awarded
Southeastern Basins Area 14: Eni and Citla Energy
Southeastern Basins Area 15: Total and Shell.
Blocks 1, 2, 3, and 4 in Tampico-Misantla offer a total of 796 MMboe of unrisked, prospective P50 resources. The areas contain mostly light oil and dry gas.
Block 5 in Veracruz basin is a wet gas-bearing area with 215.6 MMboe of unrisked P50 resources.
Blocks 6, 7, 8, 9, 10, 11, 12, 13, 14, and 15 are located in Cuencas del Sureste off the coast of southern Veracruz and Tabasco and together offer 1.5 Bboe of unrisked P50 resources, which range from light to heavy oil as well as one wet gas (block 15).
The auction is the fifth since the implementation of Mexico's energy reform, including one deepwater and two previous shallow-water tenders, yielding 39 contracts signed with forecast investment over the life of the contracts at $48.8 billion, according to energy ministry data.
E&P activities sanctioned under Round 1 are well underway in Mexico's shallow-water areas. A major milestone was achieved in May, as a joint venture between Premier Oil, Talos Energy, and Sierra Oil & Gas began drilling the Zama-1 offshore well, in block 7 in Mexico's shallow-water Sureste basin.
This well represented the first time in nearly 80 years that a private company has drilled an offshore oil well in Mexico, and it is the first exploration well on acreage awarded under the country's first international licensing round in 2015.
Talos Energy is the operator of the well, with a 35% stake. Premier owns 25%, while Sierra holds the remaining 40%. According to Premier, the Zama-1 well has a P90-P10 gross unrisked resource range of 100-500 MMbbl. Premier expects that Zama-1 and the secondary target, Zama Deep, should take 90 days to complete, at a total cost of $16 million. TheENSCO 8503 semisubmersible was selected to drill the well.
Elsewhere, Eni says it has confirmed the presence of oil in multiple reservoirs with the Amoca-2 well in the Campeche Bay offshore Mexico. It is located in the Contractual Area 1,200 km (124 mi) west of Ciudad del Carmen in 25 m (82 ft) of water.
The well reached TD of approximately 3,500 m (11,483 ft), encountering about 110 m (361 ft) of net oil pay from several good-quality Pliocene reservoir sandstones, of which 65 m (213 ft) were discovered in a deeper, previously undrilled horizon.
The well confirmed the presence of 18° API oil in the shallower formations, while the newly discovered deeper sandstones contain high quality light oil. Reserves are still being assessed, but the well indicates a meaningful upside to the original estimates, according to Eni.
The Area 1 drilling campaign will continue with a new well in the Amoca area (Amoca-3) followed by the Miztón-2 and Tecoalli-2 delineation wells, to be drilled in 2017 to appraise existing discoveries as well as targeting new undrilled pools. Eni holds a 100% stake in the Area 1 production-sharing agreement and is already evaluating options for a fasttrack phased development of the fields.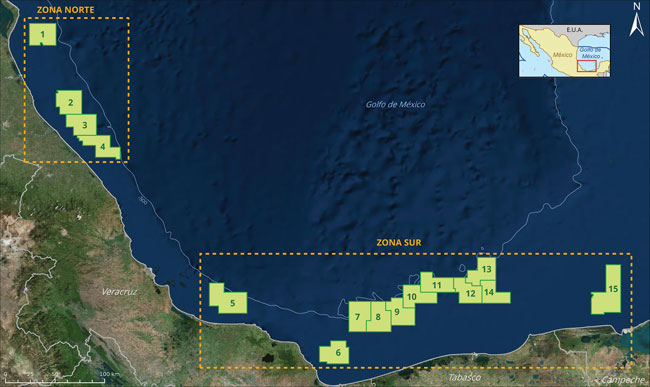 Fifteen blocks were made available in Mexico's second bid round sale (Round 2.1). (Courtesy CNH)
Deepwater developments
Interest also remains strong in Mexico's deepwater areas. Eight out of 10 blocks were sold in last December's deepwater lease sale. In May, CNH approved a new deepwater block to state oil company PEMEX, but also stipulated that PEMEX had to develop the area with a partner that would eventually operate the field.
The new Chachiquin area, adjacent to PEMEX's Nobilis-Maximino block, could produce 80,000 b/d of oil once it reaches peak output, according to a Reuters report. Development of the area is not expected to begin until 2024 at the earliest.
"It's incredibly important for the country to move forward with deepwater projects," said Hector Moriera, a commissioner with CNH. As quoted in the Reuters report, Moriera added that 53% of Mexico's prospective oil resources are in deepwater deposits. "That's where much our country's oil future lies," he said.
An auction to pick a partner for PEMEX in the Nobilis-Maximino block, which would only be Mexico's second deepwater joint venture, has been approved by the company's board and is set for year-end.
Nobilis-Maximino is estimated to hold reserves of some 500 MMbbl based on data gathered from five wells drilled in the past, and is located just south of Mexico's maritime border with the United States in the Perdido foldbelt, where dozens of successful projects have been developed on the US side of the same basin in recent decades.
Seismic data
Meanwhile, the seismic service industry continues to produce data on Mexico's offshore resources. Recently, CGG delivered the final products of the Encontrado multi-client reprocessing project across the Gulf of Mexico's Perdido fold belt to CNH.
The final reverse time migration (RTM), Kirchhoff migration, and associated data volumes covering a 38,000 sq km (14,672 sq mi) area straddling the Mexico/US border are available on a non-exclusive basis.
The uplift in the imaging of these final products over the Fast Trax RTM data delivered last year, the company claimed, means the prospective reservoirs can be identified and mapped in unprecedented detail. The improved depth information in the final volume also has a material impact on the understanding of the petroleum systems and the location, timing, volume, and type of hydrocarbons that may have charged the reservoirs. Collectively, these improvements enable an enhanced assessment of prospectivity in this emerging exploration frontier.
In addition, CGG said that it has embarked on a JumpStart fully integrated geoscience program to complement the seismic data from the Encontrado project. JumpStart programs are designed to review, validate, calibrate, and interpret all available seismic, well, and geologic data to deliver all the information needed in one place for a comprehensive understanding of the petroleum systems present.
Equipment providers
Service, supply and equipment providers are also ramping up their presence in Mexico. In May, Aberdeen-based Sparrows Group reported that it had appointed crane service and maintenance provider, Ginemex, as its authorized service center in Mexico. The partnership will support Sparrows in meeting the requirements of its existing contract with state-oil company PEMEX for servicing and parts provision for more than 60 offshore cranes.
As the original equipment manufacturer of the cranes, Sparrows says it will carry out competence assessments and any required training to Ginemex technicians, who will conduct all maintenance work locally. Engineering support will be provided by Sparrows' multi-discipline team in Houston. The work scope is expected to begin in the coming months.
Production timeline
While the shallow-water drilling activities and successful bid rounds suggest a resurgence for Mexico's offshore industry, it will likely be some time before production emerges from these activities. Investment firm Tudor Pickering & Holt has said that while shallow-water production will be the next material near-term contributor to Mexican production, it will not have a significant effect for several years. The firm predicts that Mexican production will continue to decline by about 5% per year through the end of this decade. Total crude oil production in Mexico now stands at 2.01 MM b/d, down from a peak of 3.38 MM b/d in 2004.