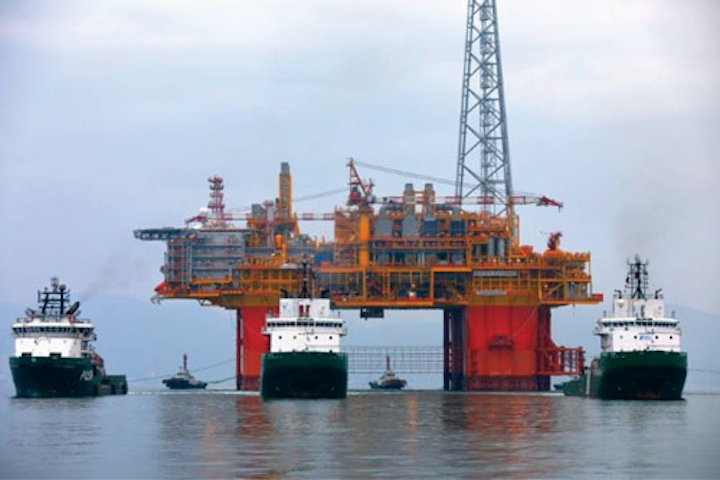 | | | |
| --- | --- | --- |
| | | Jeremy Beckman • London |
North America

The concrete gravity base substructure (GBS) for ExxonMobil's Hebron field platform was due to depart the Bull Arm fabrication yard in St John's, Nefoundland last month. It will be installed in the Jeanne d'Arc basin in 93 m (305 ft) of water, with operations from the completed platform potentially starting later this year. As with the Hibernia platform in the same region, the GBS is built to withstand impact from sea ice and roaming icebergs.
Husky Energy expects the first of two exploration wells to spud shortly on prospects in the Newfoundland's deeper water frontier Flemish Pass basin. The company is in partnership with operator Statoil.
•••
The US Department of the Interior will resume evaluation of applications from six companies seeking permits for geological and geophysical activities in the Atlantic Ocean. Previous G&G seismic data over the Mid and South Atlantic Outer Continental Shelf were acquired over three decades ago when acquisition/processing technology was limited. The decision is in accordance with President Trump's America-First Offshore Energy Strategy.
•••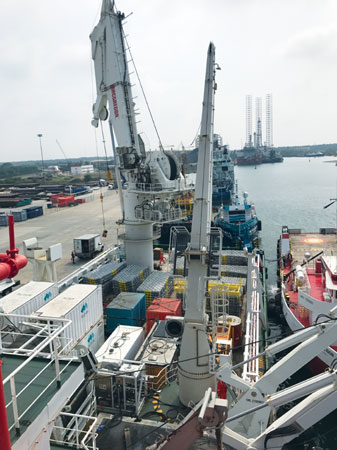 2 Subsea's ROVs onto the MPSV Tehuana (Photo courtesy m2 Subsea).">
Frontera Offshore loading m2 Subsea's ROVs onto the MPSV Tehuana (Photo courtesy m2 Subsea)
M2 Subsea will work with Frontera Offshore to stabilize a section of pipeline serving the Ku-Maloob-Zaap oilfield on behalf of operator Permaducto. The location is 65 mi (104 km) northeast of Ciudad del Carmen in Mexicos' Bay of Campeche. The partnership will deploy Triton work class ROVs for pre-and post-lay surveys, with 277 mattresses to be installed in a water depth of around 250 ft (76 m).
South America/Caribbean Sea
Fluor is performing front-end engineering design (FEED) for BP's Cassia compression project east of Trinidad and Tobago. The design scope includes a new gas compression platform, connecting bridge and modifications to the existing Cassia production hub. First gas should follow in 2020.
•••
ExxonMobil has proven a third large oil field in the deepwater Stabroek block off Guyana. The Snoek-1 well, 5 km (3.1 im) southeast of the Liza-1 discovery well in 1,563 m (5,128 ft) of water, intersected 26 m (92 ft) of oil-bearing sandstone reservoirs. The drillshipStena Carron then started operations on the Liza-4 appraisal well. Analyst Wood Mackenzie believes Snoek, with potential reserves in the range 220-370 MMbbl, could warrant development via a standalone FPSO 80,000-120,000 b/d production capacity.
•••
Australian independent Karoon Oil & Gas has contracted Wood Group to support the Echidna field development in the Santos basin offshore Brazil. The contractor will focus on technical demands for a floating production unit moored in up to 400 m (1,312 ft) of water, and associated subsea structures.
•••
Uruguay's state oil company ANCAP is reportedly working on a model contract for the country's third licensing round, with 17 offshore blocks to be offered. These are said to include waters up to 3,000 m (9,842 ft) deep in the Eastern del Plata and Punta del Este basins.
West Africa
BP has discovered gas with its first well in partnership with Kosmos Energy offshore Senegal. The drillshipAtwood Achiever drilled Yakaar-1 in 2,550 m (8,336 ft) of water, 95 km (59 mi) northwest of Dakar in the Cayar Offshore Profond block. The well encountered 45 m (148 ft) of net pay in stacked reservoir sands within the Lower Cenomanian interval. Kosmos estimates potential resources at around 15 tcf: FEED for the partners' nearby Tortue gas development should start later this year.
•••
Total has made its entry into deep offshore Senegal E&P, agreeing to operate the Rufisque Offshore Profond block in partnership with state-owned Petrosen. Among the various other recent transactions in this deepwater exploration hotspot, CNOOC UK has agreed to take a 65% interest from Impact Oil and Gas in the PSC for the AGC block in the offshore joint development zone between Senegal and Guinea-Bissau, west of the Dome Flore and Dome Gea oil discoveries.
FAR, a partner in Senegal's SEN discovery to the north, is set to take an 80% operated interest from Erin Energy in blocks A2 and A5 off The Gambia, where 3D seismic analysis has revealed three large prospects similar to the shelf-edge plays FAR has targeted off Senegal. And African Petroleum is in talks with the Gambian government on admitting an experienced deepwater operator to assume control of the A1 and A4 offshore exploration licenses, which could lead to drilling of at least two deepwater wildcats.
•••
Cote d'Ivoire's government has awarded Eni 90% operated stakes in blocks CI-101 and CI-205, 50-80 km (31-50 mi) south of Abidjan. Both are in the eastern part of the Tano basin, where Eni is already an operator on the Ghanaian side of the offshore median line between the two countries.
•••
GE Oil & Gas has signed a Memorandum of Understanding with Lekoil for development of the Ogo field in the OPL310 lease offshore Nigeria. Lekoil's estimated share of the resources is close to 232 MMboe. Assuming successful appraisal drilling around the turn of this year, GE would participate in the ensuing full-field development, applying its technology and expertise and receiving a share of cashflow from the resultant production.
•••
Golar LNG has contracted Keppel Shipyard in Singapore to convert the LNG carrierGandria to serve Fortuna FLNG, Africa's first deepwater floating LNG project. This would harness gas discovered by Ophir Energy on Equatorial Guinea's offshore block R. State-owned GEPetrol will participate in the upstream portion of the project and could also take a 30% stake in the vessel. Assuming a positive final investment decision, first should follow during mid-2020.
Eastern Europe
The consortium behind the planned Nord Stream 2 project in the Baltic Sea has started the environmental impact assessment procedure for the twin 1,220-km (758-mi) long gas pipelines. The partners favor the Narva Bay route through the Russian section. They have also contracted Allseas to supply three pipelay vessels for the construction program during 2018-19, one of which -Solitaire - laid parts of the initial Nord Stream lines.
Allseas'Audacia has started laying the shallow-water part of Gazprom's TurkStream gasline in the Black Sea, close to the Russian coast. The contractor's newest vessel Pionering Spirit will manage the deepwater stretch.
•••
Bucharest-based Black Sea Oil & Gas (BSOG) has contracted GSP Offshore's jackupGSP Uranus to drill two exploration wells on the XV Midia Shallow block in the Romanian sector of the Black Sea, starting this fall. The aim is to prove further gas to bolster the planned Midia development, currently comprising the Ana and Doina discoveries. BSOG is aiming for approvals later this year to start construction of a platform, wells and offshore pipelines.
Mediterranean Sea
Eni has discovered more gas/condensate in Contract Area D offshore Libya. The B1 16/3 well on the Gamma prospect was drilled 140 km (87 mi) offshore in 150 m (492 ft) of water, proving hydrocarbons in an Eocene interval. The location is north of the Bahr Essalam field, currently under development, and the long-producing Bouri field.
•••
BP has confirmed that the West Nile Delta development exported first gas to Egypt's grid in March. The project encompasses five gas fields across the North Alexandria and West Mediterranean Deepwater offshore blocks. First in production are Taurus and Libra, connected via nine subsea wells and a 42-km (26-mi) pipeline to an onshore processing plant. Initial output was 20% above the planned plateau at 700 MMcf/d. Development continues of the Fayoum, Giza and Raven fields via 12 subsea wells and two long-distance tiebacks to the shore through deepwater, with associated fluids to be processed at the modified Rosetta onshore reception terminal. These fields should come onstream in 2019.
In the North Damietta Offshore concession in Egypt's East Nile Delta, BP has discovered fresh gas via the Qattameya Shallow-1 well, drilled in 108 m (354 ft) of water, 21.7 mi (35 km) west of the Ha'py offshore facilities.
Middle East
Saudi Aramco has signed a Memorandum of Understanding with the UAE's state oil company ADNOC. This calls for joint identification of technologies to improve efficiency of the companies' respective upstream and downstream operations.
•••
Qatar plans to start work shortly on a new development project at the giant offshore North field. The produced gas would likely be exported, with an intended capacity of around 2 bcf/d. This would increase production from the field by around 10%.
•••
Oceanus has contracted Aqualis Offshore to provide floatover engineering of the topside for an LNG regasification platform to be located offshore Bahrain, and subsequent supervision of the installation. The 7,000-metric ton (7,716-ton) topside is under construction at Laem Chabang, Thailand.
Australia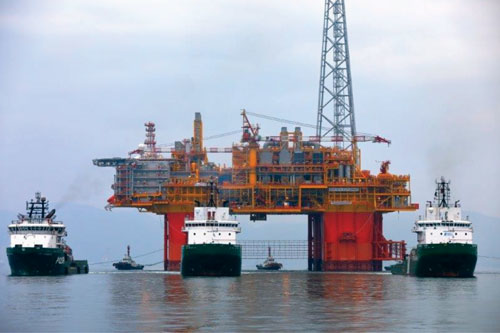 Sailway of the Ichthys central processing facility from Geoje, South Korea. (Photo courtesy INPEX)
Ichthys Explorer, the central processing facility for the Ichthys LNG project offshore northwest Australia, has been undergoing hook-up at the field location, and will be followed by the FPSO Ichthys Venturer. Operator INPEX aims to start gas/liquids production later this year - construction continues of the associated gas liquefaction plant near Darwin.
Asia/Pacific
Total has produced first gas from the Badamyar field offshore Myanmar via a wellhead platform with four horizontal wells and a compression platform. These are connected to existing production facilities at the Yadana offshore complex and should extend Yadana's 8 bcm/yr plateau output beyond 2020.
•••
Petronas Carigali has commissioned engineering studies for three wellhead platforms to be installed at the Bokor field, 45 km (28 mi) northwest of Lutong, Malaysia. Petronas' partner in the associated Baram Delta EOR PSC is Sarawak Shell.
•••
Engineering group PTSC has contracted KeppelFloaTEC to provide engineering services for the tension leg wellhead platform (TLWP) that Repsol has ordered for the Ca Rong Do field offshore southern Vietnam. This will be the industry's first three-column TLWP as well as the first built in Vietnam. It will be stationed in 320 m (1,050 ft) of water and connected to up to 20 oil producer, water injector and gas injector wells.
•••
Husky Oil Operations (China) has signed a PSC with CNOOC for block 16/25 in the Pearl River Mouth basin in the South China Sea. Water depths across the block, which covers 44 sq km (17 sq mi), are around 100 m (328 ft). Husky will operate during the exploration phase.
•••
Offshore Indonesia, Husky expects production to begin shortly from the liquids-rich BD project via an FPSO. Output should build swiftly to the plateau sales gas rate of 100 MMcf/d, with associated liquids production of 6,000 b/d.
•••
Japan's Trade Ministry is reportedly preparing a second production test for the extraction of methane gas from methane hydrate deposits off the country's central coast. This would be Japan's first such test since 2013, and will involve drilling two wells. There are thought to be around 40 tcf of methane hydrates in the eastern Nankai Trough in the Pacific Ocean.