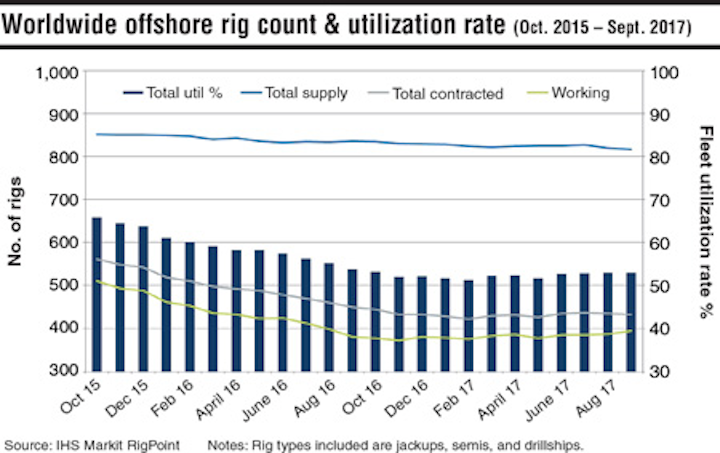 Offshore rig utilization stayed flat from August to September at just under 53%, which is essentially the same level where it has been for the last few months. Meanwhile, the number of rigs in the total supply of jackups, semis, and drillships has declined by three to 818, continuing the ongoing, but necessary, downward trend. However, over the last couple of months, a few more rigs have ended their charters, dropping the number of rigs under contract to 433. On the upside, there was another bump in the number of working rigs, this time from 387 to 395, which is the highest it has been since August of last year.
– Justin Smith, IHS Markit Petrodata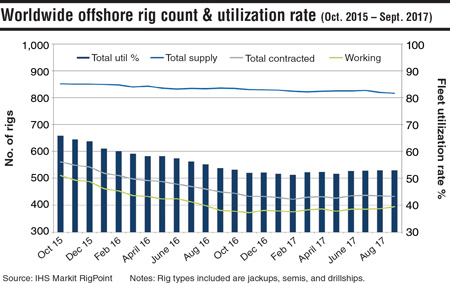 Ghana, Norway boast sub-$40 breakeven prices for new projects
Among top offshore producing countries, Ghana and Norway stand out with the best economics for yet to be sanctioned oil projects, while Vietnam, Russia, Mexico, and Nigeria exhibit the highest breakeven prices. Ghana's Jubilee Phase 1B and Norway's Johan Castberg, Valhall West Flank, and the second phase of Johan Sverdrup will be profitable at oil prices less than $40/bbl. Recent significant discoveries, such as the ExxonMobil-operated Liza offshore Guyana, and the Cairn Energy-operated deepwater SNE field offshore Senegal, exhibit breakevens around $50-55/bbl. In Russia, key upcoming offshore oil projects, Lukoil's Rakuchechnoye and Kravtsovskoye, are estimated to be commercial at an oil price of around $60/bbl.
–Rystad Energy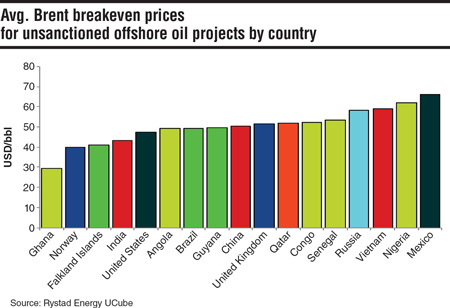 Deepwater project sanctions on the rise
Global deepwater spending is estimated to total $126.9 billion during 2017-21, according to Westwood Energy's updated World Deepwater Market Forecast. The focus of activities will likely be on Africa and the Americas, which are set to account for more than 78% of the forecast expenditure.
While project sanctioning has picked up over the past 12 months, operators remain cautious on project spending, the analyst says, and are increasingly selecting phased development concepts to limit the risk and financial exposure typically associated with deepwater production.
Subsea production equipment, SURF, and pipelines will cover 39% of forecast expenditure.