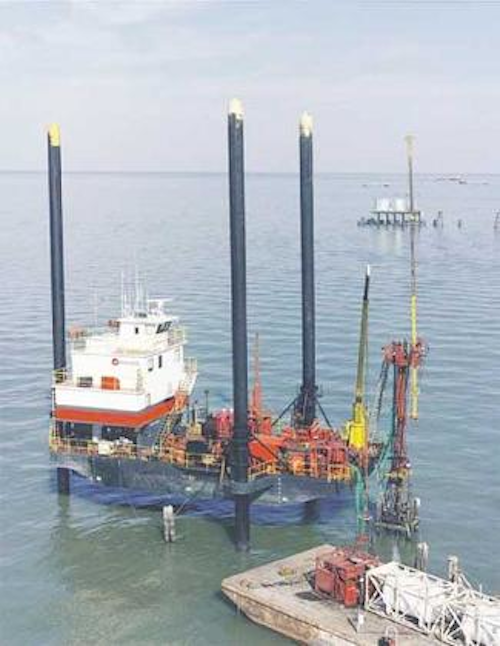 'Smart' wells aid intervention planning, scheduling
Sandeep Khurana, P.E.
Brad DeWalt
Granherne Inc.
The downhole application has become the main focus of the well intervention sector. Oilfield service providers of downhole applications participate in the market as either providers of downhole tools or as operators of wireline, coiled tubing (CT), or hydraulic workover (HWO) equipment.
The major service providers involved in this market are those with a strong presence in the well completion market. These providers have combined their well completion knowledge with reservoir expertise to focus on providing a process or system rather than just the components. They are also investing in advances in CT services such as composite, light-weight tubing materials, and riserless CT concepts.
null
For subsea wells, the major expenses in well intervention are deepwater vessels and the subsea systems. To provide a more cost-effective package, owners of multi-purpose service vessels (MPSVs), companies with subsea technology, and companies with downhole expertise are aligning with each other to share knowledge and improve technology.
In parallel, the industry is studying ways to minimize well interventions and/or plan them more effectively. The success of well intervention depends on the proper and timely analysis of well problems. These issues have led to advances in "smart" wells, which supply real-time data gathering of downhole information and provide completions that allow production to be controlled.
null
Well intervention is defined as a variety of remedial operations performed on producing wells with the intention of restoring or increasing production. A well may require intervention due to restrictions in flow, changes in reservoir characteristics, sand production, mechanical failure, or to access additional hydrocarbon pay zones. Downhole operations performed during well intervention jobs include well surveillance and diagnosis, implementation of reservoir management techniques, completion repair, and re-entry drilling to reach new producing intervals.
As the offshore industry moves into deeper water, encounters high-pressure and high-temperature reservoirs, and installs a greater number of subsea wells, the cost of well intervention becomes increasingly expensive. Well intervention techniques that do not require a conventional workover rig have the potential to provide substantial cost savings. These techniques include light well intervention using wireline units and medium well intervention using either CT units or HWO units. As an additional advantage, these techniques can be performed on live wells, thereby minimizing formation damage.
Well intervention of platform (dry) wells is performed by bringing skid packaged wireline, CT, or HWO equipment onto the platform deck. In shallow water, minimum wellhead platforms may not have sufficient deck space to support the well intervention equipment, requiring the use of a lift boat.
Subsea well intervention is typically more expensive than dry well intervention, due to the high day rates of drilling rigs and for the equipment costs of the subsea systems required to access the wellbore. The trend within the industry is to reduce vessel costs by using dedicated well intervention vessels or MPSVs instead of conventional drilling rigs, and by developing subsea systems that do not require a riser to access the well.
null
Oilfield service providers view this as a unique opportunity to provide a complete service package for economic well intervention. This requires combining downhole, subsea, and deepwater equipment and expertise. Additionally, new technologies such as "smart" wells are being pursued to decrease well intervention frequency and improve the timeliness of intervention activities.
Downhole applications
Downhole applications are activities performed in the wellbore to remedy production-related issues, and can be categorized based on work processes or on the tools and equipment required for intervention. The 10 major categories of rigless well intervention applications are:
Cased hole production logging and perforating – performed to diagnose the reservoir, produce from new zones, or open plugged perforations
Well cleaning – involves cleaning wellbore flow restrictions, such as formation fills and scale
Cased hole fishing – reconditions a producing well by removing downhole equipment such as packers, liners, or screen pipe. It also includes the removal of stuck wireline tools
Fluid displacement – circulates fluid, such as nitrogen, through the well to initiate production or improve transport and flow properties of the reservoir
Through-tubing sand control – performed to reduce sand deposition in the production stream through the use of filter media, installation of screens or liners, or the placement of resin materials
Remedial cementing/conformance – forces cement slurry to a specific point in a well for remedial purposes. It is sometimes referred to as conformance control, as it is used to seal zones to shut off water or gas
Stimulation – improves permeability near the well zone by acidizing or fracturing the reservoir with fluids using high injection rates and pressures
Through-tubing completions – uses a small diameter tubing to act as a velocity or siphon string to keep marginal wells unloaded, or as a production string to isolate damaged or defective production tubing. It can also be used as an injection string for gas lift
Artificial lift services – assists in boosting production in low pressure wells through the installation of artificial lift techniques or equipment
Re-entry drilling – improves production by deepening wells or by drilling horizontal laterals to produce from other pay zones.
Pulling the production tubing is considered a major workover of a well and involves the utilization of a conventional rig. Therefore, it is not included in the above applications.
Wireline services consist of various well intervention functions that are accomplished under pressure by "running" and "pulling" tools into and out of the wellbore by the use of a continuous length, small diameter wire mounted on a powered reel at the surface. Illustration by the Wood Group.
The frequency of well intervention to perform the various downhole operations is difficult to predict because it depends on reservoir characteristics, region, and economics. A single stand-alone application or multiple applications may be required to fully correct the well problem.
Rigless well intervention techniques
Wireline, CT, and HWO services are three types of well intervention methods that are differentiated based on the type of downhole applications that can be performed and by the equipment used to convey tools downhole.
null
Electric line is a steel armored electric cable that has the capability to transmit well logging data continuously to the surface and is capable of performing perforations. The use of electric line in highly deviated or horizontal wells may be accomplished by using electric powered downhole tractors that pull the wire into the wells
Slickline is a mechanical wireline device that is less expensive than electric line and does not supply electricity to downhole tools. It is primarily used in well cleaning, fishing, plug removal, or placing/servicing a gas lift valve. New slickline units have measurement capabilities and can provide information on the location of the memory log taken in the well.
CT services involve inserting a continuous flexible steel or composite pipe into a well bore to convey various well servicing tools and fluids. CT diameters range from 3/4 in. to 4 1/2 in. and are flexible enough to be coiled onto a reel, yet strong enough to withstand extreme pressure loading. The major advantages of coiled tubing include faster running speeds downhole, the ability to circulate fluid, even while the tubing is being run in and out of the well, and the ability to work on live wells. Additionally, electric wireline can be installed inside CT to perform wireline services in highly deviated and horizontal well bores. A CT unit is defined by the pull capacity of the injector head, which ranges from 10,000 lb to 120,000 lb. High capacity translates to the capability of the CT unit to work with larger tubing sizes or longer tubing lengths.
null
HWO units use hydraulic cylinders to push jointed sections of pipe into the well, in contrast to the seamless tube used in coiled tubing. HWO units can handle more complex jobs involving deeper reservoirs and higher pressures compared to CT. Other flexibilities of the HWO unit include higher pull capacities, the ability to use tapered pipe, and the ability to adjust the pipe length based on reservoir depth.
null
High-pressure snubbing (pushing the pipe under well pressure) is an area where HWO competes with CT services to perform work on live wells. HWO rig assist units are custom built systems used with conventional workover rigs, supplementing the work performed by the rig to reduce the cost of the intervention job. HWO units are classified by the lift force in kips (1 kip = 1,000 lb) and by the through-bore diameter in inches of the jack. Lift capacities range from 120 to 600 kips, and the through-bore sizes are typically 4 to 13 in.
Subsea well intervention
A traditional method of working on subsea wells involves using a workover riser package, which provides a conduit to access the wells from the surface such that well operations are similar to that of dry trees. Using a riser requires active heave compensation systems, however, and conventional rigs are generally chosen. The conventional rigs, with drilling as their primary function, are often more expensive than MPSVs or dedicated well intervention vessels.
null
Subsea well intervention can be classified into three categories:
Light well intervention, which includes wireline (electric line and slickline) services using a subsea lubricator system. Subsea wireline lubricator systems do not require workover riser packages, which allow these systems to be easily used with monohull vessels
Medium well intervention, which consists of CT and HWO services, performed using a workover riser package via a semisubmersible. Riserless CT systems are also being developed, to further decrease the cost of subsea well intervention and allow monohull vessels to utilize this technology
Heavy well intervention, which requires the use of conventional rigs.
'Smart' or intelligent wells
A lot of intervention work is performed for well surveillance and diagnosis. This increases operating expenses and downtime and has an additional risk of data not available in timely fashion for a successful well intervention plan. Frequently, well intervention is performed for reservoir management to remedy water or gas break out. This becomes important in wells with multiple zones, as commingling is generally not allowed by the regulatory bodies. Furthermore, multi-lateral well technology that reduces the number of slots requires additional reservoir management to ensure that production is maximized from various zones. All these issues have led to advances in "smart" or intelligent wells, which allow for real-time data gathering of downhole information, and provide completions that can control production from various zones.
Acknowledgements
The authors would like to thank Dean Fanguy (Baker Oil Tools), Perry Courville (Halliburton), John Misselbrook (BJ Services), Dr. Julie Morgan (Granherne Inc.), Colin Headworth (Subsea 7), and Kurt Albaugh (BHP Billiton Petroleum) for their support and guidance on this article and the accompanying poster.
Authors
Sandeep Khurana is a principal facilities engineer for Granherne Inc. with 13 years of experience in the offshore industry. He has an MS in civil engineering from Rice University and is a registered professional engineer in Texas.
Brad DeWalt is a process specialist for Granherne Inc. with four years of plant experience and one year of upstream feasibility/conceptual engineering experience. He holds a BS in chemical engineering from Mississippi State University and is working on his PhD in chemical engineering at the University of Houston.