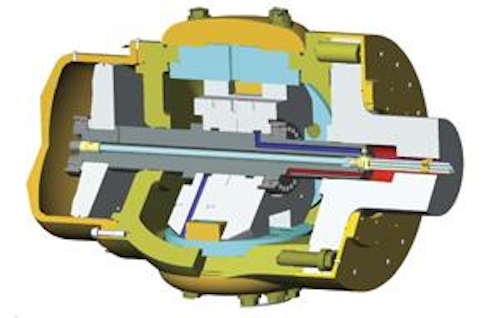 Berg Propulsion has developed a circ-ulating lubricating system for its propeller hub. The Circulating Lubricating System with ppm Management differs from other methods of using a stern tube to lubricate and then sealing the unit off. Managing Director Håkan Svensson said traditional systems are prone to allow water to leak into the hub and mix with the oil, causing corrosion. Under the new method, for which a patent is pending, the propeller shaft carries the lubricant into the hub, where it circulates before being returned to a holding tank to be checked for water content. Monitoring in this fashion allows early finding and solving of water problems, he said. The results can also be logged into the propeller's control system.
The system is a breakthrough for several reasons, the company says. The lubrication process decreases the number of leakage points in the hub, which will in turn help eliminate fatigue and corrosion problems associated with water ingress. This is especially important because the steel inside the hub is carbon steel, not stainless, which makes it susceptible to corrosion damage.
null
Lowering the fatigue and corrosion will also increase the unit's lifespan.
The system is particularly suited for dynamic positioning (DP) vessels with expensive day rates. Operating in DP mode puts the highest stress load on the hub.
Although the circulating lubrication system is about 2-3% more expensive than the stern tube system, associated operational benefits offset the price, the company said. With the propellers costing about 3% of the DP vessel's price, it's important to make sure the units have plenty of uptime. When propellers on a DP vessel stop, all vessel activity also stops.
Altering the lubricant system was the primary way of keeping water from entering the hub. The blade seal is the remaining potential water entry point, and Berg is working to resolve this issue by decreasing the amount of stress on the hub, Svensson said. Less pressure on the blade fastening will ensure a tight seal without allowing water to enter, he added.
"We'll use the new hub design for all of our propellers, so even the bow thrusters will have the same type of hub. That is the next step," said Chairman Björn Svensson.
For more information, contact Håkan Svensson, Berg Propulsion. Tel: +46 31 97 65 00; fax: +46 31 97 65 38; info@bergpropulsion.se, www.bergpropulsion.se.