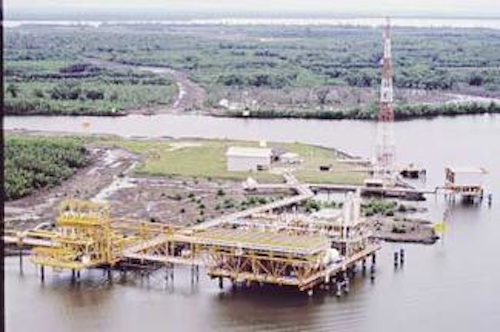 Jeremy Beckman
Editor, Europe
Mahakam, off and onshore East Kali-mantan, is Indonesia's most prolific gas production hub. Since 1982, more than 7 tcf have been extracted from five fields in the 2,089-sq-km Mahakam production sharing contract (PSC) area, which extends north and east from the Mahakam River delta to water depths of 80 m.
Total E&P Indonesie, which has operated the PSC since 1970, is constantly striving to raise production to meet growing demand from the Bontang LNG terminal. Current expansion work is focused on the giant Tunu and Peciko fields, with Nubi and Sisi to the east next in line for development.
Now Total's 50/50 partner, Japan's Inpex originally operated the Mahakam area. Activity on two oilfield discoveries, Bekapai and Handil, dominated the early years of the PSC. Bekapai, a 20-sq-km structure in 30 m of water, was developed initially in 1974 through a floating production facility, soon superseded by a complex of three platforms, with crude piped a short distance westward to a terminal at Senipah.
Handil, which extends over 40 sq km among swamps at the edge of the river delta, went onstream in 1975. Reserves are produced via deviated wells drilled from swamp barges along the banks of the islands. Combined output of crude from the two fields peaked at 230,000 b/d in 1977. Over the years, various enhancement plans, including gas lift, waterflood, and gas injection (100 MMcf/d currently at Handil) slowed the subsequent tail-off. Today, Handil's oil production is down to 13,000 b/d, with over 90% of accessible reserves having been recovered.
In 1982, associated gas from the two fields was also produced, representing the partners' first deliveries to the Bontang natural gas liquefaction (NGL) plant, 200 km north of the Mahakam River delta. This facility, operated by PT Badak NGL Co, entered service in 1977. Today, it is the world's largest LNG processing operation, with eight trains and production capacity of 22.5 million tons/year. All the gas is sourced from local fields operated by Total, Unocal, and VICO Indonesia, and all commingled output is shipped to Japanese, South Korean, and Taiwanese utilities. Since 1993, Total has also been a shareholder in PT Badak NGLC, and it has provided technical assistance over the years for Bontang's several expansion phases.
Tunu/Tambora
Tambora, an onshore field in the central swamp section of the river delta, produced its first oil in 1984. Five years later, associated gas was also delivered under a joint development with Tunu. The latter, discovered in 1977, is an elongated structure, comprising complex, stacked reservoirs, stretching 80 km from north to south in shallow waters (swamp area) along the outer limits of the delta. Tunu is a gas/condensate field containing only negligible CO2 or H2S, with the main productive reservoirs lying at depths from 2,200 to 4,900 m. Recoverable reserves are estimated at 16.5 tcf.
Under the first-phase plan of the late 1980s, gas from Tunu and Tambora was collected by gathering and testing satellite installations (GTSs) in only a few feet of water. The wellstream was sent to a central processing unit (CPU-1) at Tambora, which has a processing capacity of 350 MMcf/d. Here water, gas, and condensate are separated, and the gas is compressed before being exported to Bontang via Badak.
Between 1994 and 1996, production steadily ramped up through five new development phases. The main elements of this program included:
Installation of a second processing unit, CPU-2, alongside CPU-1, with a capacity of 900 MMcf/d
Installation of the Tunu North Gas Production/Processing Unit (NPU) at sea, north of the river delta
New reception facilities onshore at Badak
Addition of five more GTSs.
Early in 1997, the partners launched a seventh phase to improve operation of depleting wells on South Tunu. This program involved adding:
A 4,000-ton medium pressure compression platform, TCP, operating at up to 400-450 MMcf/d, with a 700-ton air cooler support frame – equipment includes two slug catchers, one TEG dehydration unit, and two LM 2500 gas turbine-driven compressors
A manifold platform with a 400-ton deck, and a scrapper trap platform with a 300-ton deck to collect effluents from the compression reception facilities
Two networks of associated medium pressure pipelines (20 km of 20-in. lines and 25 km of 36-in. lines).
Just after the new plant became operational in late 2000, an eighth phase was under way, applying a similar range of facilities to Tunu North. Here, a new mid-pressure compression plant (NCP) has been installed close to the NPU, with a manifold platform and surface pipeline network also added to address existing production/transportation bottlenecks. The NCP, which came onstream last fall, allows the entire Tambora/Tunu gas network to produce at medium pressure – 38 bar – and will increase deliverability by 300 MMcf/d over the next two years.
null
At the end of 2002, a ninth phase was started, involving the addition of a new GTS in both the north and south of the field. This will bring the total of satellite installations across the field to 20, collecting a total of 1.5 bcf/d. The GTSs are a standard design, with a dry deck weight of 250-350 tons, an average of 10 wells spaced in a regular pattern, and all capable of producing up to 200 MMcf/d.
Around 240 development, delineation, and exploration wells have been drilled on Tunu, of which 60% are still active. The latest batch of wells is being drilled by PT Apexindo Pratama Duta, using its newly built swamp barges Raissa and Yani, and four other existing barges – the Maera and Raisis, the PT Hitek Schlumberger-operated Hibiscus, and the Ensco 1.
"We also operate a continuous program of workovers and well tests," a Total spokesman says. "One challenge we face is that the area around Tunu/Tambora is environmentally sensitive, with numerous shrimp farms nearby. The entire delta is also covered by mangroves, and some agricultural groups interfere with our operations. Total has therefore initiated a number of socio-economic actions in the Mahakam delta, including installing pilot shrimp farms in the area."
A 10th development phase is already being planned that will include reduced well spacing, and an extension of certain GTSs for infill drilling through installation of additional well slots.
"Later on," the spokesman adds, "we will implement a scheme involving low compression facilities. We see production from Tunu extending well beyond 2017."
Fourth phase for Peciko
Development of Peciko, situated southwest of Bekapai in the Makassar Straits, coincided with construction of Bontang's eighth liquefaction train to fulfill new LNG commitments to Taiwan. Peciko was discovered in 1983, but not fully delineated until the following decade. The field extends 20 km in a northeast to southwest trend, with a general width of 10 km. Unlike the other fields in the Mahakam PSC, it features both structural and stratigraphic gas traps, but is less complex to develop than Tunu, which has more reservoirs.
Peciko's main reservoir sequence occurs at a depth of 2,100-3,900 m and is characterized by fine- to medium-grained sands spread out among shale and siltstone deposits. Recoverable reserves are estimated at 6.2 tcf of gas, with associated condensate.
Phase I of Peciko came onstream in December 1999. This scheme was based on two unmanned 12-slot manifold wellhead platforms (MWP A and B) in the center of the field; two 24-in. pipelines from the platforms to the shore; and the newly-built Peciko Process Area plant at Senipah, just south of the oil terminal.
null
There is no treatment of well effluent offshore, and diphasic production is sent onshore for processing. Up to 1 bcf/d of processed gas is exported through a 42-in, 86-km line north to Bontang. A telemetry link controls both platforms from the shore, while remotely-operated chokes from Senipah adjust the production rate. On arrival at the PPA, Peciko's condensate (produced at up to 25,000 b/d) is mixed with Tunu's condensate, before being stabilized and subsequently shipped, mainly to the spot market in Japan and to Indonesia refineries.
Phase 2, completed by end-2001, added a third manifold wellhead platform (MWP) and a new 20-in. trunkline linking this installation to MWP B. Twelve new developments wells were drilled – six from MWP C and six from MWP A and B – allowing plateau production to be sustained through mid-2003. Recently, work concluded on a third phase, based primarily on a new single wellhead platform SWPG, again in the north-central part of the field. Six development wells are being drilled from this installation, and more will be added in a later phase.
A new gas processing train is also being added to Senipah to raise capacity from 1,000 to 1,500 MMcf/d. As with the later stages of Tunu, basic design has been performed by Doris Engineering. Local fabricator PT Gunu Nasa has built all the Peciko platforms at its yard in West Java. A Canadian drilling contractor, PT Santa Fe, is drilling the current wells. These measures should boost potential from Peciko to 1.25 bcf/d by 2005.
Phase 4 is currently in progress. Two new platforms will be installed in the northeast and east of the field, K and SWPE, each probably with three to six initial development wells. Start-up is due in 2005. By the end of next year, a fifth phase should also be under way, adding another platform, F, to the southeast.
"Thereafter," says the spokesman, "we may drill more wells from the existing platforms, if we are successful in our delineation drilling in the northeast. There could also be one more platform, followed by introduction of medium pressure compression, as in Tunu, starting 2005. Originally, we had planned a total of 12 platforms, but that number has come down to seven following analysis of production. Peciko wells produce on average 50-60 MMcf/d."
East of Tunu lie the smaller Sisi and Nubi gas discoveries. "We don't need them yet to fulfill our long-term commitments," the spokesman says, "but we are aiming for start-up on these fields in 2006." The development plan will be fairly similar to Peciko's, although the reservoirs are more compartmentalized. Gas will be exported to Tunu via unmanned welhead platforms.
"On Bekapai, we also aim to raise gas production through developing very low permeability reservoirs in 2006, using horizontal wells. We have already drilled three such wells on the Tambora field quite successfully. And on Handil, we have recently installed Indonesia's first pilot air injection scheme, designed and built by Total."
Farther in the future, following implementation of low pressure compression on Tunu and Peciko, smaller fields in the south of the PSC area will also be exploited.
Total and Inpex have invested over $1 billion/year in Mahakam projects over the past few years, and that level will be sustained. Operating costs, however, have been reduced from $2/boe in 1992 to $1/boe currently, despite the fact that Tunu in particular has a huge network of pipelines and GTSs that have to be maintained.
The Mahakam PSC produces up to 560,000 boe/d and provides 60% of Bontang's input. This will increase in time to 67%, the spokesman predicts. Indonesia as a whole generates 90% of Total's total SEC production across Southeast Asia and 7% of its global output. The Mahakam PSC's gas reserves are estimated at 31 tcf, with 14.2 tcf still uncommitted.